FIFA U-17 World Cup: 'India amazing vs Colombia, goalie impressive'
Oct 15, 2017 11:04 PM IST
Indian U-17 football team's performance against Colombia at the FIFA U-17 World Cup, where they scored a goal, has impressed Branimir Ujevic, head of FIFA's Technical Study Group
Branimir Ujevic, FIFA's head of coaching and player development, said India would take a number of positives from their first experience of a World Cup. And he singled out goalkeeper Dheeraj Singh for praise. The goalkeeper impressed me, he said.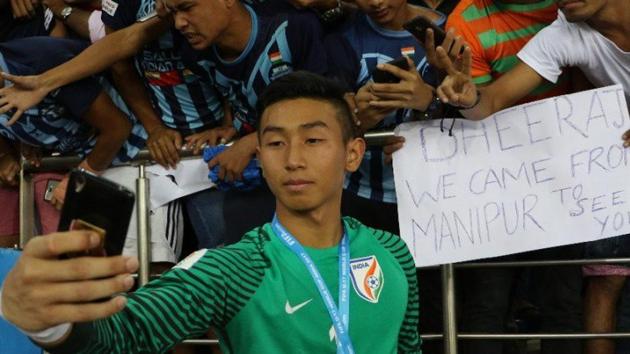 READ | FIFA U-17 World Cup: Jeakson scores, but Colombia beat India 2-1
Singh is being wooed by Indian Super League franchises for their reserve sides because he is ineligible for first-team action. The All India Football Federation (AIFF) is also keen on retaining the goalie because the under-17 team will play the I-League this term.
Speaking to reporters here, Ujevic, who is also the head of the Technical Study Group for this under-17 World Cup, said India were 'amazing' against Colombia. "They were very organised tactically, physically prepared and created chances as well," said Ujevic.
READ | Jeakson Singh says it was a 'great feeling' to score for India in FIFA U-17 World Cup
India lost 1-2 to Colombia after Jeakson Singh equalised with a header, the country's first goal in a World Cup. "…One guy who is 16 years old (Jeakson) put his footprint in the history of Indian football," said Ujevic.
India lost all three games in Group A, beginning with a 0-3 defeat to the USA. India tried to adapt to the idea of playing in a World Cup in that game, said the official. "Against Colombia they were amazing….But the atmosphere was so incredible that they forgot how to protect the goal after scoring. They wanted to go to the stands and celebrate with fans. They will take a lot of lessons from this tournament but this was the best possible learning tool for them," he said.
READ | FIFA U-17 World Cup: Paraguay's secret to great run - practising at 2 AM
The numbers say India finished last but statistics has been dismissed as one of the three kinds of lies by Benjamin Disraeli just as the scoreboard in a cricket game has been called an ass. Playing teams that have been regulars in the men's World Cup, India showed more than the stomach for a fight.
Exactly how difficult a World Cup can be can be gauged by Chile, runners-up in South American championships, choking and exiting with a point and without scoring a goal. And how flustered Japan looked against New Caledonia when nine from the bench started on Saturday. "They played like they had a load on their back," said Japan coach Yoshihiro Moriyama.
READ | FIFA U-17 World Cup: Brazil, England and Iran dominate group stages
Ujevic said the best 16 have made it to the knockout rounds. "They (the players) were doing some amazing things as well as some incredible individual mistakes. But it's all part of development."