Google doodle celebrates football culture of Brazil, others in FIFA World Cup 2018
Jun 22, 2018 02:00 PM IST
Google created a doodle each for FIFA World Cup 2018 teams of Brazil, Costa Rica, Nigeria, Iceland, Serbia and Switzerland, highlighting the ways in which football is special for people from these places
Continuing its football World Cup Doodle series, Google displayed doodles celebrating rich cultures of the six teams that would be in action in Russia on Friday.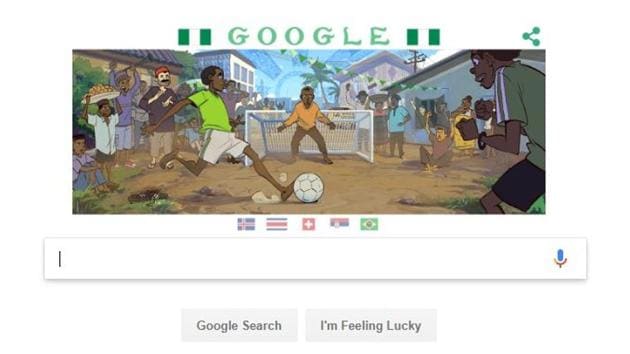 The search engine created a doodle each for Brazil, Costa Rica, Nigeria, Iceland, Serbia and Switzerland, highlighting the ways in which football is special for people from these places.
READ | How Lionel Messi's Argentina can qualify for World Cup knock-out round
All the six countries' illustrations can be viewed by clicking on the doodle alternatively.
The doodle for Brazil has been designed by Pedro Vergani, who said that football is a state of mind in his country.
"Football in Brazil is a state of mind, a moment when the country gathers to celebrate (or cry) together. It is an expression of an important part of our culture; it is art, rhythm, dance, hard work, teamwork, and a dash of cheekiness," the Brazilian artist is quoted as saying by Google.
Bratislav Milenkovic, who designed Serbia's doodle, said, "Football is very popular in Serbia, an excellent opportunity for friends to gather, either on account of a local derby or to show support to their favorite team in some global competition, at the stadium or in front of the TV screen."
READ | Croatia will do this to stop Argentina from making World Cup last-16
In the words of Nigerian artistes Yinfaowei Harrison and Ifesinachi Orjiekwe, who created their country's doodle, "Football to Nigerians means a lot more than a game - it's love, and more importantly a way of life. Only football can bring people of different tribes and ethnic groups together under one roof."
Switzerland's Chragi Frei believes even if his doodle cannot help his team win world cup, it may help in increasing the country's sausage sales.
Iceland's doodle has been created by Siggi Eggertsson.
Three games are slated to be played on Friday. In the first match of the day, Brazil will take on Costa Rica at 5.30 IST. In the second, Iceland, who were impressive in their 1-1 draw against Argentina earlier, play Nigeria at 8.30 pm IST. The last match of the day will witness a contest between Serbia and Switzerland at 11.30 IST.