Neroca FC ready for fight against Bengaluru FC in Super Cup quarters
Neroca FC and Bengaluru FC will face off in a Super Cup quarterfinal on Friday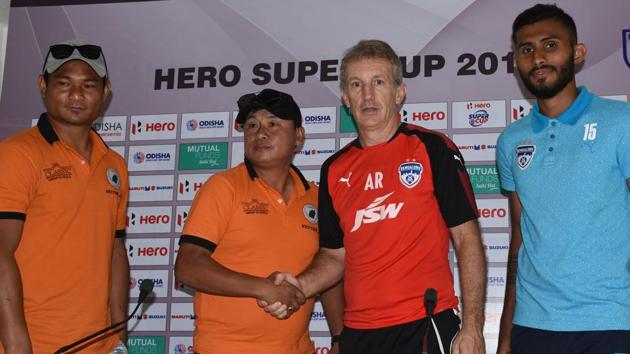 Updated on Apr 12, 2018 08:00 PM IST
Press Trust of India, Bhubaneswar | By Press Trust of India
Fresh from their last-gap win in the AFC Cup, Bengaluru FC take on Neroca FC in the Hero Super Cup quarterfinal here tomorrow.
Coach Albert Roca informed during the press conference that the ISL finalists would stick to their policy and they can't afford to drop their levels any time.
"We can't drop our levels and have to be up there consistently. We always try to win and it's something I try to impart to the players as well."
On being asked which tournament is Bengaluru FC's priority now, the Spanish coach mentioned, "All competitions are important for us, we can't choose just one. The Super Cup is a knockout competition while the AFC Cup has multiple matches in the group stage."
READ | Bayern Munich toil but overcome Sevilla to reach Champions League semis
Meanwhile, he added further, "We are playing two competitions simultaneously, and to achieve the goals the club wants, makes the situation tough. But we're professionals and positive.
"The fact that we're playing more competitions, shows we're one of the top teams in the country."
Young defender Subhasish Bose rated NEROCA FC very highly.
"They are a very good team. We'll try our best to win the match. Coach is there to plan the strategy and we'll give our everything to execute them on the pitch," he said.
The Blues have set a trend of leaving it late to snatch a winner as they did in their last AFC Cup outing as well.
READ | Champions League: Late Cristiano Ronaldo penalty rescues Real Madrid vs Juventus
On being asked, Roca explained, "We are a team that never surrenders. Even if we're winning or trailing we never give up. That's our philosophy. We keep fighting right till the end, and that's probably why we get goals in the final few minutes of the game."
On the other hand, NEROCA FC are coming off a terrific win against Kerala Blasters FC but coach Gift Raikhan mentioned that they were lucky.
"We were lucky against Kerala Blasters to come back from 2-goal down and winning it till the end. Another challenging match awaits us tomorrow. Bengaluru FC are a very tough side and we respect them a lot."
"We need to keep on fighting. Football is all about giving 100 percent effort and the performance on the pitch. We are ready for the match," Raikhan mentioned.
Close Story