North-east India remains a bastion of football talent ahead of I-League 2017-18
Hindustan Times, New Delhi |
Shayne Dias
Nov 21, 2017 10:43 PM IST
The I-League's future as the premier league of Indian football might be in doubt due to the Indian Super League's ever-growing prominence, but the country's north-east region remains the place from where most of the nation's talented footballers emerge
The 11th season of the I-League, which is still officially seen as the country's main league, is set to commence from Saturday.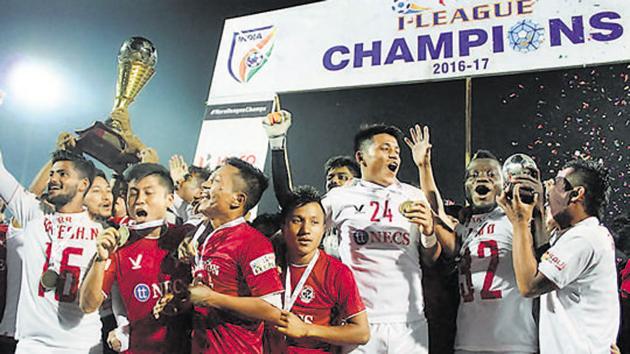 But while AIFF officials and corporate partners were all smiles at the season's official launch, the future of the I-League as India's top league remains uncertain thanks to the growing stature of the Indian Super League (ISL).
Many of India's top players now ply their trade in the ISL and clubs are feeling the pinch of losing their key players. However, for the three I-League clubs based out of the north-east – Aizawl FC, Shillong Lajong FC and NEROCA FC – it is business as usual going into this season.
Aizawl FC, who defied all odds to become the first team from the north-east to win the I-League last season, have a whole different look to them. Aside from losing coach Khalid Jamil to East Bengal, they have also seen several key players depart for greener pastures.
A similar fate befell Shillong Lajong, as most of their key players entered the 2017-18 ISL draft. But both sides seemed confident.
READ | Saudi rout shoots India back to football reality after FIFA U-17 World Cup party
"I have enough faith in my players from the academy, as well as the other players in the senior team like Redeem (Tlang), who are already well-experienced in terms of playing at this level," said Shillong head coach Bobby Nongbet.
"The younger boys have played in the Shillong Premier League, as well as the U-18 I-League, so they are well prepared to play in the I-League now," he added.
Aizawl FC's veteran winger Shylo Malsawmtluanga had similar things to say about the growth of football in his home state Mizoram.
"We (Mizoram) have quite a few footballers playing across India, and there will be many more coming up in the next few years," Malsawmtluanga said.
"The level of competition in the Mizoram Premier League (MPL) is very high. The intensity at which the games are played is really incredible," added the former East Bengal stalwart.
READ | Mizoram's Champhai district takes 'baby' steps for growth of Indian football
NEROCA FC, who earned promotion to the first division after winning the I-League second division last season, look to give young talent a chance to play and learn alongside the more experienced players.
"I have young local talent in my team who I found in a span of 2-3 years and eventually played them alongside the older players. Balance is key while building any side," NEROCA head coach Gift Raikhan told Hindustan Times ahead of the official I-League launch.
The 2016-17 I-League will see 10 teams from nine different states. But even with the future of Indian football's most prestigious league seeming shaky, the future of football in the north-east looks stronger than ever.