Saudi rout shoots India back to football reality after FIFA U-17 world cup party
India's football team were routed 5-0 in the AFC U-19 Championships qualifiers by Saudi Arabia and it reflects the need for change at grassroots level in order to kick on from the progress of the FIFA U-17 World Cup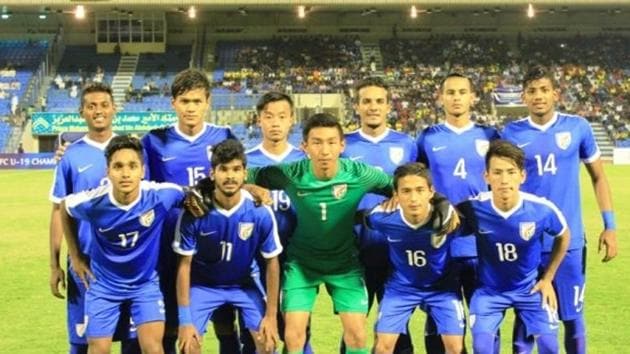 Updated on Nov 06, 2017 08:49 AM IST
Hindustan Times, New Delhi |
Shayne Dias
The FIFA U-17 World Cup was rightfully touted as an unprecedented success for Indian football. The tournament broke attendance records, showcased high-quality football action and also witnessed India take part in a FIFA tournament for the first time, bringing the joy of the beautiful game to a country that isn't exactly a football powerhouse by any means.
Even the India U-17 football team's performances were lauded by everyone. But despite the heart and courage shown by them, it was evident India were physically and tactically inferior to every team they had faced.
This only makes Luis Norton de Matos's decision to include many of these boys in the squad for the AFC U-19 Championships qualifiers – where India are grouped with Saudi Arabia, Yemen and Turkmenistan – that much harder to comprehend, given that India's U-19 football team were struggling for results to begin with.
After the loss to Saudi Arabia, India cannot afford to drop points against Yemen and Turkmenistan on Monday and Wednesday respectively, if they are to have any hope of qualifying for the AFC U-19 Championship in 2018.
India's U-19 side have endured mixed form in recent times, their only international win in their last five encounters coming in a friendly against Singapore. They did win a game against Qatar club Al Ghar's U-19 side at the end of October, and that match featured some of the members of India's U-17 World Cup side. However, the result against Saudi Arabia is perhaps a fairer reflection of where they stand in the international pecking order.
De Matos has said time and again that his side is not yet a finished article. "Our team is a work in progress and we have some players who are 2001-born in the camp. We are focusing on building for the future. Exposing these players to high level International tournaments is very important in their development," he was quoted as saying by the AIFF after the loss to Saudi Arabia.
The idea of exposing players to the international level is well and good, and is exactly the reason why age divisions at international level exist in the first place. But no amount of exposure will mask the fact that these young players are being fast-tracked to the senior level, one that they might not necessarily be prepared for.
Instead of focusing solely on football at the international level, clubs in India must also be proactive in terms of youth development. The game needs to grow at the grassroots level in order to bridge the gap between India and the rest of the world.
These aren't new issues, but given the euphoria surrounding the commercial success of the FIFA U-17 World Cup, there is no time like the present to once again have this conversation.
"There is still a major gap between India and other countries. We need to focus constantly on youth development; more young players must be engaged in the system and thus get that high level exposure," former FIFA South Asian Regional football Development officer Shaji Prabhakaran told Hindustan Times.
"Local competition structure is the key to develop that, but a club academy system is also necessary. Clubs must take an active role in identifying and developing talent. As long as that doesn't happen, it will be very difficult to bridge that gap. We need to have around 2,000 kids to pick from, not just 20," he said.
The FIFA U-17 World Cup 2017 will forever live on in the minds of Indian football fans as something special. But for the tournament to be considered a watershed moment for football in India, the powers-that-be must do all they can to build for the future and not merely rest on their laurels.
Close Story