Mizoram's Champhai district takes 'baby' steps for growth of Indian football
Hindustan Times, New Delhi |
Bhargab Sarmah
Nov 10, 2017 11:18 AM IST
Mizoram's Champhai district is set to play host to the Young Legends League (YLL), the first structured 'baby league' in Indian football
Earlier this year, Richard Hood, the Head of Player Development at the All India Football Federation, came up with the concept of 'baby leagues'.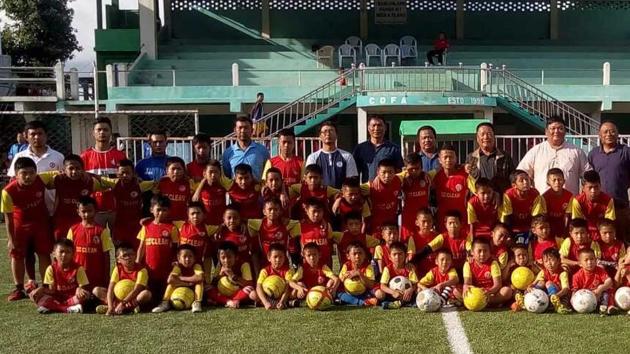 Working alongside Savio Medeira, the Technical Director at the federation, he sought to draw from some of the best practices at the grassroots in developed football nations.
It is no secret that Indian kids are exposed to football training much later than their counterparts in some of the more illustrious countries in the sport.
This late introduction to the sport leaves a gaping hole. It is a hole that no amount of world-class infrastructure or exposure tours, later in their careers, can fill.
READ | Saudi rout shoots India back to football reality after FIFA U-17 World Cup party
With the same in mind, the concept of 'baby league' aims to create a competitive football environment for kids in the lowest age brackets. This is a long-term plan that won't yield any visible result in the near future, but if implemented well, could be the game-changer for India.
To kick-start the project, it is Mizoram's Champhai district, located on the Indo-Myanmar border, which is taking the lead.
With the Mizoram Football Association (MFA) joining hands with 8one foundation, a private organisation which describes itself as 'an entity supporting the development of north-east region of India', the Young Legends' League (YLL) will be played across three age groups -- U-8, U-10 and U-12. Both parties have signed a 10-year MoU for the project.
READ | Sergio Lobera, FC Goa manager, aims for 'balance' in Indian Super League 2017-18
The league, which starts from Saturday (November 11), will be a five-a-side event, with 12 teams in each age group. Each squad will have seven players. The organisers have made it mandatory for every team to have one girl in their squad.
The 12 teams will face each other on three occasions during the season, which will last for up to eight months, taking the total number of games across the three age groups to 594 in a season.
Varun Achreja of 8one Foundation said his prior association with players like Lalthuammawia Ralte and Robert Lalthlamuana, who come from Champhai, convinced him to start the project in the border town.
"We were introduced to the life, sorrows and joys of the town by many of these players, as well as friends we made during our time and journey across Mizoram. They brought us closer to the town and after multiple visits to this gorgeous place, we knew this had to be the starting point," he told Hindustan Times.
READ | Lionel Messi presents 2018 FIFA World Cup ball in Moscow
With players as young as six years of age set to play in the league, Achreja said competitions like this across the country will boost India's fight against age fraud as records of all the players will be kept.
MFA secretary Lalnghinglova Hmar said the state association will keep a close eye on how much interest the baby league receives.
"We have 8one as our partners, and they are the ones funding this project. If everything goes well in Champhai, we would love to start similar programs in other districts of Mizoram. For now, we will wait and watch how things go in Champhai, then depending on the results, we will take it forward elsewhere.
"Apart from that, the MFA is also starting an U-15 league from next year and an U-12 league is also in the pipeline. We already have an U-18 league to support the senior Mizoram Premier League," Hmar said.
READ | Indian Super League 2017-18: FC Goa aim to win maiden championship
Richard Hood said patience will be key to the success of baby leagues in India.
"The introduction of baby leagues in February was followed by inquiries and invitations to present the concept. The enthusiasm at the start often waned on finding out the volume of games and timelines involved.
"A significant change in the mindset is needed to see a serious commitment to deliver a 12-14 year engagement pathway rather than chase short-term outcomes," he stated.