Gurugram: Wildlife officers rescue first orphan leopard cub in Haryana
Published on Apr 22, 2018 11:46 PM IST
Villagers in Bhuwana kept a close watch on the cub—named Durga—until a team from the wildlife department arrived.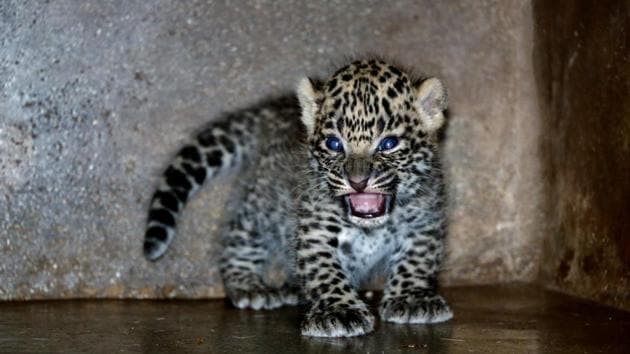 Around 7.30pm on February 22, 2017, a villager working in his fields in Bhuwana village, 14 kilometers away from Panchkula, heard distant cries. Abandoning his work, he set off towards the source of the sound and happened upon a leopard cub.
The cub was sitting on the banks of the dry Kaushalya river and was clearly in distress. In all likelihood, it appeared that unable to cross the the dry river bed, she had been left behind by her mother and siblings. Initially, the farmer was too scared to touch the cub, worried that the mother might attack him if she were around. He decided to inform a forest official about the cub.
Wildlife officials in the district regularly spread awareness in villages on how to deal with wild animals that visit the area. They have also shared their numbers so that they can be informed in cases of villagers rescuing wildlife themselves.
That night, villagers kept a close watch on the cub until a team from the wildlife department arrived. The team, comprising a divisional wildlife officer, an inspector and a guard, found the cub weak, distressed and injured.
In an effort to find her mother, a cage was set up, but in vain. The next day, wildlife officials decided to take her in. They contacted the veterinary doctor and asked him to rush to Pinjore as the cub's condition seemed to be deteriorating with each passing hour.
Preliminary investigations confirmed the mother had delivered three cubs. The rescued cub had been left behind — pugmarks confirmed that the family had moved ahead in the jungle.
"Generally, if a baby is weak and struggles to survive, the mother leaves it and moves on. This, however, is the first such case wherein we have rescued a cub who was not even a month old. We could not leave her in the jungle as she was in distress and unable to move," said Dr Ashok Khasa, veterinary surgeon, wildlife department.
The wildlife department named the cub Durga, thanks to her strong willpower to survive. Khasa diagnosed her with hypothermia and found that she limped — a genetic condition that deterred her movement.
"It was a big challenge for us to save her. We tried to stabilise her body temperature, which was low, and struggled to bring it up," said Khasa.
Suffering from the trauma of being separated, Durga needed motherly care. The wildlife officials obliged. They mothered her, caressed her affectionately, and cuddled her when she cried. Durga was fragile, and for the first two days, refused to eat or drink.
Wildlife officials left no stone unturned in trying to save Durga. They kept her in a heated room with blankets in Pipli Zoo, Kurukshetra. The doctor put her on anti-stress vitamins and minerals to improve her condition. Officials also arranged for kitten milk as she was hungry, yet refused to touch any food. She was so aggressive that it took officials four hours just to get her to taste the milk through a bottle.
She slowly developed a taste for kitten milk powder mixed with distilled water that was specially ordered for her. Unable to drink the milk herself, she was fed through a bottle feeder. The department decided to bear all her expenses — especially for the milk powder that was quite expensive. One box would last her for seven days. Initially, she was extremely reluctant to drink the fluid and after much coaxing, officials were able to feed her only once a day for the first three days. It took almost a fortnight to raise her body temperature to a normal level, and gradually, she responded to human care.
"We kept the rescue secret as first we wanted the best possible treatment for her. Though there is no dearth of treatment facilities, we couldn't release her immediately after treatment because she would not have been able to combat predators. So we decided to keep her in the zoo," said Rao Narbir Singh, state minister for forest and wildlife.
When Durga turned two-and-a-half-months-old, a diet of milk did not seem to be enough. Her body demanded proteins, minerals and fats. However, as she grew up so did her tantrums.
"I tried to make her taste meat but it seemed she was a vegetarian. I had to try a lot of ways to make sure she tried mutton keema. It took five hours of cajoling before she could lick my keema-covered finger. She did not like the taste and threw it up," said Khasa.
Officials then mixed a small portion of keema with kitten milk, and tried to feed her. She drank it up and seemed to like its taste. "That day she played for a longer time, and was hyperactive throughout the day," said Khasa.
Her diet slowly improved as her consumption of mutton keema went up from 100 grams to 500 grams.
Today, Durga is about 13-months-old. She has developed human-friendly instincts, which she displays in playful abundance towards Khasa and the other officials who look after her. One of her favourite pastimes is to play with little balls.
"We provided her the best possible medical care, but Durga did not show great signs of recovery during the first three months, due to the trauma she suffered. She would cry all night and look around for her mother. Now, she has recovered completely, but will still not be able to survive in the forest," said Khasa.
Durga has become very attached to Khasa, her primary caregiver. She becomes excited when she sees him, jumps about and rolls on the floor, waiting for him to cuddle and play with her. In fact, Durga, unlike most of the cat family, seems to be very affectionate towards humans, which happens in rare cases. According to wildlife officials, by and large, taking care of a leopard cub was no different than bringing up little puppies.
Not acclimatised or accustomed to life in a jungle, Durga will now spend her life in the Rohtak Zoo, where she is likely to be shifted shortly. She will also be given the company of a male leopard, so she can raise her own family.
Personalise your news feed. Follow trending topics