Kombucha, the tea of health
A 2,000-year-old fermented tea is now the favoured drink for health-conscious Indians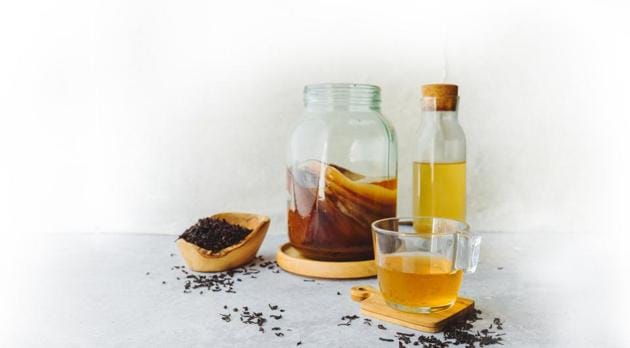 Updated on Jun 17, 2019 05:08 PM IST
Hindustan Times |
Satarupa Paul
The year was 221 BCE. Qin Shi Huang had already established the Qin Dynasty and was successfully reigning as the first emperor of a unified China. Lately however, he found himself gripped by an intense fear of death. Qin desperately sought the fabled 'elixir of life' and is known to have launched quests in its search. Legend has it that it was during this time a fermented tea was concocted and served to the emperor. It may not have been the magic potion he sought, but it came close enough. Over two millennia later, that fermented tea has captured the imagination of mindful, young Indians for the many benefits it bestows on one's health and wellbeing. Kombucha is the go-to health drink this summer, and a number of homegrown initiatives are brewing their own artisanal batches for you.
Brewed With Love
Named after a certain Dr Kombu, a Korean who first brought this ocha (Japanese for tea) to Japanese emperor Inyoko in 414 CE, kombucha has since been consumed in Japan, Eastern Europe and Russia for several centuries. It was only after World War II that the West was introduced to it by a German doctor named Rudolf Sklenar, who revived the recipe to treat metabolic diseases and other chronic ailments. Over the last few decades, kombucha has enjoyed a revival in Europe and become popular as a beverage in the United States, Canada and Australia.
Then, a couple of years ago, the fermented tea found its way back closer to its original home. Globe-trotting Indians, who've had a taste of kombucha abroad and benefited from its nutritious qualities, began brewing it at home and serving it to family and friends. Word spread fast and kombucha soon became the trendy hipster drink in Goa and Mumbai, with several brands coming up to make it accessible to more people.
One such early initiative is the Mumbai-based Bombucha, run by the husband-wife duo of Nitin Gandhi and Monika Powlowska. A practitioner of holistic living for 12 years, Powlowska first tried kombucha in Bali to recover from a parasitic infection. On her return to India, she decided to give making it a go. Thus, the concept of Bombucha was born in their home kitchen. "We would experiment with flavours and test them on our friends and families," says Gandhi. "Their positive response encouraged us to showcase our products at the Farmers' Market held in Bandra every Sunday." Bombucha now retails an extensive range of flavoured kombuchas online and through supermarkets and cafes in Mumbai, Goa, Delhi, Bangalore, Pune, Ahmedabad and Udaipur. Their best-selling flavours include the light and fruity Beet Pomegranate, Hibiscus Lime and Mango Turmeric, as well as the delicate floral Smokey Oolong and Elderflower White Tea kombucha.
In Delhi too, homegrown brands such as Atmosphere and Khukrain's Kombucha are popularizing the drink as a healthy alternative. "Many people are increasingly tiring of the heavily sweetened artificial drinks and are on the lookout for refreshing beverages that can help them live a healthier life," says Rebekah Blank, who founded Atmosphere along with her sister, Ariella, in the spring of 2018. Having started with two flavours—raspberry and lime, Atmosphere now has five different flavours that change seasonally for freshness of ingredients, and are sold through 25 retails stores in Delhi as well as online through their website.
Khukrain's Kombucha too makes seasonal variants by infusing various extracts from farm-fresh vegetables, fruits and flowers to their kombucha, thus upping the benefits of the tea with the added nutrients of the plants. "We don't offer kombucha as a trendy beverage but as a health-giving food that can help cure various ailments," says founder Achintya Anand, who has personally been privy to its many benefits. "We brew small batches to have more control over the process and our basic kombucha takes one to three weeks to make."
A Taste of Health
The recipe for kombucha may be fairly simple—tea, sugar, water and SCOBY (symbiotic culture of bacteria and yeast), but its workings are what Gandhi describes as "very elegant". The SCOBY acts on the sugar in the tea to convert it to alcohol, which in turn is turned to acetic acid that produces the fizzy, tangy flavour so unique to the original, unflavoured kombucha. What this process also does is it packs the fermented tea with a host of nutrients, probiotics and enzymes that work wonders for your body.
Wellness consultant Jia Singh says that kombucha can help protect the liver, reduce inflammation and bolster immunity. She says, "It's a rich source of probiotics and is touted to be great for gut support. Today, most medical practitioners advocate that a healthy body begins with a healthy gut." Anand adds that kombucha helps boost the immune system with its microflora. "It also contains Vitamin B complex that augments metabolism and Glucuronic acid that helps in detoxification." He however, recommends that a first timer begin with 150 ml of kombucha a day and then gradually increase the consumption as your body adjusts to it.
Singh, who has been drinking kombucha regularly for the past 4-5 years, finds it particularly refreshing in the hot summer. She however, suggests caution in consuming it. "People with diabetes should watch their consumption to avoid added sugars in their diet. The caffeine content may be lower than in coffee or tea but it also has a low amount of alcohol, so pregnant women and those who are breastfeeding should avoid it."
It may not be the miracle cure-all that emperor Qin was looking for, but for those who drink kombucha as a refreshing health booster, it truly is a powerhouse of nourishment and care. As Blank likes to say, "Kombucha is a vacation for your body."
Close Story
Personalise your news feed. Follow trending topics