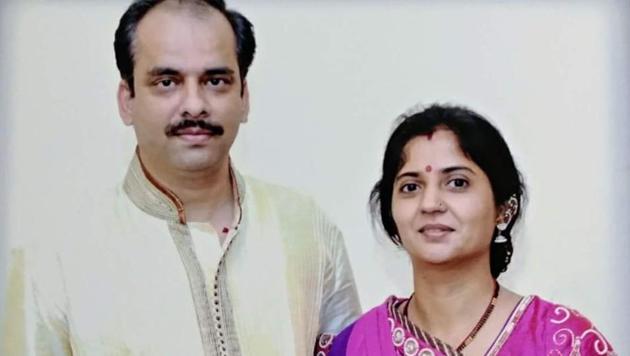 Gujarat family of 3 found dead, man blames 'dark forces' in suicide note
Kunal Trivedi, a businessman, had allegedly left a three-page suicide note in which he blamed 'dark forces' for becoming an alcoholic, and eventually the deaths. He also said had his mother understood him, things would've been different.
UPDATED ON SEP 13, 2018 11:42 AM IST
A 45-year-old businessman found dead in his home in a posh Ahmedabad neighbourhood on Wednesday left a three-page suicide note blaming "dark forces" for his death and that of his wife and teenage daughter, police said.
Kunal Trivedi was found hanging from the ceiling while his wife Kavita (45) and daughter Shreen (16) were found lying on the floor in one of the bedrooms, said Naroda police inspector and investigating officer HB Vaghela.
Trivedi's mother Jayshreeben, 75, was also found unconscious in the house when police broke open the door of their flat Avni Sky apartment on Wednesday morning after being alerted by the family's relatives. The relatives, police say, got suspicious when their repeated calls to the Trivedis went unanswered.
Investigators are trying to determine if Trivedi killed his wife and daughter before hanging himself or if the deaths are the result of a suicide pact.
"The bodies have been sent for post-mortem. And we are also waiting for the forensic science laboratory reports to reach any conclusion," Vaghela said. Trivedi's mother, who was admitted in a hospital, is in critical condition.
The three-page suicide note was written in Hindi and addressed to Jayshreeben in which Trivedi blames "dark forces" for the tragedy, Vaghela said. "Everyone called me alcoholic ... I never drank out of my will … the dark forces took advantage of my weakness ... but mother you did not understand me … If you would have understood on the very first day then my life would have been different today … word suicide was never found in my dictionary … many a times I told you about dark forces … but you did not believe me," Trivedi had written in the note, according to police.
Trivedi also said the family wasn't in any debt or facing any financial issues in the note, Vaghela said, adding that there was no mention of a tantric.
A case of accidental deaths has been registered.
According to police, Trivedi earlier worked with private sector insurance companies, but recently started his own cosmetic products business.
Close