Graft to unemployment, BJP has given us a lot of issues: Ashok Gehlot
Senior Congress leader Ashok Gehlot says the Congress is strong and united in Rajasthan and that he has good relations with Sachin Pilot, CP Joshi and other leaders.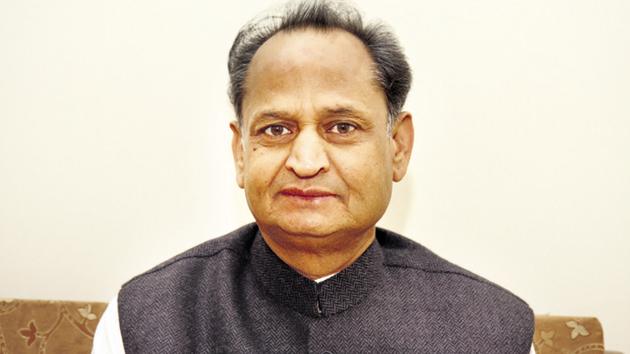 Updated on Mar 30, 2018 11:38 PM IST
Former Rajasthan chief minister and Congress general secretary Ashok Gehlot says party president Rahul Gandhi will follow his parents and grandmother in ensuring a balance between seniors and young leaders in the organisation . In an interview with Hindustan Times, Gehlot ,however, cautioned the Congress GenNext to wait in the queue and not try to jump it. He also spoke about the Congress prospects in Rajasthan assembly elections due later this year.Edited excerpts:
Congress performed well in the recent by-polls in Rajasthan. Are you confident of repeating the performance in assembly elections later this year?
The agenda has been set. Rahul Gandhi's issue-based politics in Gujarat and (the fact that) both Prime Minister Narendra Modi and BJP (Bharatiya Janata Party) chief Amit Shah failed to respond and could not achieve the target of 150 seats in their home state -- the entire country saw that. The reverse countdown started with Gujarat and has continued in other states as evident from the outcome of by-elections. In Rajasthan, all Congress leaders fought unitedly and we won with huge margins. The anti-incumbency of both the state government and the Centre worked in our favour. In assembly elections, we will further improve our performance.
In Gujarat, you did not have any chief ministerial face and that proved counter-productive. Don't you think people of Rajasthan would also like to know who the Congress CM face is?
Political situations vary from state to state. What we did in Gujarat was good. Shankersinh Vaghela wanted to leave the party and we decided to keep the option open. The tradition in the Congress has been to fight the elections unitedly and then let the legislators elect their leader. There have been a few exceptions from time to time. If the high command thinks and gets the feedback that the party will benefit by declaring the face, they do it. In Rajasthan too, we should not get into this debate and leave the decision to the Congress high command.
Infighting has hampered the Congress revival in many states and Rajasthan is one of them. How is your equation with state chief Sachin Pilot and other leaders?
The Congress is strong and united in Rajasthan. We all are one team. There have been no statements against each other in the past four years. Infighting is all a media creation. My relations with Pilot, CP Joshi and other leaders are very good.
What will be your main poll plank in Rajasthan?
I haven't seen such a situation in Rajasthan in my entire political career. The state has suffered a lot during the past four years. From deteriorating law and order, rampant corruption, unemployment (to) rising incidents of suicides by distressed farmers and mis-governance, the BJP government has given us so many issues. Home minister is powerless and chief minister Vasundhara Raje is clueless. She is an ideal BJP face and best bet for us. She has been exposed and we would want her to complete her term to enable us to win with a huge majority. People will never forgive her and (will) teach her a lesson in elections.
What is the key takeaway of the recent Congress plenary?
The new slogan that emerged from the plenary is "ache din aane waale hain, Modiji jaane wale hain (Good days are coming, Modi is going)". Rahul Gandhi also gave a message to the youth to work hard, prove their talent and occupy the space that has been left vacant for them. The Congress also gave its solutions to the growing challenges of unemployment, farmers' distress and derailed economic growth. He also appealed to the people to shun politics of hate and violence.
But is the old guard nervous after Rahul Gandhi's takeover (as Congress chief) ?
I have been witness to the changes in the Congress since the times of Indira Gandhi. The party has always given huge opportunities to young leaders. The present senior leaders are all products of NSUI (National Students Union of India) and Youth Congress. Some of us became chief ministers, general secretaries and office bearers. When Rajiv Gandhi (took over), he promoted several young leaders and they got protection during Sonia Gandhi's tenure. This debate is not new. Rahul Gandhi will never relegate the senior leaders and force them to sit at home. He wants the new leadership to emerge but the young leaders should learn to wait in the queue and not try to jump it. Then only, they will become the real leaders. If they try to break the line, they will be finished. Rahul Gandhi has often said he will use the experience of seniors and energy of young leaders in reviving the Congress.
Do you think the opposition parties are coming together because their survival is at stake? Will other parties rally around Rahul Gandhi?
The opposition will have to come together in the national interest and work for the BJP's defeat. The country needs that. Rahul Gandhi has emerged as Modi's main challenger and also the leader of the entire opposition block. He will definitely become the Prime Minister in 2019. The UPA (United Progressive Alliance)-3 government is a reality and there should be no doubt about that.
Congress is being accused of playing 'soft-Hindutva' politics to win elections...
Unlike others, Rahul Gandhi does not go to temples for votes or politics. It is a matter of faith for him. He also visits shrines and churches. But the BJP has always used religion for its political and electoral gains.
Will you press for the use of ballot papers in the Rajasthan elections?
In a democracy, there should be no doubt in the minds of the people as otherwise they will not come out to vote. The Election Commission is duty-bound to hold free and fair polls. To clear all doubts about the EVMs (electronic voting machines) and restore the credibility of the poll process is the responsibility of the Election Commission. The Supreme Court has also suggested the use of paper trail machines. Why did it say so? This means that EVMs can be tampered with and manipulated. The reason why Congress took a stand on the EVMs is because all developed countries of the world have gone back to the ballot paper system. But all such institutions have been destroyed in the last four years. RSS (Rashtriya Swayamsevak Sangh) has become an extra-constitutional authority in the country (that decides on) who will become a CM, head an institution, and it is also taking other key decisions. This is damaging for Modi. The RSS should not hide behind the veil of a cultural organisation and come forward and openly do politics. BJP and other groups should merge in RSS and politically and electorally fight its opponents.
Close Story