ATM dispenses
₹

500 issued by Children's Bank of India, Churan Lable in UP

Two fake

₹

500 notes were dispensed from a Bank of India (BoI) ATM in Bareilly.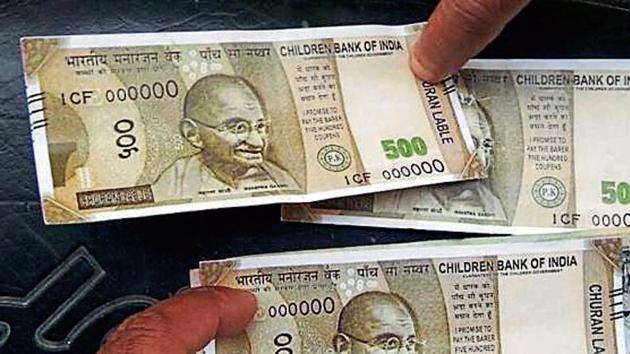 Updated on Apr 24, 2018 08:39 PM IST
Fake ₹500 notes with 'Churan Lable' and 'Children's Bank of India' printed on them were dispensed from a Bank of India (BoI) ATM in Bareilly on Sunday.
"Two fake notes similar in appearance to the real ₹500 currency were dispensed by the ATM. We have sent a detailed report regarding the incident to our regional office in Meerut and are waiting for their direction to lodge police complaint," said Bachchan Shaw, manager of BoI branch in Bareilly.
One Ashok Kumar of Ishwari Bhawan area of Bareilly received one of the fake notes. Another person who withdrew money from the ATM also received a fake ₹500 note. The bank manager assured both these persons that the fake notes would be replaced. "The fake notes have similar dimensions and colour pattern like the real notes. But unlike the real note, the fake ones have Children's Bank of India and 'churan label' printed on them," said the manager.
"Cash in our ATMs is deposited by a private company. It appears that people of that company fraudulently replaced a few of the real notes with fake ones when the ATM was last filled with cash," said the manager. The manager has secured the CCTV recording of the ATM for investigation.
The manager, along with other bank officials, inspected the cash chest of the ATM on Monday to look for more fake notes. All currency notes in the ATM were found to be original.
Close Story
Personalise your news feed. Follow trending topics