Atmosphere of fear in universities threat to Indian democracy: Amartya Sen
Nobel laureate economist Amartya Sen has said that the climate of fear in Indian universities is detrimental to its democracy.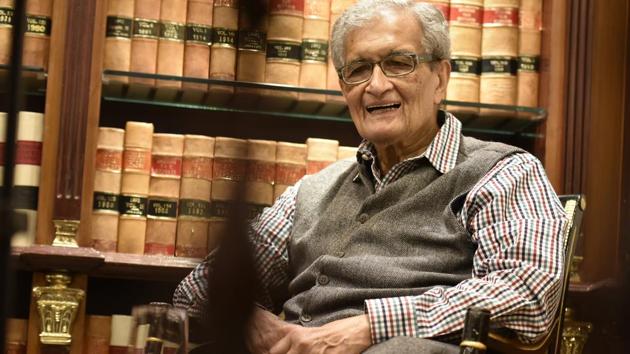 Updated on Feb 23, 2017 10:03 PM IST
Nobel laureate Amartya Sen has said the atmosphere of fear in universities is detrimental to Indian democracy.
"Penalties imposed on teachers for giving lectures critical of the priorities of the ruling government, and even on those who arranged the lectures at one university or other, will have far reaching impact on value of liberty in contemporary India," said Sen while launching his book titled 'Social Choice and Social Welfare' in New Delhi on Tuesday.
Sen, known for his strong views, also said that he has no hope of the Narendra Modi-led government doing enough to improve health sector in the country.
The 83-year-old economist further said that fear being faced by the minority communities in India can not be seen as cultivation of fraternity.
Regretting that the pursuit of equality for the moment has increasingly taken a back seat in policy making in India, Sen said, "India does not have world-class universities... the climate of fear (in Indian universities) is detrimental to Indian democracy."
He said the government has executive power but it should not consider itself as a complete state impairing the autonomy of the universities.
"The government has executive power. But it has an obligation not to see itself as whole of the state.
"...For example the money for state universities come from the states.The fact that the money on universities is spent by the government does not mean that the government will take crucial decisions in running of the universities," Sen said.
Observing that China spends 2% of its GDP on health sector, while India spends less than 1% of its GDP on health sector, Sen said, "I don't have any hope of present government doing enough for improving health sector in India."
Sen further said India does not have a majority government system.
"BJP only got 31% vote share in the last Lok Sabha election. Even with the allies, it got only 39% votes," he pointed out.
Sen, however, said BJP and allies have the right to govern, adding, "But the BJP-led NDA government should not be under the illusion that it is speaking on behalf of the majority of Indians."
Sen is currently Thomas W Lamont University Professor, and Professor of Economics and Philosophy, at Harvard University.
Close Story