Beyond campuses and old bastions, SFI looks to new frontiers
Jan 30, 2017 10:55 AM IST
The Jat represents the transformation the SFI is silently trying to bring across the country in a bid to emerge from the shadows of the Communist Party of India (Marxist) and look beyond just college elections.
As a 27-year-old Jat and son of a retired army lieutenant, Mahipal Singh doesn't fit into the typical image of a Students' Federation of India (SFI) leader that Bengal, Kerala and Tripura, the havens of Indian Marxists, have portrayed for decades. Nor does his caller tune, a long monologue by Ajay Devgn in the film 'The Legend of Bhagat Singh' give that impression.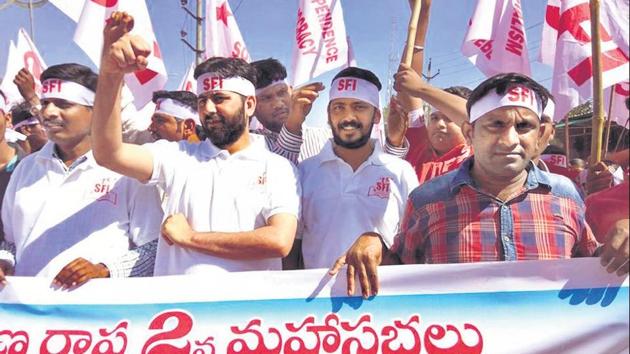 Mahipal, as SFI state secretary in Rajasthan, organises movements on issues such as poverty, social atrocities and absence of electricity at primary schools in the BJP-ruled state.
The Jat represents the transformation the SFI is silently trying to bring across the country in a bid to emerge from the shadows of the Communist Party of India (Marxist) and look beyond just college elections.
"We have been able to make our presence felt in secondary and higher secondary schools," says Mahipal, clearly indicating that the SFI is achieving in Rajasthan what the CPI(M) could not in West Bengal in 34 years of its rule.
No wonder, the 15th national conference of SFI was held in Rajasthan few weeks back.
"Instead of talking only politics, we are addressing issues that affect the masses and not just students. It has helped us grow in states such as Rajasthan, Haryana, Himachal Pradesh and Maharashtra. This might have sounded impossible till a few years ago," says Vikram Singh, all India general secretary of SFI.
Singh, who holds a PhD in science and hails from Himachal Pradesh, represents the SFI's strategy to induct bright minds from northern and central Indian states to complete the makeover.
That the CPI(M) was desperate to stop people from seeing it as an archaic outfit of old communists who only talked against American capitalism and forced factories to shut down, became evident for the first time in 2014, when it sent 34-year-old Ritabrata Banerjee, a former general secretary of SFI, to the Rajya Sabha. At 34, Ritabrata was the youngest ever member of the Upper House.
It is probably an irony that a student leader from West Bengal, where the CPI(M) has virtually lost base to Trinamool Congress, is now helping the party be heard inside Parliament where the entire Left's numerical strength has touched the abyss.
Ritabrata has taken part in 89 debates and raised 318 questions, more than twice the average done by other MPs during this period, including veterans from Left parties.
'Prioritise Student Front'
The strategy to put youths in the forefront was formally outlined in the voluminous organisational report, accessed by HT, that CPI(M) general secretary Sitaram Yechury placed at the party's crucial plenum in Kolkata in December 2015.
"There are ten Hindi (speaking) states and each has its distinct social, economic and political evolution. These must be taken into account while drawing up plans in each state to develop the party and the mass organisations. In all the states, priority should be given to develop the student front," says the report.
Several portions of the document say that efforts should be made to involve Dalits and other backward class people, an aspect neglected by the party over the years.
CPI(M) leaders may not admit in public, but till the 90s their approach to caste politics was largely influenced by Marx's theory on social economics and not the ground reality in the Hindi belt. Quite clearly, the shift in approach is driven by the setback they have suffered on traditional home grounds.
"Towards a stronger CPI(M) with an all-India mass base," Yechury summarised in a slogan at the plenum, formally making "mass base" the party's agenda.
Addressing Issues
"We are changing with time. We are addressing issues that appear small and yet affect all of us," says Madhuja Sen Roy, SFI state president and CPI(M) state committee member in Bengal.
Even as the SFI is finding it tough to combat the aggressive growth of Trinamool students' union, Madhuja and her comrades are harping on issues that apparently have nothing to do with college elections.
In the resolution adopted recently at its Bengal state conference, the SFI has demanded availability of sanitary napkin vending machines on every campus.
"It's a basic necessity. Yet, nobody ever bothered to raise the issue because a large section of the society still doesn't want to talk about menstruation in public. It's a taboo," she says.
In Andhra Pradesh, on the other hand, S Noor Mohammad, the state SFI secretary, is spearheading the movement against growth of corporate entities in the education sector.
"The TDP government wants big companies to run the education system while we all know that students from poor and middle class families cannot afford the hefty fees charged by these institutions," he says.
Student suicide, rising in certain parts of Andhra Pradesh, is another issue he raises.
The change in character—to look beyond Bengal, Kerala and Tripura—is evident across the country.
"Our members are taking care of children of farmers who committed suicide in Marathwada and creating a strong base at Kurukshetra University (Haryana) at the same time. This is the new path," says Mayukh Biswas, SFI national joint secretary.
"Our members are in Shimla, helping residents of Rohru village which was completely destroyed in a fire on January 16," Vikram Singh adds.
So, will these young Turks be able to change a capitalist-driven emerging India's perception about the nation's largest communist party and help it regain lost ground?