For PM Modi's 2019 campaign, BJP readies its WhatsApp plan
Sep 29, 2018 03:01 PM IST
A "booth action plan" prepared by party president Amit Shah has already asked state units to compile the list of smart phone carrying voters in every polling station.
Meet the "cell phone pramukh" , a key player in the Bharatiya Janata Party's campaign for 2019. Around 900,000 of these, one for each polling booth or station (there are 927,533) , will drive the party's extensive WhatsApp-based campaign for parliamentary election, circulating specially designed campaign material –video, audio, text, graphic and cartoons – according to two persons familiar with the matter . Each of these pramukhs will be given a smart phone.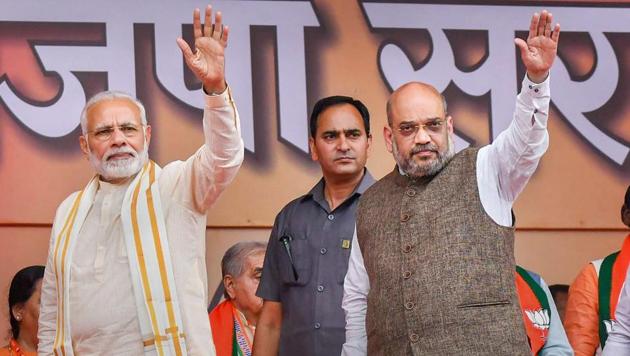 Prime Minister Narendra Modi met a group of senior BJP leaders about three weeks back where the details of this campaign were presented to them by a senior official in the Prime Minister's Office, the first person said, asking not to be identified.
A "booth action plan" prepared by party president Amit Shah has already asked state units to compile the list of smart phone carrying voters in every polling station. Once this list is ready, the party's war room in its old HQ located in Delhi's Ashoka Road will get into the act of integratiing it with the proposed programme.
Party leaders – MPs, MLAs, other elected representatives and office bearers – will be asked to identify these cell phone pramukhs in the first round; the pramukhs will then create three WhatsApp group for each polling station, each group consisting of 256 persons (the maximum allowed on the platform), according to the plan.
"In some stations where three WhatsApp groups are not possible, the nodal person will operate at least one," the second leader said on condition of anonymity. Voting during the 2014 Lok Sabha election, which for the first time saw an extensive use of social media tools for campaign, took place at 9,27,533 polling stations across the country. The number will increase this time, and the scale of the BJP's exercise will match it.
"We believe the next election is going to be fought on WhatsApp," the first person said. "We are getting ready for it. Our campaign will be unleashed from January."
India has 1.14 billion mobile phone connections and at least 200 million people with WhatsApp accounts. The Election Commission of India has raised concerns about fake news that can be used to manipulate elections with the Facebook Inc owned messaging platform. Separately, the IT ministry has also raised the issue, especially in the context of such news causing mob violence and lynchings. A wave of lynchings --at least 30, across more than 10 states, in 13 months -- prompted the Supreme Court, which was hearing a case on lynchings, to issue guidelines to the states on preventing and tackling such instances. WhatsApp too, has made changes in the platform, including labelling messages as forwards when they are forwarded.
The central war room and the BJP's IT cell with engage with professional companies to create specially designed campaign materials, on the party's welfare programme, Modi's personality, triple talaq, Ram temple and other issues. These will then be shared with the extension of the election war room in states for passing it on to the nodal persons at the booth, who will share them on the WhatsApp groups operated by them.
At a meeting with social media volunteers at Kota in Rajasthan last week, BJP president Shah asked party workers to increase their activity on social media. "You can't win without being active on social media," Shah said at the meeting.
Commenting on the BJP's strategy, Sanjay Kumar, director of the Centre for the Study of Developing Societies, said, "Everyone would recognise that election campaigns are becoming more digital compared to the past. But it would be an overstatement to say that the next poll will be a whatsapp election. Yes, there is a huge penetration of whatsapp - but there is no evidence to suggest that people are only consuming whatsapp messages for political news."
But Kumar acknowledged that whichever party leveraged the platform the best would benefit from it, and in this case, it was with the BJP. "The strategy indicates BJP's well oiled machinery. Earlier, the BJP's booth organisation was based primarily on identifying them on paper, and then reaching out to the voters on a house-to-house basis. They will not abandon it but the aggressive outreach through whatsapp groups will help reinforce their connect with individual voters. And in that sense, it will have a positive impact. They will frame their messages according to the feedback."