BJP to bet on 'young and new' faces in Karnataka assembly elections
Despite having an undeclared age bar of not allowing leaders above 75 years of age to hold ministerial position, the BJP projects Yeddyurappa, 75, as its CM face in the elections.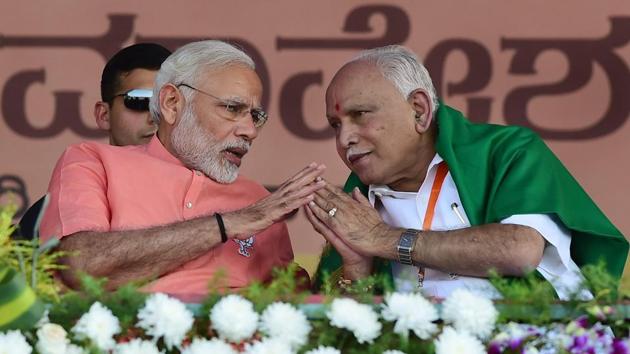 Updated on Mar 11, 2018 09:13 AM IST
The Bharatiya Janata Party (BJP) will bet on "young and new" candidates in the Karnataka assembly elections scheduled to be held in May, party leaders said.
Karnataka assembly's term ends on May 28 and the BJP would hope to win from the Congress the biggest state currently under its rule. Congress is currently in power in two other states — Punjab, Mizoram — and in Puducherry (Union Territory).
"One-third of the total candidates could be young and below 40 years," a Karnataka BJP leader said. "We aim to field at least 50% new candidates."
The BJP's strategy for ticket distribution would look at two aspects, the leader explained.
First, over 60 lakh new voters, or about 12% of the state's total electorates, have enrolled in Karnataka. The BJP believes it has an advantage over its rivals and can woo the new voters — mostly young — more effectively by putting young candidates at the forefront.
BJP's chief ministerial face BS Yeddyurappa turned 75 on February 27. Chief minister Siddaramaiah of the Congress is aged 69.
"Yeddyurappa is BJP's tallest leader in Karnataka, but we do not want his age to become a factor. Young candidates should offset that danger," another BJP office bearer said.
Despite having an undeclared age bar of not allowing leaders above 75 years of age to hold ministerial position, the BJP decided to project Yeddyurappa as its CM face in the upcoming elections. He is considered the tallest leader of the dominant Lingayat community, which brought the BJP to power in the past and largely remained with him when he spent time outside the BJP between 2012 and 2013.
Second, the BJP plans to field "new" candidates to get the best out of Yeddyurappa's return to the party's fold in 2013.
The BJP fielded 223 candidates in the last assembly election in 2013, polled 62.36 lakh votes and won 40 seats. In the same election, Yeddyurappa's Karnataka Jantha Paksha fielded 204 candidates, polled 30.69 lakh votes and won six seats. KJP merged with the BJP ahead of Lok Sabha elections in 2014. Almost every seat now has at least two claimants who contested the 2013 election.
"Several former KJP candidates, particularly in north Karnataka, might get BJP ticket this time," a BJP leader said. The party plans to drop candidates from the "old generation" who have "exhausted" their political innings and do not have much to add to the BJP's "aggressive organisational expansion plans".
They, the BJP leader said, will be asked to make way for "new and younger candidates" and can be accommodated in other roles.
The BJP's crisis managers are working overtime to ensure this doesn't add to the already raging factionalism in the state.
Close Story
Personalise your news feed. Follow trending topics