'India, Nepal ties unshakeable like…': PM Modi at Buddhist Conference in Lumbini
Updated on May 16, 2022 06:24 PM IST
Addressing a Buddhist Conference in Lumbini, Modi said India and Nepal's ever-strengthening friendship and closeness will serve entire humanity "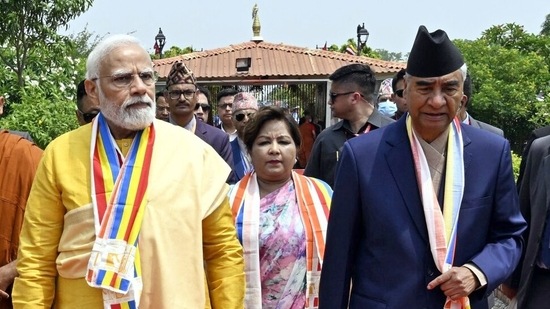 Prime Minister Narendra Modi on Monday said India and Nepal's ever-strengthening friendship and closeness will serve entire humanity "amid the kind of global situation that is emerging today". Modi, who is in the Himalayan nation at the invitation of his Nepalese counterpart Sher Bahadur Deuba on a day-long visit to Lumbini on the occasion of Buddha Purnima, said the relations between the two nations are "unshakeable like the Himalayas".
Addressing a Buddhist Conference in Lumbini, Modi said Buddha is the embodiment of the collective understanding of humanity.
"The growing and strengthening friendship between India and Nepal will work for the benefit of entire humanity amid the kind of global situation that is emerging today. The devotion to Lord Buddha binds us together and makes us members of one family," Modi said.
Also Read | At Lumbini, PM Modi showcases India-Nepal shared Buddhist heritage
Modi also said the energy of the place where Lord Buddha was born, gives a different feeling. "I was happy to see that the Mahabodhi sapling I had gifted in 2014 for this place, is now growing into a tree," he added.
Modi, who attended the 2566th Buddha Jayanti Celebration at International Convention Center and Meditation Hall at Lumbini, was accompanied by Deuba and his spouse Arzu Rana Deuba. Several Nepalese ministers were among the other dignitaries present.
Thanking Modi for visiting Lumbini, Deuba tweeted, "I believe your special pilgrimage to the Birthplace of Lord Buddha has further strengthened our friendship and cultural ties."
Lumbini, located in the Terai plains of southern Nepal, is one of the holiest places of Buddhism, as Lord Buddha was born there.
Modi visited the Maya Devi Temple as the first stop of his one-day visit to Lumbini, the ministry of external affairs (MEA) said in a statement.
The leaders also paid their respects at the Marker Stone inside the temple premises, which pinpoints the exact birth spot of Lord Buddha. They attended the pooja conducted as per Buddhist rituals, it said.
Personalise your news feed. Follow trending topics