Covid-19 cases rising exponentially, it's critical to test more: ICMR
Apr 15, 2020 09:17 AM IST
The past week has seen an increase of between 650 and 1,000 Covid-19-positive cases daily, with the total number of cases in the country standing at 10,752 and deaths at 361 till Tuesday evening.
The Indian Council of Medical Research (ICMR) has said that it is critical to increase testing for the coronavirus disease (Covid-19) as the number of cases in India is "rising exponentially", a development that comes even as the government awaits the arrival of rapid testing kits from China.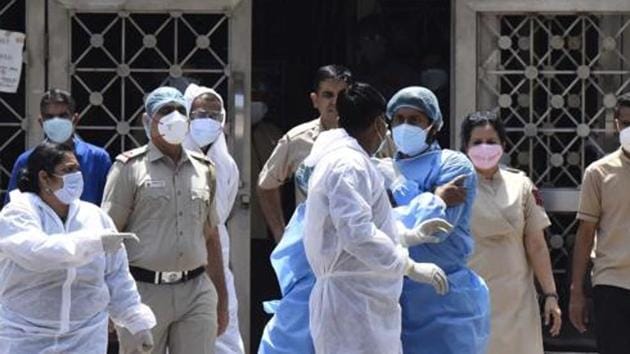 The rapid testing kits, which search for antibodies in blood samples, were first supposed to arrive on April 5. The expected date of delivery was later revised to April 10, and then to April 15. There was, however, no clarity if all kits ordered by India would arrive by Wednesday.
Rapid testing kits show if a person is or has previously been infected by the virus. Apart from being a fast way to identify the extent of infections in clusters, countries around the world are looking to use these tests to determine who has immunity to the Sars-CoV-2 virus that causes Covid-19. Unlike the RT-PCR tests currently in use, which take at least five hours for a result, RTKs can give diagnoses in 25-30 minutes.
"Number of Covid-19 cases in India is rising exponentially… it is critical to increase the numbers of tests conducted by laboratories," said an ICMR document released on Monday, based on a study the premier medical research institution recently commissioned to check the feasibility of conducting pool testing in the country that can cover large sample sizes with limited resources.
Public health experts have raised concerns over the disease possibly entering the "community transmission" phase, when the infections spread indiscriminately and the origin of an individual's disease can't be traced. The government has, however, maintained that the country is not yet in the phase of community spread, and there is some "limited community transmission" in certain clusters.
The ICMR document, however, suggests that the government is aware of the possibility of a surge in Covid-19 cases in India in the coming weeks and that preparations were being made for that likely scenario.
The World Health Organization (WHO) has defined four transmission scenarios for Covid-19 — no confirmed cases, sporadic cases, clusters of cases, and community transmission. Community transmission refers to a larger, uncontrolled outbreak of local transmission.
The number of Covid-19 cases in the country stood at 11,479 on Tuesday night, doubling over six days, with 1,035 fresh infections in the last 24 hours. At least 390 people have died of the disease in the country so far, with the global death toll crossing 120,000.
A government official, who spoke on condition of anonymity, said: "Exponential growth is worrying when numbers double in three days or less, as is happening in several countries. If we manage to keep the numbers from doubling in five or more days, as the lockdown has and will help us do, we will be on a good wicket."
Lav Agarwal, joint secretary in the Union health ministry, said in his daily health briefing on Monday: "There is no community transmission in India yet. There is nothing to hide if there was; in fact, it makes more sense to declare it so that people take extra precautions to prevent getting infected."
Experts in virology say that an outright denial of community transmission doesn't make sense.
"This seems like a schizophrenic approach to the truth where you speak only what is pleasing to the listener, and don't say what you really believe in. Of course, people are not transmitting, perhaps aliens are," said Dr T Jacob John, former head of virology at the Christian Medical College, Vellore.
India ordered 500,000 kits from Chinese suppliers on March 30 and later raised a tender for 4.5 million more to be acquired in batches. In anticipation of the arrival of the kits first on April 5, India issued an advisory on starting rapid antibody testing on April 4, and revised the testing guidelines on April 9 to include rapid testing of all symptomatic individuals in hot spot areas with symptoms at least a week old.
The King George's Medical University, Lucknow, on Monday began testing of samples in pools from low-risk areas in the state as a surveillance mechanism. "The samples that we are getting to pool are all those lifted for the purpose of surveillance. It is not for diagnosing the disease as pooling samples for diagnoses is not advisable," said Dr Amita Jain, head of ICMR's virus research and diagnostic laboratory (VRDL) based in KGMU.
Due to shortage of kits, the Union Territory of Andaman & Nicobar has already begun performing tests in pools.
ICMR, however, says there is no shortage of kits, and current stock can perform tests for at least six weeks. "We have received a supply of RT-PCR kits (on Monday), and an order for 3.3 million more RT-PCR kits has been placed that will also arrive soon. Additionally, there is a consignment of 3.7 million rapid testing kits that is expected any time now," said Dr Raman R Gangakhedkar, ICMR's chief of epidemiology and communicable disease, at a news briefing.
Exciting news! Mint is now on WhatsApp Channels
Subscribe today by clicking the link and stay updated with the latest financial insights!
Click here!
Get
Latest India News
along with
Latest News
and
Top Headlines
from India and around the world