Dalit protests: Normalcy returns to Rajasthan's Hindaun but curfew remains
Hindustan Times, Jaipur |
Rakesh Goswami
Apr 04, 2018 01:08 PM IST
Curfew was to be in effect till 1pm today as the situation in Hindaun settled down following Monday's violence.
No fresh incident of violence was reported on Wednesday from Hindaun in Rajasthan's Karauli district after two consecutive days of clashes following a curfew that was clamped from Tuesday afternoon, officials said.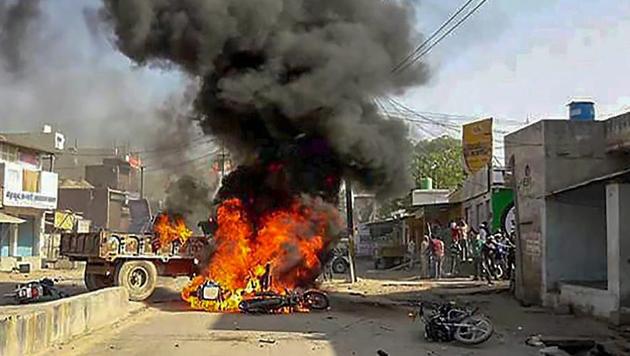 The district's additional superintendent of police Rajesh Yadav said that the situation was normal and additional forces have been deployed to ensure peace in the area.
"We got three companies of the Border Security Force (BSF) last (Tuesday) night. At the moment we have eight companies in the district," Yadav added.
Karauli district collector Abhimanyu Kumar said the curfew, which was to remain in effect till 11am on Wednesday, has been extended till 1pm. Internet services will, however, remain suspended in the district throughout the day, Kumar added.
Dalit protesters went on a rampage in Hindaun on Monday while enforcing their nation-wide agitation against what they said was the dilution of the Scheduled Castes and the Scheduled Tribes (Prevention of Atrocities) Act, 1989.
The Supreme Court on March 20 had banned automatic arrests and registration of criminal cases under the legislation meant to protect the historically discriminated communities from abuse.
Suspected non-Dalit groups, who were angered by the rampage, targeted Dalit slums in retaliation on Tuesday morning. The mob tried to enter the Jatav locality but were stopped and dispersed by the police using tear-gas, batons and by firing in the air.
The mob burnt the house of former Congress legislator Bharosi Lal Jatav and ransacked the home of Bharatiya Janata Party legislator from Hindaun, Rajkumari Jatav. A curfew was imposed in Hindaun following the clash.
Additional superintendent of police Yadav said that some 45 people were arrested on Monday and about 40 were arrested for retaliatory violence on Tuesday.
"We have also identified those who vandalised the houses of the legislators," Yadav said.
Dalit protests led to clashes and violence in several parts of the desert state. The police arrested over 1,000 people on charges of rioting, vandalism, breach of peace and other charges over the past two days.
A 27-year old protester was killed in Alwar in police firing and a sub-inspector of police suffered a heart attack in Jodhpur while managing the situation on Monday. He died on Tuesday afternoon while being taken to a hospital in Ahmedabad.
The all-India shutdown hit businesses across Rajasthan and an estimate by a traders' organisation said it cost the industry Rs 2,500 crore.