Devout and gay: Faith vs sexuality
Members of the LGBTQ community face the challenge of reconciling sexual desire with practising their faith in the face of social, religious censure,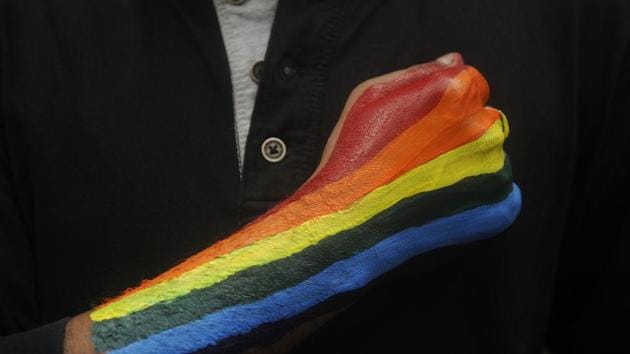 Updated on Aug 14, 2018 01:14 PM IST
Hindustan Times |
Dhamini Ratnam
By the afternoon of July 12, the lawyers of the 34 lesbian, gay, bisexual and transgender petitioners and intervenors, including parents of queer persons and mental health professionals, had wrapped up their arguments on why Section 377 of the Indian Penal Code — a law that criminalises non-penile vaginal intercourse between consenting adults — disproportionately affected the LGBT communities and violated their fundamental rights. The case, heard before a Constitution bench headed by the Chief Justice of India (CJI) Dipak Mishra, was a fresh bout in the legal fight over the colonial-era law.
The respondents included the Apostolic Churches Alliance (ACA), Trust God Missionaries, and Delhi-based astrologer Suresh Kumar Koushal —all of whom had opposed a 2009 Delhi high court verdict that had ruled that the law did not apply to consenting adults. Within days, 11 petitioners, including Patanjali founder Baba Ramdev and many of the current respondents, challenged the judgment in the Supreme Court, and four years later, won.
This time too, the respondents' lawyers made the same arguments in favour of Section 377. One argued that the distinction between sexual and carnal intercourse lay in the correct use of appropriate organs. One explained the sexual practices in the animal kingdom before the bench brought him back to the issue at hand. Another senior lawyer argued that public morality and customary practices cannot be overridden.
At the same time, barely minutes away from the courthouse, another kind of conversation about sexuality was taking place. A two-day national consultation on Interfaith Responses to Human Sexuality and Gender Diversity held on July 13 and 14 brought together LGBTQ persons and faith leaders from different religions, including Islam, Baha'i, Buddhism, Hinduism and Christianity. Jerry Johnson, a 36-year-old writer, spoke at this closed-door gathering. "You can't see human sexuality as pipes that fit together," he said. "Our entire beings are sexual, and in fact, our minds are more sexual than our bodies and that is what we put in service to a sexual relationship, or in love, or when you are producing an offspring."
The conference was organised by an ecumenical forum of the National Council of Churches of India (NCCI) and sexual minorities rights group Aneka. At the end of it, a statement was issued: "We believe that love is the basis of all religions and hatred can have no place. However, historically there have been dominant interpretations that have been used to perpetuate oppressive systems against these minorities. As a result, gender, sexual and sexuality minorities are often rejected and alienated by many religious leaders and faith communities."
In a country where only 0.1% of the population did not state a religion in the last census (the remaining 99.9% identified as Hindu, Muslim, Christian, Sikh, Buddhist, Jain among others), this statement carries import for devout LGBTQ persons across faiths, who often find themselves excluded from religious spaces and either condemned or under-represented in scriptural interpretations.
In the past decade and particularly after the Supreme Court reinstated Section 377 in 2013, efforts have been undertaken to address this. Interfaith meetings have been organised; a theological university introduced an elective course on human sexuality; a book on karmic faiths' responses to sexuality was published; a documentary on queer Sikhs is in the works; and most recently, a collective to create a safe space for queer Muslims has come up. It held its third event— a workshop to facilitate conversations on faith and sexuality — on August 5.
The Queer Muslim Project (TQMP), says its 27-year-old founder Rafiul Alom Rahman, started as a Facebook page in March 2017. The page now has over 4,500 likes. Simultaneously, they launched their Facebook and WhatsApp groups. The WhatsApp group has 40 members from different parts of India, including small towns of Bihar, Uttar Pradesh and Madhya Pradesh; and in May they organised their first official meeting with the help of Bengaluru-based gender and sexual minority rights NGO Aneka. "Faith is not only what is represented in the court, by religious groups who support Section 377," says Rahman.
Nearly 40 people attended the event held in Delhi on August 5, and it was a space of "tremendous healing," says Rahman. "We reclaimed a narrative of Islam and queerness that's always taken away from us." More than 30 had attended TQMP's meeting held in May in Bengaluru. One of them was a 22-year-old college goer. The youngest of four siblings, he does not wish to be identified, but says that he always felt that his queer identity "equalled death, despite the Quran talking about mercy and forgiveness." He recalled hearing a verse at this meeting which spoke about diversity of tribes, which he loved. "It feels good to be validated and because it comes directly through religion, you don't need to seek it via dating apps or by appeasing people," he said.
Even while some faith leaders might be supportive, they cannot appear to be publicly so, says Arif Jafar, one of the petitioners against Section 377 who has been speaking to clerics as part of his decades-long outreach work. "For a cleric to say that the Quran is not explicitly against homosexuality is a very courageous thing to do," said the 47-year old who was the principal investigator in a 2005 study titled 'Faith, Cultures and Sexualities: A pilot study on the impact of Islamic beliefs, traditions and customs on Muslim males who have sex with males' conducted by the Naz Foundation International. All 61 participants from Hyderabad, Lucknow, New Delhi and Dhaka believed that their sexual behaviour was sinful and felt ashamed by it, the study revealed.
The arguments made in favour of Section 377, drawn from tradition and public morality, are not new. Meera Baindur, an activist and interfaith researcher based in Bengaluru, says that it is tough to pin them down in Hinduism, because it is a plural faith with several texts and traditions of practices. According
to Baindur, in the absence of specific scriptural prohibition, many Hindu families fall back on traditional practices relating to marriage and worship to oppose LGBTQ rights. "Even if the religion is inclusive, it is the practice of it that is exclusive, and that's what needs to be addressed."
Sukhdeep Singh, who edits an online magazine, Gaylaxy, and participated in the national consultation that took place in July, agrees. "I've not come across any gay Sikh who has felt conflicted about their religion, because the main focus of Sikhism is on equality and acceptance. The problem lies in our patriarchal socio-cultural milieu, and the expectations it puts on gender expression, like machismo," says the 30-year-old, who is working on a documentary on gay and lesbian Sikhs. He wrote about this in a book, 'I am divine, so are you', which was published last year. The book was co-edited and co-authored by Jerry Johnson, with significant inputs from mythologist Devdutt Pattanaik and Baindur, among others. The book offers a queer-friendly reading of karmic religions — Buddhism, Sikhism, Jainism and Hinduism.
In August 2009, one of the first interfaith discussions took place in Bengaluru shortly after the Delhi high court verdict. LGBT persons, faith leaders such as Swami Agnivesh, and scholars such as Baindur and Asgar Ali Engineer attended it. In 2014, shortly after the SC's reinstatement of Section 377, the NCCI's Commission on Justice, Peace and Creation, the Board of Theological Education of the Senate of Serampore College, West Bengal, and Aneka organised another interfaith gathering, in which a book titled 'Faiths Against Homophobia' was released. The participants read out different scriptures and tried to retrieve the teachings of various religious traditions with respect to stigmatised gender and sexual minorities. Since then, Aneka has conducted workshops with students and the Senate of Serampore College, a university with many affiliated colleges and seminaries, introduced an optional course on theological and ethical reflections on human sexuality.
Interpretation of religious texts is necessary to address another aspect of discrimination, which also affects LGBTQ lives.
"We must admit that most texts that have achieved canonical status are not voices of the women or of sexual minorities. They are compositions of a select caste of male Brahmins who had access to learning and leisure and therefore it would be wrong to suggest that these are representing Indian culture or Indian social norms," Baindur points out.
S Bala, a 30-year old Bengaluru resident who is from an oppressed caste, feels the conflict between his devotion, his gay identity and the caste discrimination, keenly. For instance, he has never returned to his native village near
Chennai to attend the religious festival because he knows he will not be allowed to enter the temple. But the shrine in his kitchen has idols of gods he has chosen to revere. He also calls himself as Buddhist — a recognition of his grandparents' Ambedkarite roots.
"I can't identify as a practising Hindu, because as an organised religion, it finds my existence polluting. But at the same time, I worship Hindu gods. My altar is the place where you'll find oppressed gods, who have been cast out in mythologies, like Matangi, a goddess who is associated with the Chandala community and is usually offered left-over food."
For the devout, faith offers space for collective healing, but diverse religious interpretations around gender and sexuality don't always agree with each other.
"What we are saying is that let's expand the conversation to all possible interpretations. So we are not saying that Suresh Kumar Koushal, who went to the Supreme Court and argued that Section 377 remain in the books, is wrong. We're saying our opinion is valid too. There is far more grace and compassion in religion than what is being depicted," says Johnson.
Close Story
Personalise your news feed. Follow trending topics