Divided by religion, united in grief: Families of those detained after Kasganj communal clashes fight for justice
Updated on Jan 29, 2018 01:27 PM IST
Violence erupted in Kasganj on Saturday as people returning from the cremation of man killed in clashes on Republic Day allegedly set ablaze several shops and vehicles near the Ghantaghar area of the western Uttar Pradesh town.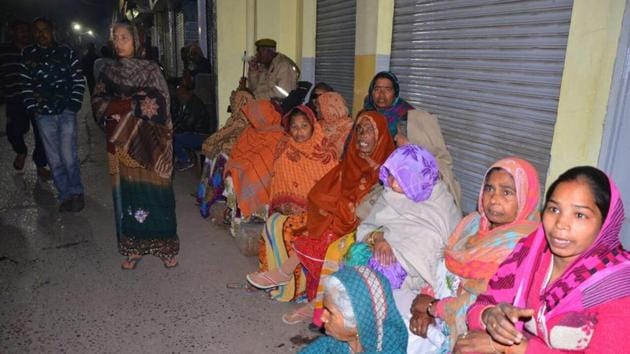 Hindustan Times, Kasganj |
, Kasganj
Chandan Kumar
Mateen Khan, 27, a daily wager was detained by a police team near his house in Railway Phatak Colony in Kasganj on Sunday, two days after communal clashes broke out in the city. His 51-year-old mother asserted that her son has been held arbitrarily.
Mateen was among the 81 detained from across the Kasganj district after communal clashes on Republic Day.
"Mateen was brushing his teeth outside the house when a police team detained him. We are told that he is held inside (kotwali police station). I am waiting here for his release," his mother Jameeni Begum said as she sat on the pavement in front of the kotwali police station on Sunday.
A majority of the detainees were brought to Kotwali police station where an FIR over the communal violence is registered.
Sitting beside Jameeni Begum was Rama Devi, 52, who was waiting for some news of her youngest son Joginder.
"Joginder is only 18 years old. He is very studious and has nothing to do with the incident," she says.
Occupying the concrete pavement with Jameeni Begum and Rama Devi are 50-odd women, both Hindu and Muslim. Most of them are mothers, some are wives or sisters of those detained by police. They gathered outside the police station on Sunday and refused to budge despite repeated attempts of the local police.
"Sab kuch to yahan hai, chhod ke kaise chale jayen (Everything is here, how can I leave)," said Sunita Devi, mother of another detainee.
"My son was arrested when he was returning from his tuition class. Padhne likene wala ladka hai uska aise bawal se kya kaam (He is a studious boy, he has nothing to do with the incident)," said a woman showing a photo copy of his son's Aadhaar card to journalists.
While the woman waited outside, detainees counted hours seated in the lock-ups inside the police station.
Mohd Naseeruddin Khan, 70, one of the detainees waited for his release in the record room of the police station.
"I am a heart patient and asthmatic. I have nothing to do with the clashes," he said as his eyes welled up with tears.
His 22-year-old son Akram, standing three feet away, extended his arms to hold his father. A constable standing on guard objected: "Apni jagah raho, kuch nahin hoga inko (Stay at your place, nothing will happen to him)."
A little later, a commotion broke out in the courtyard of the police station as some women attempted to go near the lockups with food packets.
"My son has not eaten anything since yesterday. At least allow me to deliver this food," she urged a constable. Four other women follow her with similar request.
The commotion attracted the attention of the station house officer, who was busy completing paper work.
"Yeh sab kya ho raha hai yahan. Anawashyak logon ko bahar nikalo yahan se ( What is happening here. Remove unnecessary people from here)," the SHO ordered.
Acting on the SHO's command, constables forced the women to leave the police station premises. They return to their place on the pavement and resume their vigil.
Asked about what they think about the incident an elderly woman of the group replied: "Jo bhi hua galat hua par uski saza sab ko kyun?( Whatver has happened is wrong, but why everyone is paying the price for it)."