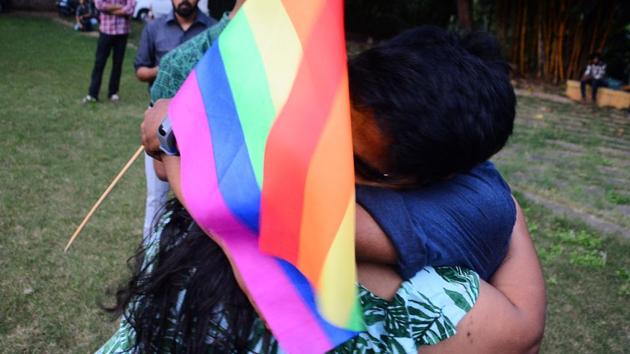 Freedom from fear: What the SC judges said in their historic verdict on Section 377
The Judges' verdict stood for love, individual freedom, privacy and a human being's right to live with dignity, thus pronouncing the historic verdict which decriminalises sex between consenting homosexual adults.
UPDATED ON SEP 06, 2018 10:59 PM IST
A historic judgement and some memorable words from the five-judge bench of the Supreme Court which read down Section 377 on Thursday, finally took a step towards meeting the long-standing demands of the country's LGBTQ community and human rights activists.
The judges quoted from iconic philosophers like Wolfgang von Goethe, and cited the relationship between author Oscar Wilde and his lover Lord Alfred Douglas, criticising the archaic laws based on a conservative notion of morality to stand for love, individual freedom, privacy and a human being's right to live with dignity, thus pronouncing the verdict which decriminalises sex between consenting homosexual adults.
Here are excerpts from what each judge said in the historic verdict:
CJI Dipak Misra and Justice AM Khanwilkar
Not for nothing, the German thinker, Johann Wolfgang von Goethe, had said, 'I am what I am, so take me as I am' and similarly, Arthur Schopenhauer had pronounced, 'No one can escape from their individuality'. The emphasis on the unique being of an individual is the salt of his/her life. Denial of self-expression is inviting death. Irreplaceability of individuality and identity is grant of respect to self. This realisation is one's signature and self-determined design. One defines oneself. That is the glorious form of individuality.
We must recognise that the concept of identity which has a constitutional tenability cannot be pigeonholed singularly to one's orientation as it may keep the individual choice at bay.
Our Constitution is a living and organic document capable of expansion with the changing needs and demands of the society. The courts must commemorate that it is the Constitution and its golden principles to which they bear their foremost allegiance and they must robe themselves with the armoury of progressive and pragmatic interpretation to combat the evils of inequality and injustice that try to creep into the society. The role of the courts gains more importance when the rights which are affected belong to a class of persons or a minority group who have been deprived of their basic rights since time immemorial.
Sexual orientation is one of the many biological phenomena which is natural and inherent in an individual and is controlled by neurological and biological factors. The science of sexuality has theorized that an individual exerts little or no control over who he/she gets attracted to. Any discrimination on the basis of one's sexual orientation would entail a violation of the fundamental right of freedom of expression
Our Constitution has been perceived to be transformative in the sense that the interpretation of its provisions should not be limited to the mere literal meaning of its words; instead they ought to be given a meaningful construction which is reflective of their intent and purpose in consonance with changing times.
Consensual carnal intercourse among adults, be it homosexual or heterosexual, in private space, does not in any way harm the public decency or morality. Therefore, Section 377 IPC in its present form violates Article 19(1)(a) of the Constitution.
Section 377 IPC, so far as it penalises any consensual sexual relationship between two adults, be it homosexuals (man and a man), heterosexuals (man and a woman) or lesbians (woman and a woman), cannot be regarded as constitutional.
Justice RF Nariman
The love that dare not speak its name" is how the love that exists between same-sex couples was described by Lord Alfred Douglas, the lover of Oscar Wilde, in his poem Two Loves published in 1894 .
A recent enactment, namely the Mental Healthcare Act, 2017, throws a great deal of light on recent parliamentary legislative understanding and acceptance of constitutional values as reflected by this Court's judgments. This definition throws to the winds all earlier misconceptions of mental illness including the fact that same-sex couples who indulge in anal sex are persons with mental illness. At one point of time, the thinking in Victorian England and early on in America was that homosexuality was to be considered a mental disorder.
The present definition of mental illness in the 2017 parliamentary statute makes it clear that homosexuality is not considered to be a mental illness. This is a major advance in our law which has been recognised by Parliament itself.
Given our judgment in Puttaswamy (supra), in particular, the right of every citizen of India to live with dignity and the right to privacy including the right to make intimate choices regarding the manner in which such individual wishes to live being protected by Articles 14, 19 and 21, it is clear that Section 377, insofar as it applies to same-sex consenting adults, demeans them by having them prosecuted instead of understanding their sexual orientation and attempting to correct centuries of the stigma associated with such persons.
The Union of India, seeing the writing on the wall, has filed an affidavit in which it has not opposed the petitioners but left the matter to the wisdom of this court.
We are afraid that, given the march of events in constitutional law by this court, and parliamentary recognition of the plight of such persons in certain provisions of the Mental Healthcare Act, 2017, it will not be open for a constitutional court to substitute societal morality with constitutional morality, as has been stated by us.
Morality and criminality are not co-extensive -- sin is not punishable on earth by courts set up by the State but elsewhere; crime alone is punishable on earth. To confuse the one with the other is what causes the death knell of Section 377, insofar as it applies to consenting homosexual adults.
We may conclude by stating that persons who are homosexual have a fundamental right to live with dignity, which, in the larger framework of the Preamble of India, will assure the cardinal constitutional value of fraternity that has been discussed in some of our judgments. We further declare that such groups are entitled to the protection of equal laws, and are entitled to be treated in society as human beings without any stigma attached to any of them.
Justice DY Chandrachud
The choice of a partner, the desire for personal intimacy and the yearning to find love and fulfilment in human relationships have a universal appeal, straddling age and time. In protecting consensual intimacies, the Constitution adopts a simple principle: the state has no business to intrude into these personal matters. Nor can societal notions of heteronormativity regulate constitutional liberties based on sexual orientation.
The LGBTQ community has been a victim of the pre-dominant (Victorian) morality which prevailed at the time when the Indian Penal Code was drafted and enacted. Therefore, we are inclined to observe that it is constitutional morality, and not mainstream views about sexual morality, which should be the driving factor in determining the validity of Section 377.
LGBT individuals living under the threats of conformity grounded in cultural morality have been denied a basic human existence. They have been stereotyped and prejudiced. Constitutional morality requires this court not to turn a blind eye to their right to an equal participation of citizenship and an equal enjoyment of living. Constitutional morality requires that this court must act as a counter majoritarian institution which discharges the responsibility of protecting constitutionally entrenched rights, regardless of what the majority may believe. Constitutional morality must turn into a habit of citizens.
Sexual orientation is integral to the identity of the members of the LGBT communities. It is intrinsic to their dignity, inseparable from their autonomy and at the heart of their privacy. Section 377 is founded on moral notions which are an anathema to a constitutional order in which liberty must trump over stereotypes and prevail over the mainstreaming of culture. Our Constitution, above all, is an essay in the acceptance of diversity. It is founded on a vision of an inclusive society which accommodates plural ways of life.
Sexual and gender-based minorities cannot live in fear, if the Constitution has to have meaning for them on even terms. In its quest for equality and the equal protection of the law, the Constitution guarantees an equal citizenship. In de-criminalising such conduct, the values of the Constitution assure to the LGBT community the ability to lead a life of freedom from fear and to find fulfilment in intimate choices.
A 150 years is too long a period for the LGBT community to suffer the indignities of denial. That it has taken 68 years even after the advent of the Constitution is a sobering reminder of the unfinished task which lies ahead. The importance of this case lies in telling us that reverberations of how we address social conflict in our times will travel far beyond the narrow alleys in which they are explored.
Members of the LGBT community are entitled to the full range of constitutional rights; The choice of whom to partner, the ability to find fulfilment in sexual intimacies and the right not to be subjected to discriminatory behaviour are intrinsic to the constitutional protection of sexual orientation; Members of the LGBT community are entitled to the benefit of an equal citizenship... and to the equal protection of law.
Justice Indu Malhotra
Whilst a great deal of scientific research has examined possible genetic, hormonal, developmental, psychological, social and cultural influences on sexual orientation, no findings have conclusively linked sexual orientation to any one particular factor or factors. It is believed that one's sexuality is the result of a complex interplay between nature and nurture. Sexual orientation is an innate attribute of one's identity, and cannot be altered. Sexual orientation is not a matter of choice. It manifests in early adolescence.
Homosexuality is a natural variant of human sexuality. A person's sexual orientation is intrinsic to their being. It is connected with their individuality, and identity. A classification which discriminates between persons based on their innate nature, would be violative of their fundamental rights, and cannot withstand the test of constitutional morality.
Section 377 insofar as it criminalises consensual sexual acts between adults in private, is not based on any sound or rational principle, since the basis of criminalisation is the "sexual orientation" of a person, over which one has "little or no choice".
Further, the phrase "carnal intercourse against the order of nature" in Section 377 as a determining principle in a penal provision, is too open-ended, giving way to the scope for misuse against members of the LGBT community. Thus, apart from not satisfying the twin-test under Article 14, Section 377 is also manifestly arbitrary, and violative of Article 14 of the Constitution.
Sexual orientation is innate to a human being. It is an important attribute of one's personality and identity. Homosexuality and bisexuality are natural variants of human sexuality. LGBT persons have little or no choice over their sexual orientation. LGBT persons, like other heterosexual persons, are entitled to their privacy, and the right to lead a dignified existence, without fear of persecution. They are entitled to complete autonomy over the most intimate decisions relating to their personal life, including the choice of their partners. Such choices must be protected under Article 21. The right to life and liberty would encompass the right to sexual autonomy, and freedom of expression.
The right to privacy is not simply the "right to be let alone", and has travelled far beyond that initial concept. It now incorporates the ideas of spatial privacy, and decisional privacy or privacy of choice. It extends to the right to make fundamental personal choices, including those relating to intimate sexual conduct, without unwarranted State interference. Section 377 affects the private sphere of the lives of LGBT persons. It takes away the decisional autonomy of LGBT persons to make choices consistent with their sexual orientation, which would further a dignified existence and a meaningful life as a full person.
History owes an apology to the members of this community and their families, for the delay in providing redressal for the ignominy and ostracism that they have suffered through the centuries. The members of this community were compelled to live a life full of fear of reprisal and persecution. This was on account of the ignorance of the majority to recognise that homosexuality is a completely natural condition, part of a range of human sexuality.
The LGBT persons deserve to live a life unshackled from the shadow of being 'unapprehended felons'.
Close