Govt plans to bring in law to regulate cryptocurrency trade, forms panel
Updated on Jan 14, 2018 08:47 AM IST
Indian authorities are apprehensive that black money is being used to trade in cryptocurrencies.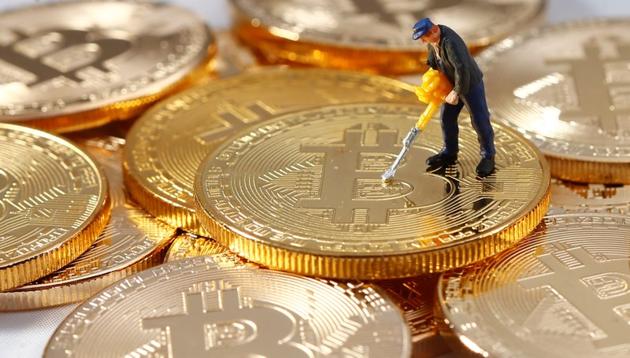 Hindustan Times, New Delhi |
, New Delhi
P Suchetana Ray
The government wants a law to regulate trade of cryptocurrencies such as Bitcoin in India and has formed a committee to fast track the process, two government officials close to the development said.
Cryptocurrencies are virtual currencies (VC) that are created and held electronically. The transactions of virtual currencies are based on Blockchain technology and the value of any cryptocurrency is determined by demand and supply.
In addition to Bitcoin, there are more than 1,300 such decentralised currencies such as Ripple, Litecoin etc.
"There are two main concerns that the law on cryptocurrency will address: the source of money being used to trade in them; and regulation of exchanges of VC to protect the common man," said a government official in the know of the matter. "We understand the interest in Bitcoin, its value went up from a few hundred dollars some years back to about Rs 10 lakh now. But we need to ensure clean money is being used to buy VC," the source added.
The concern stems from Indian authorities' apprehension that black money is being used to trade in cryptocurrencies.
"The government is examining the use of black money to buy VC. Post-demonetisation, black money was channelled into buying VC, so we need to have rules to identify the source of money that is being used to buy VC," said another government official.
The officials are not allowed to disclose their names because they are not spokespersons of the committee that is working on cryptocurrency. The committee has representation from the departments of economic affairs, tax and from the RBI and the ED.
The popularity of VC, especially Bitcoins, is because of its skyrocketing market capitalisation. The total market cap of all cryptocurrencies has gone up to $750 billion between May 2013 and January 2017. The market cap of Bitcoin has increased 15-20 times in the past year, shows VC data tracker coinmarketcap.com.
Experts say Indians form around 10% of the total global trade in Bitcoin."The debate is about the asset class of cryptocurrency. So the Indian government has to clarify whether a cryptocurrency such as Bitcoin is a commodity or an asset or a security. We also need regulations for the exchanges where you can buy or sell cryptocurrency," said Chandan Choudhury, a Bengaluru-based cryptocurrency expert.
Several countries, including China, South Korea and Russia, have cracked down on cryptocurrency exchanges but experts said that since VC trades are "peer-to-peer" in nature, banning does not stop the buying or selling of VC.
"There have been tax surveys at our exchange but there is no rule in India to stop cryptocurrency trade. So we continue the buying and selling on our exchange and we follow KYCs before allowing customers to trade. Also, none of our trades are in cash," said a co-founder of a cryptocurrency exchange, asking not to be named.
The government had recently announced that cryptocurrencies such as Bitcoin are not legal tender in India, but have not banned its trade.
Personalise your news feed. Follow trending topics