Govt's Ganga minimum flow order inadequate, say experts
A Yamuna activist who has been studying Center's policies on Ganga said, "I think the purpose of this notification is to clear more dams. The flows given are too less and not going to help Ganga in anyway.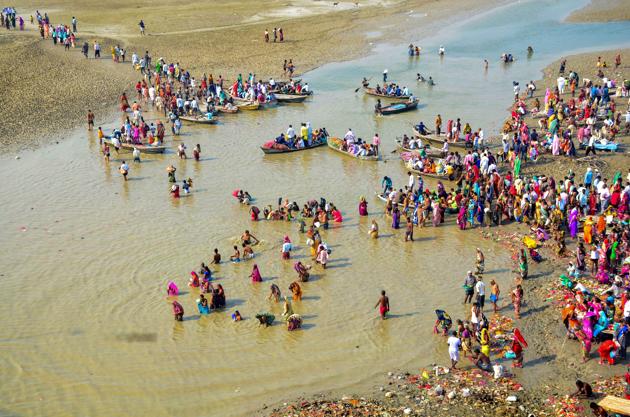 Published on Oct 13, 2018 11:30 PM IST
Hindustan Times, New Delhi | By Jayashree Nandi
Scientists and water experts have called the recent Ganga environmental flow (e-flow) notification "half-hearted" and inadequate in ensuring the river has life in all its stretches. The notification was issued on October 10, a day before environmentalist, GD Agarwal died after fasting for 111 days for an aviral (continuous, unobstructed flow) Ganga.
E-flow is a regime of flow in a river that mimics the natural pattern. It refers to the quality, quantity and timing of water flows required to maintain the components, functions, processes and resilience of aquatic ecosystems that provide goods and services to people.
However, scientists associated with studies on e-flow say Agarwal wouldn't have accepted the notification. While some experts say that the flow stipulated in the notification is inadequate, they believe that it would not be able to achieve the main purpose to ensure aquatic life thriving and the rivers free movement.
The ministry of water resources had constituted a three member committee in 2015 which included Professor Vinod Tare of IIT-Kanpur, Shashi Shekhar, special secretary, water resources and Amarjeet Singh, additional secretary, water resources to analyse reports submitted by an IIT consortium (constituted by Centre in 2010 for preparing Ganga river basin management plan) and come out with e-flow recommendations.
"The adequacy of these e-flows determined by the ministry of water resources is now questionable but more than that its important to see how these values have been arrived at. We had submitted a detailed report on e-flows which was site specific and was essentially a percentage of the minimum flow available," said professor Vinod Tare of IIT-Kanpur, one of the three e-flow committee members. "We had also said that for migration of aquatic life, modification in design of hydroelectric projects and dams was needed to ensure water flowed continuously which in scientific terms is called longitudinal connectivity. But I don't find these plans in the notification," Tare added. The Tare committee report was never formally released because one author—Amarjeet Singh who was in the water resources ministry didn't agree with its findings.
One of the methods that Tare committee had suggested was to identify the keystone species in the river such as Mahseer or Snow Trout depending on the stretch should determine the minimum depth of flow. Another important factor that the committee suggested was to factor in longitudinal connectivity in all seasons and lateral connectivity with the floodplains during monsoon. "We are shocked to see that the current notification is not based on these requirements. Have they arrived at arbitrary figures?," asked Himanshu Thakkar, coordinator of South Asia Network on Dams, Rivers and People (SANDRP).
Manoj Mishra, Yamuna activist who has been studying Center's policies on Ganga said, "I think the purpose of this notification is to clear more dams. The flows given are too less and not going to help Ganga in anyway. Why was there no consultation before notifying this?" The flows recommended by Tare committee where site specific and so cannot be compared with the current draft. Abhijit Mukherjee of IIT-Kharagpur's Geology and Geophysics department said "it may be a good beginning but there is no background or reference material in the draft to understand what the notification means for the river."
UP Singh, secretary, Union ministry of water resources said, "There are a number of different committees that have looked at e-flows and have adopted different methodologies. The Central Water Commission and National Institute of Hydrology analysed these reports and came out with the numbers we notified. Some people have told us the river needs 50% e-flow. But we have to look at the other side too. We will face power losses even with the current e-flow numbers but we decided to still go ahead because life in the river is important."
Close Story