H-1B visa: Trump administration's proposed changes and how they can affect Indians
Feb 01, 2017 09:35 AM IST
Indian IT firms and H-1B visa aspirants will be badly affected due to changes proposed by the Trump administration.
During his campaign, Donald Trump vowed that the country would follow two simple rules: "Buy American and hire American". A new bill lobbying for reforms in the H-1B visa programme was tabled in the US today, prompting reports that Trump is preparing to sign an executive order on the issue.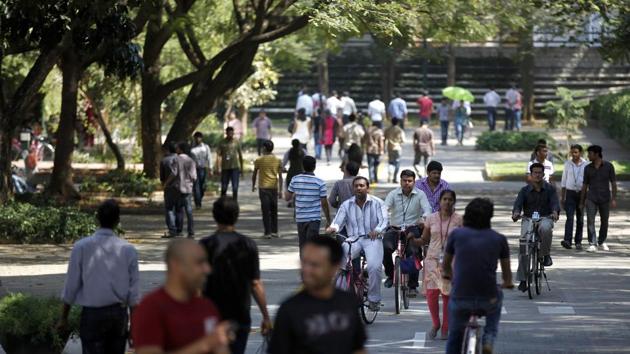 Here are a few key things you should know about the changes proposed to H-1B visas and how it can affect skilled workers from India looking to work in the US:
Stay tuned with breaking news on HT Channel on Facebook.
Join Now
What are H-1B visas?
H1B visa is an employment-based, non-immigrant visa category for temporary workers. An employer must offer a job and apply for your H1B visa petition with the US Immigration Department.
H-1Bs are the most coveted work visas: In 2016, the US Citizenship and Immigration Services announced that they received 2,36,000 H-1B petitions within five days of opening the process, more than thrice the number of mandated cap of 65,000 in the general category.
What are the proposed changes to H-1B visa norms?
Different bills proposed by senators have lobbied for reforms in the H-1B and L-1 visa norms. Some of the proposed changes are:
•Doubling minimum salaries of H-1B visa holders to $130,000
•Earmark 20% of H-1B visas for small and start-up employers
•Remove 'per country' cap for employment visas to ensure equal distribution
•Firms hiring H-1B visa holders need to make a "good faith" effort to recruit Americans first
•Give preference to students educated in the US for H-1B visas rather than computerized lottery system
•Crack down on outsourcing companies that import workers for temporary training and then send them back home to do the same job
•Prohibit spouses of H-1B visa holders from working in the US
•Prohibit companies with more than 50 employees, of which at least half are H-1B or L-1 holders, from hiring additional H-1B employees
•Strict audit and vetting by Department of Labor to clamp down on fraud or misuse
Who are the people lobbying for reforms?
January 4: Republican Congressman Darrell Issa from California re-introduced a legislation to plug loopholes in high-skilled immigration and stop the outsourcing of American jobs.
January 19: Iowa Republican Chuck Grassley and Illinois Democrat Richard Durbin, said they planned to re-introduce a bill from 2007 to protect American workers and improve fairness for visa applicants.
January 31: California Congressman Zoe Lofgren introduced the High-Skilled Integrity and Fairness Act of 2017 in the US House of Representatives that seeks to "supplement the US workforce with talented, highly-paid, and highly-skilled workers who help create jobs here in America, not replace them."
How does this affect India?
The biggest beneficiaries of H-1B visas are Indians, followed by the Chinese. In 2014, 70% of total H-1B petitions approved were from Indians
Nearly 86% of the H-1B visas issued for workers in computer occupations go to Indian workers, according to a Computerworld analysis of government data obtained through a Freedom of Information Act request.
Indian outsourcing firms such as Infosys, Wipro, Tata Consultancy Services will be badly hit. In reaction to the news, stock prices of information technology companies fell by 9%.
TCS and Infosys are already battling lawsuits in federal courts that allege that they discriminate against American workers while hiring and favour South Asians.