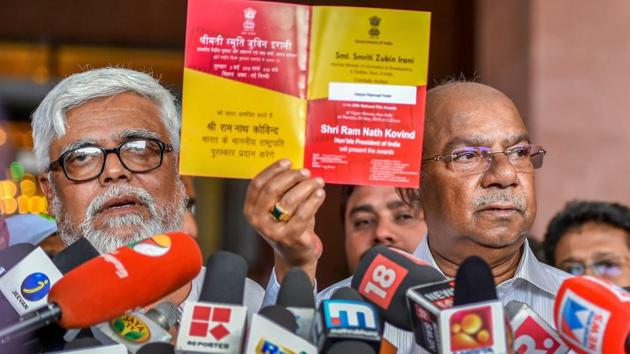 Home delivery of national awards for those who skipped I&B ministry event
The awards will be sent through post to the recipients who did not turn up to collect their citation and medals as they were not being presented by President Ram Nath Kovind, an official said.
UPDATED ON MAY 05, 2018 05:07 PM IST
The ministry of information and broadcasting (I&B) will send by post the national awards to those recipients who refused to receive them at a ceremony in New Delhi on Thursday as they were not being presented by President Ram Nath Kovind, in "a break in tradition".
An official aware of the developments on Friday said the ministry will send by post the medals and citations to these recipients.
"Even in the past when awardees failed to turn up for whatever reason, the awards were sent home," the official said.
On Thursday, nearly 60 winners of the 65th National Film Awards did not show up at the ceremony at Vigyan Bhavan in Delhi, to register their disappointment as they were not being given by the President.
The film awards are traditionally presented by the President, but this year, barring 11 awards that were given out by President Kovind, the remaining were presented by the I&B minister Smriti Irani and minister of state Rajyavardhan Rathore.
A day before the awards were presented, as many as 70 awardees wrote in protest that they were disappointed at not receiving the award from the President and had reportedly chosen to stay away from the ceremony. They said while they were not boycotting the ceremony, they were disappointed by the break in tradition.
These awardees also complained that though the I&B officials were aware of the change in schedule and were informed that the President will not stay more than an hour at the ceremony, they were kept in the dark.
Ministry officials on Friday did not respond to queries on why the recipients were not informed about the change in convention earlier, but on Thursday, an official said "some disgruntled elements and trouble makers would have still created problem", had they been informed earlier.
Close