Salman Khan says didn't kill blackbuck, claims he was falsely accused
Updated on Jan 28, 2017 01:24 AM IST
Salman Khan, Saif Ali Khan, Sonali Bendre, Tabu and Neelam had come to Jodhpur to record their statements in the 18-year-old blackbuck poaching case.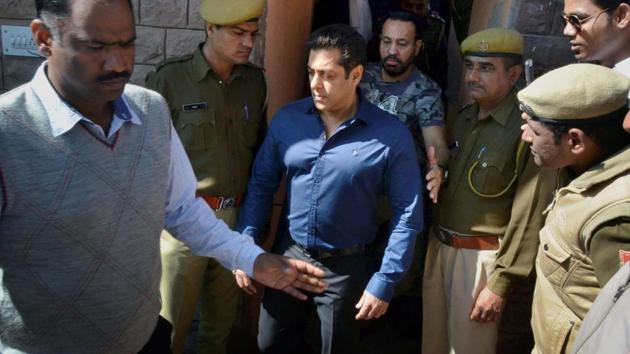 Hindustan Times, Jodhpur |
, Jodhpur
Dinesh Bothra
Bollywood star Salman Khan on Friday told a court in Rajasthan's Jodhpur he has been falsely accused of killing two blackbucks, which are an endangered species, during a shooting of a film in 1998 in the district.
Along with Salman, actors Saif Ali Khan, Sonali Bendre, Tabu and Neelam are also accused of poaching the blackbucks while shooting for the film 'Hum Saath Saath Hain' near Kankani village. Dushyant Singh, a local who is accused of helping them in the hunt, was also present in the court.
The accused appeared before the court of the chief judicial magistrate to record their statements.
CJM Dalpat Singh Rajpurohit asked Salman 65 questions about the allegation framed against him but he pleaded innocent. The others also claimed to be innocent.
The CJM asked what the actor had to say about the post mortem report of two blackbucks by Dr Nepalia and medical board. On this Salman said the report prepared by Dr Nepalia gave the correct picture, while the second report by the medical board aimed at implicating him in the false case. According to the post mortem report prepared by Dr Nepalia the two blackbucks died of dog bites.
The court had ordered the accused to appear before it on January 13 following the examination of all the prosecution witnesses following the examination of all the prosecution witnesses and then subsequently deferred the hearing to January 27.
Salman is the key accused in the case while the others are co-accused for allegedly instigating the Bajrangi Bhaijaan actor.
The court, following the recording of statements of the accused, asked the defence counsels if they wanted to bring their witnesses. Hastimal Sarswat, who is representing Salman, requested for more time to present defence witness. Sarswat was granted permission by the CJM. The next date for hearing is February 15.
Read | Salman Khan acquitted by Rajasthan HC in Black Buck poaching case
Sarswat told Hindustan Times that the prosecution has examined only 28 witnesses of the total 51.
Dushyant Singh and Dinesh Ganware, are accused of helping the actors in the hunt. Ganware has been on the run since the incident and accusations against him are yet to be framed.
Salman was booked in at least four cases during the shooting of the Ham Saath Saath Hain. The poaching case is now the only one against Salman in the trial court of Jodhpur.
On January 18, Salman was acquitted in an Arms Act case against him. He was accused of keeping and using an unlicensed weapon, but the court let him go, giving him the benefit of doubt based on weak evidence.
The Rajasthan high court had last year acquitted the actor in two cases related to the hunting of chinkara deer.
Read | Salman Khan acquitted in Arms Act case by Jodhpur court