ICJ can't nullify Kulbhushan Jadhav's death sentence: Pakistan's Sartaj Aziz
The International Court of Justice has not given any order regarding consular access for Kulbhushan Jadhav, who has been sentenced to death by Pakistan, the country's top diplomat Sartaj Aziz said on Saturday.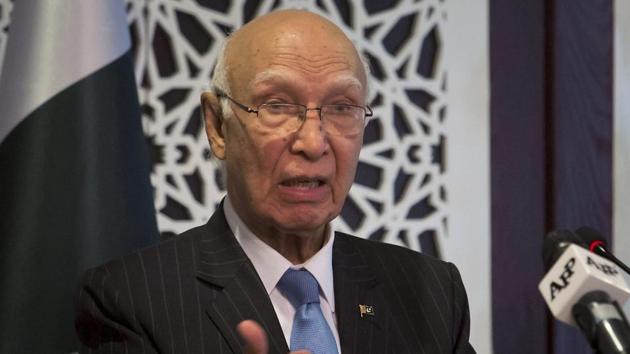 Updated on May 21, 2017 08:52 AM IST
Hindustan Times |
, Islamabad
Imtiaz Ahmad
Pakistan said on Saturday its domestic laws will prevail in the case of Kulbhushan Jadhav and the International Court of Justice cannot nullify his death sentence, reflecting a hardening of Islamabad's position after the UN's highest legal body stayed the former Indian Navy officer's execution.
Sartaj Aziz, the adviser on foreign policy to Prime Minister Nawaz Sharif, said while addressing a news conference with foreign secretary Tehmina Janjua that the ICJ had not given any ruling on providing consular access to Jadhav. "There was no operative order on consular access," he said.
Interior minister Chaudhry Nisar Ali Khan said Jadhav's case would be taken to its "logical conclusion" according to Pakistan's Constitution and laws. Pakistan's stance at the ICJ would be based along these lines, he told the media on the margins of an official function near Peshawar.
Following widespread criticism of Pakistan's legal team after the ICJ stayed Jadhav's execution on Thursday, attorney general Ashtar Ausaf Ali said he would represent the country in future hearings at The Hague-based court.
Aziz noted the ICJ is sensitive about the right to life and death sentences and had a tradition of ruling against the death penalty. But he contended Pakistani laws would prevail in Jadhav's case.
"They cannot override a country's laws allowing the death penalty. If according to our laws, someone gets the death penalty, they can't nullify it," he said.
In response to a question, Janjua said Pakistan had received an appeal from Jadhav's mother against his death sentence and was examining it.
Aziz said Jadhav was sentenced under the law of the land and he had accepted his role in "terrorist activities". In response to questions, he said: "It (ICJ) is not an appeal court that it can set aside the conviction or make some change. They have to see if there was due process (in Jadhav's case) according to our Constitution and laws."
He added, "The issues of merit and jurisdiction remain on the table. They (ICJ) said we will hear this case and during this time, don't execute him. The case doesn't change and our position doesn't change."
"On merit and jurisdiction, our position is strong," Aziz said, adding Pakistan will be able to present evidence of Jadhav's alleged involvement in "terrorism, insurgency and espionage" at the court in The Hague.
The ICJ has ordered Pakistan to stay Jadhav's execution until its final decision on India's petition to annul his death sentence. The ICJ rejected Pakistan's argument that it had no jurisdiction in the matter and acknowledged the urgency of Jadhav's case.
Chiding the Pakistan media for presenting a "wrong impression of the case", Aziz said India's perceived victory was "like air in a bubble".
Aziz acknowledged that Pakistan had little time to prepare its case before the hearing at the ICJ on May 15. "We were given only five days to nominate an ad hoc judge, which was not possible," he said, adding the lawyer selected to represent Pakistan – London-based Khawar Qureshi – was the consensus choice of all stakeholders.
Pakistan has so far submitted two dossiers to the UN on India's alleged involvement in terrorist activities within the country, including one that was presented by Prime Minister Nawaz Sharif to the UN Secretary General, he added.
Aziz said in response to a question that it was wrong to link Jadhav's case to a recent meeting between Sharif and Indian steel magnate Sajjan Jindal, who visited Pakistan last month. "It was a private visit of a private friend," he said.
The Nawaz Sharif government is under pressure over the ICJ order, with many quarters insisting the choice of legal team and its tactics were wrong. Syed Khursheed Shah, the Leader of Opposition in the National Assembly, described the order as a setback and said the government's negligence is evident.
Close Story
Personalise your news feed. Follow trending topics