In loan waiver shocker, farmers of Uttar Pradesh get relief of 19 paise
Updated on Sep 13, 2017 07:26 AM IST
Many farmers have been left bewildered as the Uttar Pradesh government headed by chief minister Yogi Adityanath follows up on its poll promise of waving farm loans.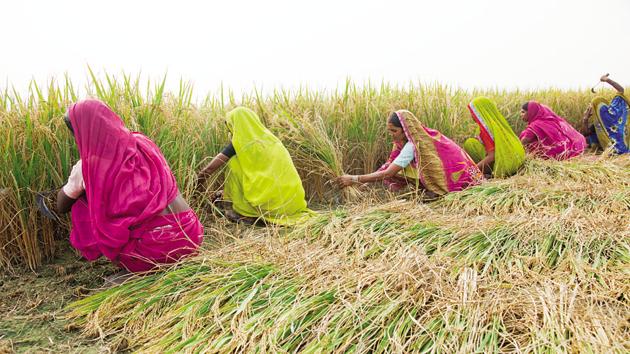 Hindustan Times, Kanpur/Lucknow |
Haidar Naqvi and Brajendra K Parashar
Ishwar Dayal, a marginal farmer of Bhartana in Etawah of Uttar Pradesh, was in for a shock when he was handed over by district officials a certificate saying his outstanding farm loan amounting to 19 paise has been waived.
He says he couldn't believe that such a measly amount has been waived. Equally stumped were dozens of other farmers handed out similar certificates at a programme held in the district headquarters of Etawah on Monday. Rama Nand got Rs 1.79 that he owed to the bank waived, while the certificate that Munni Lal Bholi got stated that his outstanding loan of Rs 2 had been waived.
Hundreds of farmers – big and small – have similarly been left bewildered as the Uttar Pradesh government headed by chief minister Yogi Adityanath follows up on its poll promise of waving farm loans up to Rs 1 lakh to ease agriculture distress in the state's rural hinterland.
Promised even by Prime Minister Narendra Modi during an election rally in Kannauj district in February, some 86 lakh farmers across the state are expected to benefit under the scheme.
But as district after district holds such programmes to hand out loan waiver certificates to the beneficiaries, there have been shockers and genuine relief in equal measure. On Sunday, some farmers at Hamirpur had loans waived from Rs 10 to Rs 215. The next day, it was the turn of many farmers in Etawah to be taken aback.
At a programme on Monday, some 7,000 farmers were handed over certificates notifying the amount of their loans waived. According to official data, some 50 farmers got less than Rs 100 of their outstanding loans waived while the benefit for 200 of them was less than Rs 1,000 each.
"I was shocked to see the certificate of waiver of Rs 10.37 given to me in Hamirpur. I fall in the category of small and marginal farmer... I was expecting that the government would clear Rs 1 lakh against my outstanding of Rs 1.55 lakh on Kisan credit card," said Munni Lal of Maudaha.
Reports of farmers expressing dismay poured in also from areas such as Jalaun, Kannauj, Mahoba and Farrukhabad.
Opposition parties have seized upon the opportunity to term the loan waiver exercise a fiasco. "It is laughable," alleged Juhie Singh of the Samajwadi Party. Other opposition leaders insinuated that measly amounts were being waived just to inflate the number of beneficiaries and make the government look good.
State agricultural minister Surya Pratap Sahi, however, insisted the government was only living up to its promise. "Where is the surprise if the government has distributed the certificate to a farmer waiving Rs 100 or even less if that is the amount the farmer actually owed to the bank?" he asked. "After all, we cannot make his dues bigger or smaller".
"There are also farmers who have had Rs 90,000 and more of their loans waived," Sahi told HT.
Rajesh Gupta, the additional director of agriculture, also found nothing amiss in the meagre amounts being waived. "There are many farmers who paid their dues to banks in 2016-17, but some amount, which in many cases has been found to be less than Re 1, remained unpaid due to various reasons, including some mistake in interest calculation. Now we have waived only that amount and issued certificates accordingly," he explained.
Personalise your news feed. Follow trending topics