In state polls, BJP deploys twin ammo: Development and government schemes
Oct 26, 2018 12:32 PM IST
BJP is eyeing beneficiaries of schemes launched by Centre, its governments in states to buck anti-incumbency at a time of deepening caste fissures and voter discontent.
As he listed the Union government's accomplishments at a rally in Rajasthan's Viratnagar recently, Union sports minister and Bharatiya Janata Party (BJP) Member of Parliament from Rural Jaipur, Rajyavardhan Rathore, threw a challenge to the electorate.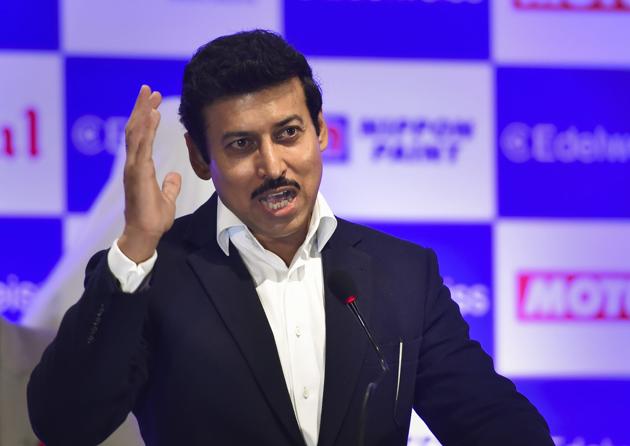 He urged people to find a panchayat in his constituency where he had done no work during his tenure as MP and pocket ₹100,000.
Stay tuned with breaking news on HT Channel on Facebook.
Join Now
Rathore's confidence appeared to stem from his party's assertion that it has met a bulk of the targets that were set to fulfil the government's development agenda. And as the BJP prepares for elections in Rajasthan, Madhya Pradesh, Chhattisgarh, Telangana and Mizoram over the next two months, the minister, and his other party colleagues, are drawing attention to the achievements of the government, especially in social and infrastructure schemes.
Rathore's claims of accomplishments include road construction worth ₹1,100 crore, ₹60.24 crore spent on improving school infrastructure and over 156,000 families that benefitted from the free LPG supply for those below the poverty line.
The party is eyeing the beneficiaries of these projects to buck anti-incumbency at a time of deepening caste fissures and voter discontent.
A senior party functionary said on the condition of anonymity that the party has decided to focus on the "development agenda and the government's accomplishments" instead of relying on the matrix of caste, which is perceived to play a crucial role in deciding electoral outcomes.
"Since 2013, the party's poll plank has been development; sabka saath, sabka vikas (collective efforts, inclusive growth). Now, after five years, we are seeking another term for allowing the continuity of development. And we will go to people with our achievements to showcase why we deserve their votes a second time," the functionary said.
The BJP feels this focus on schemes and projects, also aired as testimonials through public broadcasters, will enable the party to navigate controversies such as the opposition's allegations of corruption in the Rafale deal; public anger over skyrocketing fuel prices and farmers' resentment over farm crisis and lower incomes.
BJP president Amit Shah has instructed party workers to keep reiterating to the electorate how government schemes such as Ujjwala (free LPG gas scheme for those below the poverty line), rural electrification, construction of toilets and easy loans have benefited large sections of the population.
But will the focus on accomplishments change public perception and override caste factors? A second BJP functionary, also requesting anonymity, said, "The government opted for a targeted delivery approach instead of a trickle-down method. We have been able to reach the people with specific schemes that have made a difference to their lives."
He cited the example of the 2009 Lok Sabha elections, where the Congress crossed the 200-seat mark, riding on the goodwill generated by development schemes, employment guarantee and farm loan waiver. "Development is driving the BJP's winning streak at the hustings. And the proof of that is the party's winning more than a dozen state elections since 2014," the second official said.
To be sure, political analysts have said the party's deft caste calculations also contributed to a clutch of assembly election victories over the past four years, especially in states such as Uttar Pradesh.
And while the party thinks netting the "scheme beneficiary voters" will make up for any possible shortfall in its vote-bank, political analyst Balveer Arora said caste will continue to remain an overriding factor.
"Focussing on development and performance works to a limited extent, because benefits are seen as entitlement by the poor and the deprived. Benefits are not a determining factor, as they are not evenly spread across castes," Arora said.
Former chairperson of the University Grants Commission, professor Sukhdeo Thorat, said the issues of deprivation also arise out of caste discrimination and to address these, political parties will have to tackle the caste issue. "Elections have to be based on the problems faced by people and in the case of Scheduled Castes and Scheduled Tribes, the problems are the outcome of caste [discrimination]," he said.
Congress spokesperson Pranav Jha said BJP CMs have realised they have nothing to showcase in terms of achievement, therefore they are hard selling these dime a dozen schemes. "The assembly elections is going to prove to be a countdown to BJP's defeat in 2019 Lok Sabha polls."