India's 21st century African partner: Why Mozambique was Modi's first stop
No other country on the continent best represents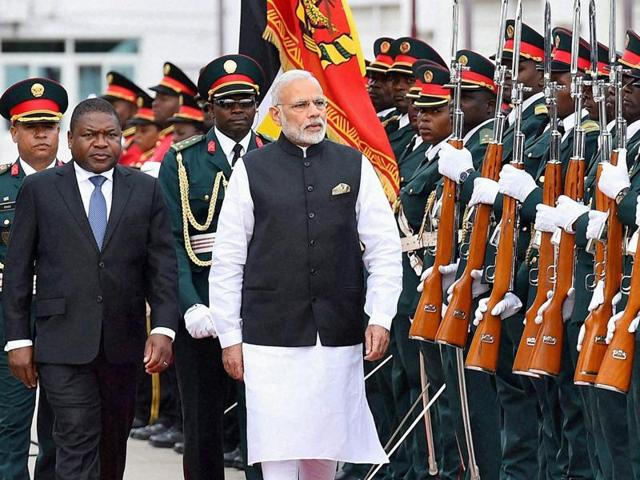 Updated on Jul 07, 2016 10:47 PM IST

It would surprise most Indians to know that Mozambique is emerging as their country's 21st century partner in Africa. No other country on the continent best represents the convergence of energy and security interests that define the new Indo-African relationship.
Prime Minister Narendra Modi reflected this by deciding to begin his four-nation African tour with this former Portuguese colony, rather than traditional continental partners like South Africa or Kenya.
It is unclear how much India has invested in Mozambique as neither Maputo nor New Delhi have up to date figures. But petroleum minister Dharmendra Pradhan last year said Indian state-owned oil and gas firms had already invested $ 6 billion into the Rovuma gasfield and "another $6 billion will be invested by 2019."
Besides, this major Indian companies like Tata Steel, Jindal Steel and Power, the Essar group, Coal India and Damodar Ferro have put money in coal, iron ore and other minerals. The Bank of Mozambique has listed over $625 million in non-extractive investments by India as of 2013. This would indicate a total Indian FDI flow into Mozambique in the region of $8 billion--more than Indian firms have put into, say, Germany or France.
If the present investments into the gas sector come to fruition, Mozambique could become a source of liquefied natural gas for India that would rival Qatar--the source of over 90% of India's present natural gas imports.
The additional interest for India is Mozambique's strategic location on the Indian Ocean. With a coastline of nearly 2500 km and dominance of two key maritime chokepoints to the Indian Ocean, the country is a perfect fit into New Delhi's drive to build strong security relations with key littoral nations. Modi will present plans to develop the important port of Beira as part of this policy.
The Indian Navy already provides assistance to Mozambique. When the country hosted the African Union summit in 2003 and the World Economic Forum meeting in 2004, Indian warships provided security. India began anti-piracy patrols in the Mozambique Channel in 2012. Last year, the two countries agreed to look to broaden defence training beyond the navy and resurrect a dormant joint defence working group. India has now begun providing training and equipment to the country's intelligence service. "This is a country shaped like a carrier," noted a senior Indian official.
To some degree, India is picking up where it had left off in the 1980s. During the Mozambican civil war of the 1980s, the Indian navy helped Maputo fight the apartheid South Africa-backed Renamo rebel movement. This resulted in a non-hostile encounter between a South African strike craft and the Indian destroyer INS Godavari off the Mozambican coast in 1986.
If India's present plans continue on their present path, Mozambique will emerge as one of the top two or three sources of energy imports for India, among the largest hubs of Indian investment in Africa and one of India's closest military allies in the western Indian Ocean.
Close Story
Personalise your news feed. Follow trending topics