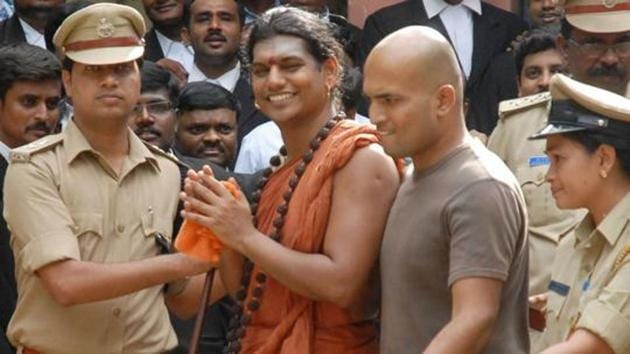 Interpol notice issued for Nithyananda, self-styled godman on the run for rape
A blue notice is issued to locate a person who is missing or is an identified or unidentified criminal or is wanted for a violation of ordinary criminal law.
Hindustan Times, New Delhi | By Neeraj Chauhan
UPDATED ON JAN 22, 2020 05:11 PM IST
Interpol has issued a blue notice to locate controversial spiritual leader Nithyananda who has been on the run after being accused of rape, people familiar with the development said. The blue corner notice was issued on the request of Gujarat police.
Gujarat police say they will now seek a red corner notice that can be invoked to detain him abroad.
A blue notice, unlike a red notice, does not require police in foreign countries to arrest the subject. According to the Interpol's classification, a blue notice is issued to collect information about a person's identity, location or activities in relation to a crime and is not placed in public domain by the international agency.
"The Interpol issued the Blue Corner notice against the controversial godman this month," Deputy Superintendent of Police K T Kamariya said, according to news agency Press Trust of India.
Nithyananda fled India last year. It didn't matter that his passport had been cancelled by the foreign ministry a year earlier. He is believed to have travelled to Nepal before leaving for an undisclosed destination.
The foreign ministry has said Nithyananda's passport, issued in 2008, was cancelled in September 2018. Nithyananda applied for a fresh passport, but was denied police clearance.
Not the first controversy
Nithyananda, who has a pending rape case in Karnataka, had a fresh criminal case filed against him last year on charges of kidnapping and illegal confinement of children. It was alleged that Nithyananda, who had built a spiritual empire over the last two decades across continents, used the children to collect donations.
In 2010, he had run into a huge controversy after sleazy videos shot by his driver were released. His followers had then described the video as a conspiracy against him. Nithyananda, according to a 2010 news report in HT, didn't deny that he was shown in the video.
Topics
Close