Kashmiri youth not sacrificing to become ministers, but for azadi, says Farooq Abdullah
Updated on Feb 25, 2017 01:05 AM IST
Former chief minister of Jammu and Kashmir and National Conference (NC) president Farooq Abdullah says new generation of militants in the state are fighting for "freedom of this nation".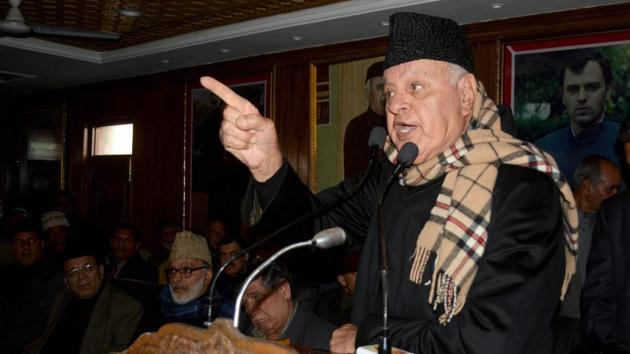 Hindustan Times, Srinagar |
Ashiq Hussain
Former chief minister of Jammu and Kashmir and National Conference (NC) president Farooq Abdullah on Friday said new generation of militants in the state were fighting for "freedom of this nation".
Addressing NC workers at the Nawa-e-Subh party headquarters in Srinagar, Abdullah said the youth were not sacrificing their lives to become an MLA, an MP or a minister.
"Our youth are giving sacrifices. They don't want to become MLA, MP or minister. They are rendering sacrifices demanding their rights. This is our land and we are its owners, you are not. This should not be forgotten," he said at the gathering organised to commemorate the death anniversary of one of NC's founding leaders.
"They have left (their homes). Everybody loves his life. Nobody wants to die. But they left (their homes) to fulfil their promise with God (and they say) we will give our lives to make this nation free," he said.
Referring to India and Pakistan, Abdullah said the two nations were unable to understand this. He said peace can only return to Kashmir when there was peace between Indian and Pakistan.
"If you have to bring peace in Kashmir, then a way should be developed for dialogue and peace between India and Pakistan," he said.
"This fight started in 1931. We are not enemies of anybody but we want both nations to do justice with us. You did not do justice to us. The promises you made to us in 1948, you forgot them. My nation does not fear guns," he said.
On the recent warning of Indian Army chief General Bipin Rawat to the youth of Kashmir, Abdullah said, "It is not right. This is unfortunate, because if you have to solve the problem, it can't be solved by a bullet or a gun, but by dialogue. And dialogue is the way we should adopt," he said.
On February 15, General Rawat had warned youth in Kashmir of "harsh measures" if they hampered counter-insurgency operations in the Kashmir Valley.
Abdullah said the reason people were going to encounter sites was that the present government had promised them that they will not shake hands with "communal forces and Mufti (Mohammad Sayeed) did it and that's the reason people are angry".
A trend has emerged lately in Kashmir wherein local youths flock encounter sites during raging gunfights to help militants flee. The army chief's warning triggered outrage in the Valley, with opposition parties arguing that the statement will escalate tension in the state.
Abdullah said there was a need to understand the reasons why certain things were happening. "Attempts should be made to solve those issues. There should be attempts that the gun stops in Kashmir and the situation improves," he said.
PM Modi's kabristan comment 'unfortunate'
Abdullah also said Prime Minister Narendra Modi's "kabristan-shamshaan" comment in Uttar Pradesh was unfortunate.
"It was very unfortunate. A Prime Minister's speech should join people's hearts. It should not be such that it divides people. I was not expecting this from him," Abdullah said.
Personalise your news feed. Follow trending topics