Lack of oxygen not cause of children's deaths in Gorakhpur: UP minister
Uttar Pradesh health minister Siddharth Nath Singh and medical education minister Ashutosh Tandon order probe by chief secretary into incident, suspended BRD Medical College principal.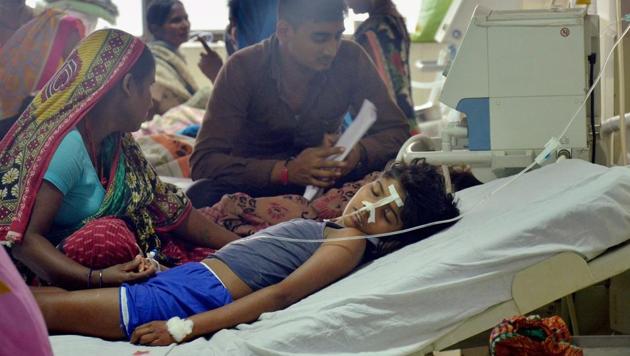 Updated on Aug 12, 2017 08:41 PM IST
The Uttar Pradesh government on Saturday ruled out lack of oxygen as the cause behind the deaths of 30 children in 48 hours at Gorakhpur's BRD Medical College hospital and ordered a high level inquiry into the incident to be led by the chief secretary. (Live updates)
Addressing a press conference, state health minister Siddharth Nath Singh and medical education minister Ashutosh Tandon also suspended principal professor Rajiv Mishra.
"After the first level of investigation, we can claim that the deaths did not take place due to disruption of gas supply. The discussions happened in detail, but issue of gas supply that should've come to light didn't come up," said Singh.
Of the 30 deaths, the ministers admitted that 23 were reported on Friday alone.
"Each year, a large number of children admitted in the paediatrics ward of the hospital fall prey to the disease (Japanese Encephalitis) in August," Singh said.
The hospital is the nodal medical facility for the treatment of Japanese Encephalitis in the region. Some 3.5 lakh patients visit the hospital every year while more than 40,000 are admitted for treatment and surgery annually. Official records say 641 children died last year at the hospital while another 525 and 491 died in the previous two years.
"Along with Encephalitis ward, children admitted in the neonatal wards have also died. The deaths were due to Acute Encephalitis Syndrome (AES), infections and liver failure as well," said Singh.
Focusing on the oxygen crisis, Singh said on August 10 the supply meter was low at 7.30 pm due to non-availability of the oxygen. However, the supply from cylinder was activated soon after.
"The cylinder supply continued till 11.30 pm. When the supply got exhausted, the oxygen was provided through Ambu bags (hand-held device). At 1.30 am, the cylinder gas supply was restored in the wards. The supply of oxygen is continuing in the wards today. Only 7 deaths were reported between 7.30 pm- 10.05 pm when there was short supply of oxygen," he said.
On non-payment of bill to company supplying oxygen, Singh said the company has written letter to the principal BRD Medical College regarding delay in the payment. The principal sent the letter to DG Medical Education who released the fund on August 5 and on August 7 the fund was credited in the account of the medical college. The dealer got the money on August 11.
"I have asked the officers about the delay in the release of fund and payment," he said.
Close Story
Personalise your news feed. Follow trending topics