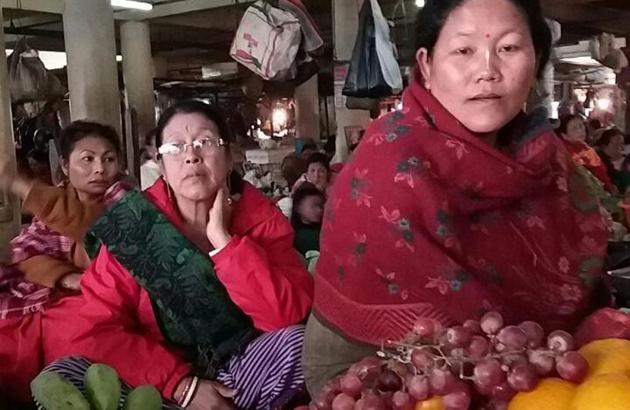 Manipur blockade: It's business 'almost' as usual at Imphal's famed Mothers' Market
The market, believed to have been set up nearly 500 years ago, is run entirely by women and sells a variety of wares from fish, vegetables, fruits to traditional snacks and local garments.
UPDATED ON JAN 05, 2017 02:44 PM IST
Manipur is reeling under an economic blockade for nearly two months now. But one place that seemingly has remained unaffected is Ima Keithel – Imphal's iconic Mothers' Market.
Located at Khwairamband Bazaar, Asia's biggest all-women market still has the usual hustle and bustle with women shopkeepers haggling with customers to sell their wares.
"The blockade by United Naga Council (UNC), in protest against creation of new districts, hasn't had any impact on my business," said Lalita Meitei (60), who has been selling fish at the market for more than 30 years.
That is because the fish that she sells comes from local fisheries and the Lok Tak Lake—the largest freshwater lake in northeast India, located nearly 50 km away from Imphal.
The market, believed to have been set up nearly 500 years ago, is run entirely by women and sells a variety of wares from fish, vegetables, fruits to traditional snacks and local garments.
UNC's blockade, which began on November 1, has led to a crisis of essential items including fuel. It has severely affected businesses in other parts of Imphal Valley and led to a steep rise in prices.
But since most of the products sold in the Ima Keithel are locally produced, the market hasn't witnessed a slide in business.
Read| Manipur blockade: Black market thrives in the state as fuel outlets run dry
"Since all the products I sell, like honey, 'puja' items, sweets made from puffed rice, sesame seeds and jaggery are produced locally, my business hasn't suffered," said 72-year-old Ibiembi Devi.
Prices of certain items like potatoes, onions and fruits which get supplied from outside the valley have, however, seen an increase.
"Usually the fruits I sell come from other states, but due to the blockade I am selling apples, oranges and grapes which arrived from Myanmar via the Moreh border, at prices higher than usual," said Bimata Devi.
Vegetable vendor Thoibi Meitei said prices of most vegetables have increased by 10-20% percent, but the costliest item in her shop was potato, which is selling at Rs 100 per kilogram.
Considered the nerve centre of Manipur famed for its matriarchal society, the women from Ima Keithel have led movements against policies of the British in the early 20th century and against excesses by security forces in the state in the past years.
While women stall owners at Ima Keithel aren't affected much by the economic blockade, the story is not the same in markets elsewhere in the state capital. The past two months have seen their businesses nosedive.
In Paona Bazar, located close to Ima Keithel, most shop and business establishments have recorded low sales or are waiting for the blockade to end to get fresh stock for customers.
"Businesses like mine where we rely almost entirely on goods coming to Imphal Valley from other states have been worst affected," said Bimal Singh, a hardware store owner. Shelves are empty in many shops across the city.
The UNC says the creation of new districts hurts the interests of Nagas in the state and benefits other communities. It plans to continue with the blockade of two highways – NH2 and NH37 - connecting Imphal to other states, despite repeated appeals by the authorities to lift it.
To ease the situation, the authorities have begun to escort trucks, laden with goods and stranded on the highways, into Imphal under heavy police escort. Several hundred trucks reached the state capital on Monday, raising hopes of fresh supplies being available to replenish stores.
The supplies, though, remain sporadic and Manipur is worried about what the future holds. The women shopkeepers of Mothers' Market, however, betray no such concern with business being as usual.
Read| Medical emergency in Manipur: 57-day blockade cripples health services
Close