Burglars kill woman in north Kashmir's Hajin for resisting robbery
Updated on Jul 09, 2018 08:22 PM IST
Militants attacked Shakeela Begum, wife Abdul Majid Dar who is associated with Peoples Democratic Party, and slit her throat.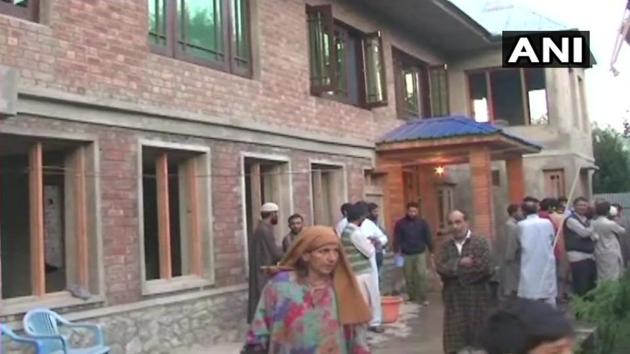 Hindustan Times, Srinagar |
Ashiq Hussain
A 45-year-old woman died early Monday after knife-wielding burglars slashed her throat as she tried to resist a robbery in her home in north Kashmir's Hajin town of Bandipora, police said.
Shakeela Begum was injured in her throat when she confronted two-three masked men armed with knives and a 'golden colored' pistol and were looting money and gold from the household in Shahgund village of Hajin around midnight Sunday . Shakeela was rushed to a hospital in Srinagar, 45 km away, where she breathed her last around 1 a.m.
"As per preliminary investigation and according to her husband, the men barged into the house and forced them to open lockers and took away money and gold. When the woman tried to resist she was attacked by a knife in her neck," said superintendent of police, Bandipora, Sheikh Zulfikar Azad.
He said that one of the men had entered the house while two were outside the house.
The official said that the husband of the woman, Abdul Majeed, told the police that the attackers also had a 'golden colored' pistol with them. "We are looking into it," Azad said.
According to neighbours, Abdul Majeed, a Peoples' Democratic Party worker, had recently sold a piece of land. The couple has four children, the eldest of whom passed his higher secondary exams recently.
"The family raised a hue and cry after the attack and many villagers came out forcing the burglars to flee. Some of the money they had looted was found in an open area near the house," said a neighbor who did not wish to be identified.
The neighbor said that the family had sold a plot of land to because they wanted to send their eldest son outside the state to study medicine. "The burglars knew that they had sold land and possessed money. There is anger among the people. This should be thoroughly investigated," said the neighbour.
"This seems an ordinary crime and does not seem associated with any other thing. We are investigating," said the district police chief Azad.
Hajin has witnessed a number of attacks on civilians by gunmen which police have blamed on LeT militants. Since April 4, six other civilians, including Hial Ahmad Parray, a painter and Mohd Yaqoob Wagay, a butcher have been killed in Hajin by gangs of gunmen.
Parray was abducted, tortured and then strangulated by a group of gunmen on May 17 while Wagay was brutally killed on May 25 after a group of gunmen slit his throat in front of his family. Following the public anger, LeT had issued an audio statement on social media denying their involvement in the killings of Parray and Wagay.
Close Story
Personalise your news feed. Follow trending topics