Modi, Xi focus on border peace, better communication between militaries
Hindustan Times, Wuhan |
, Wuhan
Sutirtho Patranobis
Apr 29, 2018 07:03 AM IST
The "informal" nature of the summit meant that PM Modi and President Xi Jinping were not expected to talk specifics but it was evident that the leaders had reached a consensus not to allow the festering border dispute to hijack ties.
Prime Minister Narendra Modi and President Xi Jinping on Saturday agreed on steps aimed at strengthening communications and building trust between the militaries of India and China, a move aimed at effectively managing differences on the border and averting a Doklam-like stand-off.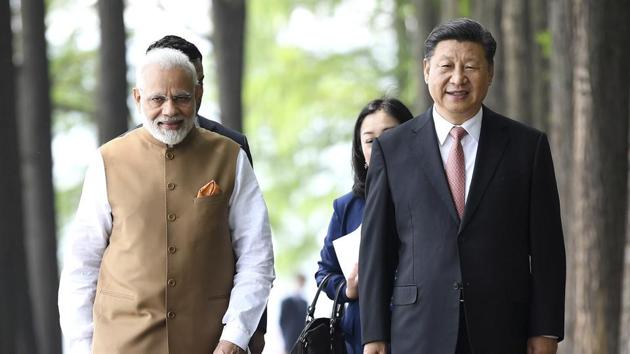 At the end of their first informal summit in this central Chinese city, the two leaders also reached an agreement on jointly implementing an economic project in war-torn Afghanistan — a clear indication of their desire to play a larger role in shaping the regional security scenario.
Stay tuned with breaking news on HT Channel on Facebook.
Join Now
At separate briefings after the summit, neither foreign secretary Vijay Gokhale nor Chinese vice foreign minister Kong Xuanyou mentioned last year's Doklam standoff, but it was clear the two leaders favoured strategic restraint along the 3,488-km border and did not want a repeat of the face-off that sent ties plummeting.
Modi and Xi met six times since Friday afternoon, four of which were one-on-one sessions, with officials describing it as a meeting of equals. There were also acknowledgements that the two sides were prepared to deal with differences and each other's concerns.
The two leaders issued a "strategic guidance to their…militaries to strengthen communication in order to build trust and mutual understanding and enhance predictability and effectiveness in the management of border affairs", an Indian statement said.
"There is a commitment on both sides to suggest to the two militaries that they need to ensure that existing confidence building measures and existing institutional mechanisms are utilised more effectively," Gokhale said after the end of the two-day "milestone" summit.
Gokhale's remarks were echoed by Kong, who told Chinese journalists: "The two countries also agreed to enhance military and security communication mechanisms." He hinted at the possible setting up of a military hotline.
The implementation and strengthening of existing arrangements and information-sharing mechanisms by the militaries of the two countries will help "prevent and manage incidents in border regions", the Indian side said.
"The two leaders expressed their support for the work of the Special Representatives on the India-China boundary question and urged them to intensify their efforts to seek a fair, reasonable and mutually acceptable settlement," Gokhale said.
The joint project in Afghanistan, the details of which were not immediately available, marks the first coordinated effort by New Delhi and Beijing in the war-ravaged country. It is unlikely to go down well with China's close ally Pakistan, which has for long called for an end to India's role in Afghanistan.
The informal nature of the summit meant Modi and Xi were not expected to talk specifics, but it was evident they had reached consensus on not allowing the festering border dispute to hijack ties.
To say the two countries reset their chequered ties over just two days of meetings would be an exaggeration, observers noted. But what the meetings seem to have done is inject a much-needed shot of optimism into bilateral ties.
The focus on enhancing "strategic communication" indicates both India and China are looking at each other as potential partners.
And strengthening such communications will not remain limited to the military. Modi and Xi agreed on the need to "strengthen strategic communication through greater consultation on all matters of common interest".
Expectedly, the talks involved Xi's legacy venture, the Belt and Road Initiative (BRI), but China appeared to have come to terms with India's concerns over the mega-connectivity and transit project as it did not try to pressure New Delhi into joining it.
"China does not think it is important whether India accepts China's Belt and Road infrastructure project and China won't force it to," Kong said, while briefing Chinese reporters.
Kong acknowledged that China and India have concrete differences but noted the "summit was not aimed at addressing these specific issues". He also pointed out that Xi had said the problems between the two sides "are of a limited, temporary nature".
Kong and Gokhale could well have been speaking in diplomatic tandem when talking about handling the differences.
"They [Modi and Xi] agreed that both sides have the maturity and wisdom to handle the differences through peaceful discussion within the context of the overall relationship, bearing in mind the importance of respecting each other's sensitivities, concerns and aspirations," Gokhale said.
He said the two leaders also recognised the "common threat posed by terrorism, and reiterated their strong condemnation of and resolute opposition to terrorism in all its forms and manifestations". Gokhale added: "They committed themselves to cooperate on counter-terrorism."
According to the Indian statement, Modi and Xi agreed on building an open, multi-polar and participatory global economic order and said peaceful and stable India-China ties will be positive for stability amid global uncertainties.
They also believed the informal summit offered an opportunity for free and candid exchanges and agreed on the utility of holding more such dialogues in future.