Nagaland crisis: Clash of traditional values and women empowerment
Feb 08, 2017 01:31 AM IST
Nagaland has been rocked by violence over the issue of 33% reservation for women in elections to civic bodies. Tribal bodies have opposed the reservation.
Nagaland has been on the boil for two weeks now over municipal elections that were to be held on February 1.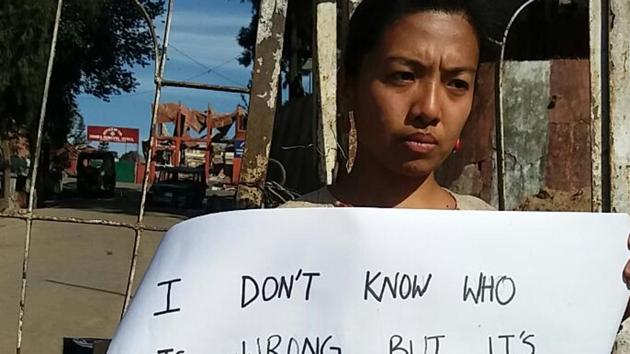 The protest that was sparked off by a decision of the Nagaland State Assembly to give women 33% reservation on seats in the elections to the civic bodies, turned violent with male-dominated traditional tribal bodies calling it an infringement of the customary laws and violation of the provisions of the Article 371(A), a special constitutional status enjoyed by the northeastern state.
The Article 371(A) that Nagas wear as a badge of pride, states: "Notwithstanding anything in this constitution, no Act of parliament in respect of religious or social practices of the Nagas, Naga customary law and procedure, administration of civil and criminal justice involving decisions according to Naga customary law, ownership and transfer of land and resources, shall apply to the state of Nagaland unless the legislative assembly of Nagaland by a resolution so decides."
"This (Article 371(A)) was not something gifted to us, we have earned it. And we will not let it get diluted," Vekhosayi Nyekha, co-convenor of Joint Coordination Committee (JCC), which was spearheading the anti-reservation movement, said.
"We respect our mothers and sisters, but as per our customs, we don't allow them to have political powers," he said.
Traditionally, women in the Naga society have not enjoyed any right over land. They haven't had much voice in the village councils — the core of Naga society — where men have been the ones to exercise control and take decisions.
There is a fear that if women are given a share of the decision making process in municipal bodies, they would have a say in how resources (money) are spent and also how land is utilised for various projects.
Many men feel this would violate customs and its effect could percolate to the villages, which in turn could upset how Naga society has functioned for centuries, with men being in control and women remaining in the shadow.
"In the past, the role of men in our society was to fight and women took care of children and home. Reservation for women in election could be too much for our society, which is trying to emerge," said eminent Naga peace activist Niketu Iralu.
Most men feel women in Naga society, which is predominantly Christian, are already more 'empowered' than their counterparts in other parts of India and they don't need reservation in elections.
Meanwhile, faced with pressure from tribal bodies, many women have distanced themselves from the Naga Mothers Association (NMA), a nearly four-decade-old women's body in the state fighting for gender rights and justice.
"We respect our customs, but Nagas must change with the times," said Rosemany Dzuvichu, a prominent women rights activist and advisor to NMA who has been fighting for reservation for women in Nagaland.
The opposition by tribal organisations forced the state government to declare the municipal polls "null and void".
The state cabinet is also likely to approach the Centre to amend the Constitution to keep Nagaland outside the purview of Part IXA, which deals with elections to municipalities and reservation for women.