'Have to return to path of peace in Ukraine': PM Modi at G20 Summit
Updated on Nov 15, 2022 09:25 AM IST
G20 Summit: PM Modi also spoke about the need for India's energy security at the crucial summit.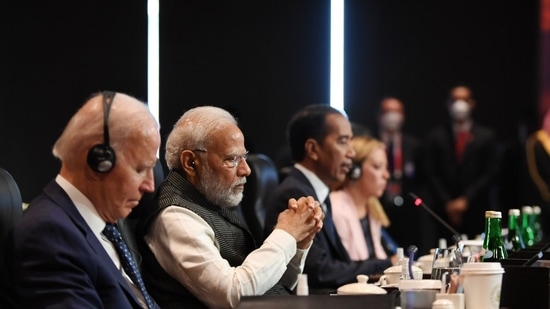 Prime Minister Narendra Modi on Tuesday spoke on the Ukraine war as he addressed the G20 Summit in Indonesia's Bali. The world has to find a path to return to peace in the war-torn country, he insisted, as he called for a ceasefire. The war in Ukraine - set to complete nine months on November 24 - has disrupted global food and fuel supply chain.
"I've repeatedly said we've to find a way to return to the path of ceasefire and diplomacy in Ukraine. Over the past century, the World War-2 wreaked havoc in the world. After that leaders of that time made a serious effort to take the path of peace. Now it's our turn," he was quoted as saying by news agency ANI.
"India's energy-security is also important for global growth, as it's the world's fastest-growing economy. We must not promote any restrictions on supply of energy and stability in energy market should be ensured. India is committed to clean energy and environment," he further added. By 2030, PM Modi underlined, "half of our electricity will be generated from renewable sources". "Time-bound and affordable finance and sustainable supply of technology to developing countries is essential for inclusive energy transition," he highlighted.
PM Modi's latest remarks on the conflict - at a global platform - comes months after he told Russian President Vladimir Putin that "today's era is not of war". "I know today's era is not [an era] of war. We discussed this issue with you on phone several times, that democracy, diplomacy and dialogue touch the entire world," PM Modi said. He has - on multiple instances spoken to both Ukraine's President Volodymyr Zelensky and Putin over the conflict.
The Prime Minister arrived on Monday evening in Indonesia where the summit is being attended by top world leaders including United States President Joe Biden, United Kingdom Prime Minister Rishi Sunak, Chinese President Xi Jinping among others.
In a tweet on Tuesday, Arindam Baghchi, spokesperson, Ministry of External Affairs (MEA), wrote that PM Modi attended a "Working Session on food and energy security". "In his intervention, underlined the criticality of resilient supply chains for food, fertilisers & energy, and the need for affordable finance for smooth energy transition for the Global South. (sic)," he said.
Earlier, he had tweeted that PM Modi was welcomed by Indonesia President Joko Widodo. "Recover Together, Recover Stronger. Indonesian President @jokowi welcomes PM @narendramodi for the G20 Bali Summit. Detailed deliberations on contemporary global challenges including food & energy security and health are on the @g20 org Summit agenda today (sic)," Bagchi tweeted.
The Indonesia President will also handover the G20 presidency - during the summit - to PM Modi. Last week, the Prime Minister had unveiled the logo, theme and website for India G20 presidency. "G20 Presidency is not merely a diplomatic meeting for India, it is a new responsibility and a measure of the world's trust in India," he said during a virtual briefing.
On Monday, Biden-Xi meeting was the highlight where the two leaders spoke about Taiwan issue among other global concerns.
PM Modi received a warm welcome from the Indian community upon his arrival. Ahead of his departure, PM Modi - in a departure statement - had said: "During the Bali Summit, I will have extensive discussions with other G20 Leaders on key issues of global concern, such as reviving global growth, food and energy security, environment, health, and digital transformation. On the sidelines of the G20 Summit, I will meet with Leaders of several other participating countries, and review the progress in India's bilateral relations with them."
(With inputs from PTI, ANI)