Rail roko: Local train service unaffected in Maharashtra
The farmers staged agitations at places like Dahanu, Aurangabad and Parbhani. However, they were detained by the police and the rail traffic wasn't disrupted for long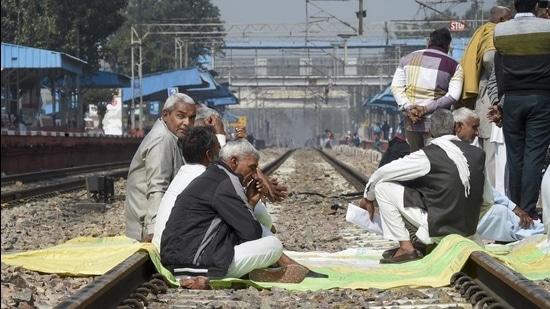 Updated on Feb 19, 2021 01:38 AM IST
Naresh Kamath and Aroosa Ahmed
Farmers in Maharashtra continued their agitations on Thursday and resorted to 'rail roko' (rail blockade) stir across the state and tried to disrupt outstation train services to protest against the three farm laws enacted by the Centre.
One outstation train – the Aurangabad-Chhatrapati Shivaji Maharaj Terminus (CSMT) Janshatabdi Express – was blocked at Lasur railway station for 30 minutes around 10.05am. There were no other disruptions in the operation of outstation trains anywhere else in Maharashtra.
The protests did not have an impact on the functioning of Mumbai local trains either.
The farmers staged agitations at places such as Dahanu, Aurangabad and Parbhani before they were stopped by police personnel and detained.
"We staged a rail roko at Dahanu, Aurangabad and Parbhani and blocked the trains. Our farmers were taken into police custody. We will continue such agitations till the laws are repealed," said Ajit Navale, general secretary, All India Kisan Sabha (Maharashtra).
In Dahanu, nearly 300 agitators reached the circulating area of the railway station. The city police blocked the entry of the agitators on the railway tracks.
"The protestors arrived at the circulating area on the west side of Dahanu railway station. They were protesting with the Communist Party of India (CPM) banners. There was no impact on train movements," said Sumit Thakur, chief public relations officer, Western Railway.
The Bharatiya Janata Party (BJP) said the protesters are not farmers but workers of the ruling Maharashtra Vikas Aghadi (MVA).
"Farmers will never cause inconvenience to others. The protestors are Congress, NCP (Nationalist Congress Party) and Shiv Sena workers and not farmers," said BJP legislator Ram Kadam.
Also Read | Rail roko: Delhi Metro shuts entry, exit to four stations
The Samyukta Kisan Morcha (SKM), an umbrella body of 40 farm unions had given a call for a four-hour rail roko demonstration across the country on Thursday, as a part of their campaign to get the three farm laws repealed.
Thousands of farmers have been protesting at different borders of Delhi since last November against the Farmers' Produce Trade and Commerce (Promotion and Facilitation) Act, 2020; the Farmers' (Empowerment and Protection) Agreement on Price Assurance and Farm Services Act, 2020; and the Essential Commodities (Amendment) Act, 2020.
In December, farmers from across Maharashtra had gathered in Mumbai to agitate against the three laws, in solidarity with the farmers protesting at Delhi borders.
Close Story