Gujarat Rajya Sabha election highlights| Ahmed Patel wins third seat
The EC order said that while going throgh the video footage of the polling process, it found that the two had violated the secrecy of ballots.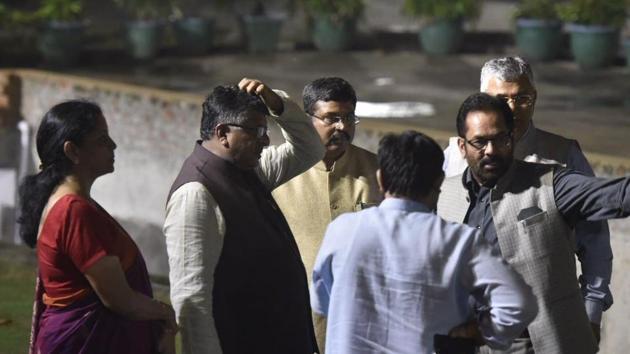 Updated on Aug 09, 2017 07:08 AM IST
In a jolt to BJP, Congress candidate Ahmed Patel on Wednesday scraped through to notch a victory in a bitterly-contested Rajya Sabha election against all out efforts of the BJP to check his attempt to seek a fifth term.
Patel, 68, the powerful political secretary to Congress President Sonia Gandhi, is said to have secured 44 votes defeating Congress defector Balwantsinh Rajput.
The other two successful candidates in the election were BJP President Amit Shah and Union Minister Smriti Irani.
Highlights:
2am: This is not just my victory. It is a defeat of the most blatant use of money power, muscle power and abuse of state machinery, tweets Ahmed Patel.
1.42am: Senior Congress leaders claim victory for Ahmed Patel. The EC is yet to make official statement.
1.38am: Counting for Gujarat Rajya Sabha polls begins in Gandhinagar. Gujarat information department began around 1.35 am.
1.30am: Counting hasn't started yet. No communication by the authorities on why counting is stalled.
1am: Congress leader Arjun Modhwadia alleges that BJP has stalled the counting.
12.45pm: I appreciate the order of the Election Commission. I salute my MLAs and rank and file of the Congress Party, Ahmed Patel tells ANI
12.30am: Seeing the pain of 14 youths who died during Patidar agitation I voted against BJP, says BJP MLA Nalin Kotadiya in a FB post.
12.05am: If required we will take legal action: Gujarat deputy CM Nitinbhai Patel on EC verdict declaring vote of 2 Cong MLAs as invalid.
11.55pm: The EC order said that while going through the video footage of the polling process, it found that the two had violated the secrecy of ballots.
11.50pm: Truth has emerged victorious in spite of BJP using all the power. Ahmed Patel will win: RS Surjewala
11:30 pm: Election Commission declares votes of Congress MLAs Bhola Bhai Gohil and Raghav Bhai Patel as invalid. Voting to begin soon.
10:45 pm: Election Commission will convey order on counting of votes to Returning Officer at 11:30 pm.
10:25 pm: "Why is BJP bringing an army of defence/finance minister, power minister, petroleum minister and commerce minister? It means they want to suppress truth," Surjewala questions.
10:12 pm: "With all respect, want to tell BJP that this is the war of truth and lies cannot prevail on Gandhi Ji's land," says Congress spokesperson RS Surjewala.
9:57 pm: EC officials turn away both Congress and BJP delegations for the third time.
9:55 pm: BJP delegation leaves Election Commission office.
9.45pm: We want electoral process to be completed and counting to begin: Nirmala Sitharaman at EC.
9:25 pm: BJP delegation also reaches Election Commission for the third time.
9:05 pm: Congress leaders including RPN Singh and Randeep Surjewala leave for Election Commission office for the third time.
9:05 pm: TV reports say full bench meeting of Election Commission underway.
9:03 pm: MP Naqvi says BJP has appealed the EC to start the counting process immediately because free and fair elections took place.
8:25 pm: Congress MP P Chidambaram says, "There is enough evidence that the ballot paper were seen by people other than those authorized."
"EC must reject these ballot papers as it did in Haryana in June 2016," Chidambaram says, reports ANI.
8:17 pm:
8:10 pm: BJP delegation comprising Nirmala Sitharaman, Piyush Goyal and RS Prasad arrive at Election Commission again.
7: 55 pm: BJP demands immediate counting of votes and announcement of results, says Congress is reacting out of fear of defeat.
7:50 pm: One of our MLAs had mistakenly showed his vote in Haryana and his vote was rejected, same was done in Gujarat so their votes should be rejected: Congress MP Anand Sharma.
7: 42 pm: Law minister Ravi Shankar Prasad says they requested EC to reject Congress' plea as once votes are cast, nothing can be done and the process was fair.
"Since morning Congress has been claiming win, now with defeat staring in their face they are making desperate attempts," Prasad says.
7:40 pm: "I'm very much confident let counting take place," says Ahmed Patel.
7:37 pm: Union minister Ravi Shankar Prasad says Congress allegations are "baseless" and the party didn't protest in the morning.
Congress' Ahmed Patel says Congress filed complaint with the Returning Officer soon after two rebel party MLAs allegedly showed their vote to BJP leaders.
"Immediately a complaint was filed. The Returning Officer did not take any action, so we moved the Election Commission," Patel says.
7:29 pm: Congress leaders including Anand Sharma and Randeep Surjewala will go to the Election Commission again shortly, reports ANI.
7:19 pm: BJP delegation including Union ministers MA Naqvi, Piyush Goyal and Dharmendra Pradhan leave for Election Commission office.
7:13 pm: Congress MLA Arjun Modhwadia says the party raised objection to cross-voting at 9.30 am but EC has not responded. He says no response by EC till now shows that they are being put under pressure.
"We requested that Congress, BJP and presiding officer should jointly watch video, but BJP objected, waiting for EC decision," says Modhwadia.
7:10 pm: Union ministers Arun Jaitley, Ravi Shankar, Nirmala Sitharaman reach Election Commission.
7:00 pm: Election Commission meet underway now over Congress complaint, EC's decision to come today, reports ANI sources.
6:58 pm: Gujarat deputy chief minister Nitin Patel says, "Rejecting Congress' claim for cancellation of two votes, the state election commission has submitted report to the ECI and counting will begin after its nod."
6:32 pm: A copy of Congress complaint to EC seeking to invalidate two votes of its MLAs, who claimed to have voted for the BJP nominees .
6:20 pm: Gujarat JD(U) general secretary Ambalal Jadhav responds to KC Tyagi's statement on Chotubhai Vasava's vote.
"Who is KC Tyagi to say anything? Chotubhai has voted, he will tell. Our support is with Ahmed Patel.": Ambalal Jadhav
6:00 pm: Congress' complaint sent to Central Election Commission in Delhi. Counting will begin once reply is received, reports ANI.
5:56 pm: Counting of votes begins. Congress plea for cancellation of two votes has been rejected by the State Election Commission.
5:45 pm: Congress spokespersons Randeep Surjewala and RPN Singh approach Election Commission seeking that votes of two party MLAs, who claimed to have voted for the BJP nominees, be declared invalid.
5:35 pm: Reacting to the Congress' demand for cancellation of two cross-votes, BJP Gujarat president Jitu Vaghani says, "Let the Election Commission take the call."
He questions why the objection has been raised in the evening when the two MLAs have voted in the morning.
5: 33 pm: JD(U)'s KC Tyagi says party's Gujarat MLA Chhotubhai Vasava voted for BJP, reports ANI. Vasava had earlier said he voted for Congress candidate Ahmed Patel .
5:32 pm: Two Congress MLAs Bhola Gohil and Raghavji Patel voted for BJP and publicly showed their votes: Shaktisinh Gohil
5:14 pm: Celebrations commence at BJP office in Ahmedabad ahead of Rajya Sabha Polls results.
5:08 pm: Congress demands to delay the counting of votes alleging its two MLAs, who cross-voted, showed ballot paper to BJP polling agent.
4:53 pm: Congress MLA Shaktisinh Gohil says, "If a voter shows his vote to anyone other than party's authorized agent, then the vote gets rejected,"
He says the two Congress MLAs who voted for BJP showed their votes to Amit Shahji, it has been video-graphed. Gohil adds that if the if the video was tampered, then its a serious a criminal act and they (Congress) will go to SC for that.
4:26 pm: Ashok Gehlot says, "Whoever has cross-voted will be suspended with immediate effect."
4:15 pm: Gujarat JD-U MLA Chotubhai Vasava says he voted for Congress candidate Ahmed Patel in the Rajya Sabha election as he was opposed to his party president Nitish Kumar aligning with BJP in Bihar.
4:00 pm: The counting of votes will commence at 5 pm.
2.52pm: "All 176 MLAs have voted in the Gujarat Rajya Sabha election," says state election officer.
2.50pm: "Ahmed Patel ji is winning comfortably," says Ashok Gehlot, Congress Gujarat in-charge.
2.35pm: The Congress has demanded cancellation of two cross votes.
2pm: "Number are in our favour; result should be good. I am confident and optimistic," says Ahmed Patel.
1.56pm: Voting for Gujarat Rajya Sabha election has ended.
1.45pm: Ahmed Patel: "One MLA cross-voted. Let's wait for the result."
1.03pm: Congress MLA Dharshi Khanpura cast his vote after EC officer denied his proxy voting request.
12.46pm: Congress MLA Dharshi Khanpura demands for proxy; BJP opposes. He says he is unable to reach the voting venue, but reasons for his absence aren't clear.
12.45pm: Sources say Karamsibhai Patel, one of the 44 Congress MLAs who were taken to Bengaluru last week, is likely to have cross-voted.
12.38pm: 61 BJP MLAs and 43 Congress MLAs have cast their votes so far.
12.33pm: "Victory of our candidates is certain. The party had been working for this since announcement of election dates," says former Gujarat CM Anandiben Patel.
12.30pm: We have received more votes than needed, says Congress leader Arjun Modhwadia.
12.23pm:" We have got 43 votes so far, one MLA is going to vote. Chhotubhai Vasava (JD-U) publicly said he voted for Ahmed bhai," Congress' Arjun Modhwadia.
12.15pm:
11.39am: Congress state chief Bharatsinh Solanki: "Ahmed bhai is winning. The BJP, by fielding thee candidates, has put Smriti Irani's chances at risk."
11.35am: Congress MLAs Paresh Dhanani, Kamini Rathod say they voted as per party whip.
10.43am: JD(U) MLA Chotu Vasava says: "I have voted as per party's ideology."
10.32am: "Things have been blown out of proportion because of Ahmed Patel. He's in a risky situation; half of his people might end up voting for the BJP," says NCP's Majeed Memon.
10.24am: "Voted according to the whip issued by high command, after all we are the partner of UPA," says NCP MLA Jayant Patel.
10.17am: "Both NCP MLAs voting for BJP candidate, it is clear," says:Gujarat CM Vijay Rupani.
10.11am: Bus with 44 MLAs reaches Swarnim Sankul 2.
10.10am: Congress MLA Bhola Gohil says he didn't vote for the Congress candidate.
10.06am: "Out of the four candidates, Ahmed Patel is going to get the maximum number of votes. His victory is certain," says Shailesh Parmar.
9.58am: Voting is on at Swarnim Sankul 2, which houses ministers offices. At 12pm, a two-day monsoon session is to begin at Mahatma Mandir. It is a convention centre that is hosting the session as assembly building is under renovation.
9.57am: Congress MLA Mahendrasinh Vaghela and NCP MLA Kandhal Jadeja take blessings of BJP chief Amit Shah by touching his feet.
9.55am: "Two MLAs voted for the BJP despite being Congress MLAs. Shaktisinh Gohil has taken objection against this," Arjun Modhwadia of the Congress.
9.53am: "Congress hadn't been listening to us for a year. We have voted for Balwantsinh Rajput," Congress MLA Dharmendra Jadeja.
9.52am: "There are only two parties in Gujarat -- Congress and BJP. If I'm not with the Congress, you know where will I be," says Raghavji Patel
9.50am: Shankersinh Vaghela says the Congress will not touch the 40 mark in the Rajya Sabha election.
9.45am: Mahendrasinh Vaghela, Shankersinh's son, only says he has voted, doesn't reveal the name.
9.41am: Congress MLAs Raghvji Patel and Dharmendra Jaedja say they voted for the BJP's Balwantsinh Rajput.
9.40am: "Had cleared things yesterday. You will know everything in the evening," NCP MLA Kandhal Jadeja.
9.37am: "When I am confident, party is confident we are going to win. Wait for the result to come," says Congress candidate Ahmed Patel.
9.33am: Shankersinh Vaghela says he did not vote for the Congress as "there is not point voting for a party that is not going to win".
9.10am: NDTV quotes Sharad Pawar as saying NCP will back Congress' Ahmed Patel in Gujarat Rajya Sabha polls but one legislator is defying order
9.05am: "Given the support extended by the NCP, JD(U) and the fact that the Shankersinh Vaghela group will vote for Rajput, BJP's all three candidates are set to win," chief minister Vijay Rupani says minutes before voting.
9am: Voting begins at the Gujarat assembly for Rajya Sabha elections.
8.51am: BJP candidates Smriti Irani and Amit Shah arrive at the Gujarat legislative assembly. Chief minister Vijay Rupani reaches, too.
8.40am:
8.38am: On the eve of the Rajya Sabha election in Gujarat, the BJP's state in-charge Bhupendra Yadav said all the three candidates of the party will win by a "very good margin".
8.32am: The Congress defectors are believed to be loyal to Shankersinh Vaghela, who quit the party on July 21, alleging that some of its leaders were conspiring against him. He is also said to have the allegiance of six of the 51 party MLAs.
8.30am: Ahmed Patel needs the support of 45 MLAs after six Congress lawmakers resigned amid horse-trading charges against the BJP, bringing the party's strength in the assembly to 51. The party is banking on the Nationalist Congress Party (NCP) and Janata Dal (United) lawmakers to support Patel, who is seeking re-election to the Upper House of Parliament. But the calculations could change as one of the two NCP legislators — Kandhal Jadeja, the MLA for Kutiyana — said on Monday evening he was asked by his party leadership to vote for Rajput.
8.14am: "Providing enough and adequate security to the MLAs, they will be escorted safely to Gandhinagar for voting," says deputy SP BD Jadeja.
8.11am: Congress MLAs leave Neejanand Resort in Anand ahead of Rajya Sabha election voting.
(With inputs from agencies)
Close Story