Right to privacy verdict highlights: Govt welcomes SC judgment, says it's a fundamental right, not absolute
Hindustan Times, New Delhi |
Bhadra Sinha, Ashok Bagriya and Prerna Madan
Aug 24, 2017 05:26 PM IST
In a landmark judgment, a nine-judge bench of the Supreme Court unanimously held that right to privacy is a fundamental right guaranteed under Article 21 of the Constitution. The verdict may have a bearing on the government's Aadhaar scheme that makes compulsory linking of the unique biometric identity with bank accounts, income tax returns and for availing government benefits.
A nine-judge bench led by Chief Justice of India JS Khehar ruled on Thursday that privacy is a fundamental right, a judgment that will have a bearing on civil rights as well as Aadhaar. The judgment was unanimous.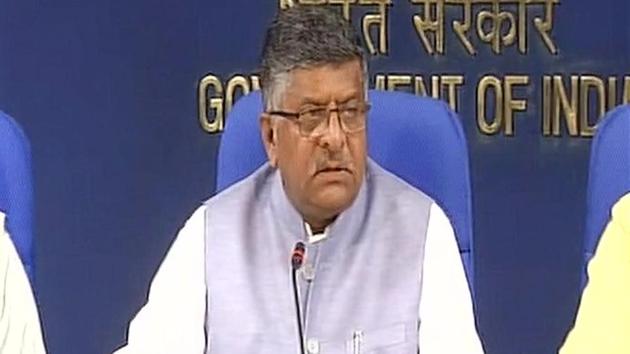 The privacy verdict comes two days after the court in a landmark judgment struck down the Islamic divorce practice of instant triple talaq as unconstitutional.
The other members of the bench were justice J Chelameswar, justice RK Agarwal, justice SA Bobde, justice AM Sapre, justice RF Nariman, justice DY Chandrachud, justice Sanjay Kishan Kaul and justice S Abdul Nazeer.
Highlights:
4:05pm: India is very happy that digital India is developing, but "technology giants should respect individuals' data", says Prasad.
3:55pm: The Modi government is proud to see the evolution of a digital India. We are happy India is a robust digital power. And we are taking care of security... We have already outlined data is very important. With respect for data collection, there's a committee and we will wait for the panel's report: Prasad answers a question on how the SC judgment will impact data collection by WhatsApp, Facebook.
3:52pm: While concluding his address, Prasad hits out at Rahul Gandhi and says the Congress leader needs to do homework before commenting.
3:51pm: Government stands with all princes laid out by the Supreme Court today.
3:50pm: Aadhaar works on minimum information, maximum use. It is admired all across the world. It is a technology marvel: Law minister reiterates safety and uses of Aadhaar
"In 3 years, we saved 57 k crores that used to be pocketed by middlemen."
3:40pm: The court has spoken clearly about balancing the equity - between individual rights and other interests, Prasad says, repeating that no fundamental right is absolute.
"SC has affirmed what government had said in Parliament SC has affirmed what government had said in Parliament while moving Aadhar Bill."
3:35pm: Prasad starts reading the judgment after saying: Like all other fundamental right, right to privacy is not absolute. Subject to same conditions as those of life and liberty
3:30pm: Law minister Ravi Shankar Prasad says the government, while moving the Aadhaar act, had acknowledged that privacy is a fundamental right subject to reasonable restrictions.
"What has been the Congress record in the protection of individual liberty," questions Prasad, reminiscing the Emergency.
3:20pm: The Supreme Court declaring privacy as a fundamental right will enhance citizens' trust in digital services and help in their wider adoption, IT industry body Nasscom says.
3pm: After Rahul, Congress president Sonia Gandhi says, "SC judgment on fundamental right to privacy heralds a new era for individual rights, personal liberty and human dignity."
"Congress and Opposition together spoke for right to privacy against "arrogant" attempts of BJP govt to curtail it."
1:45pm: Congress vice-president Rahul Gandhi welcomes SC judgment on right to privacy, tweets: "SC decision marks a major blow to fascist forces. A sound rejection of the BJP's ideology of suppression through surveillance."
Shortly before, West Bengal CM Mamata Banerjee had welcomed the ruling.
1:15pm: In its judgment, the SC said: "It is an individual's choice as to who enters his house, how he lives and in what relationship. The privacy of the home must protect the family, marriage, procreation and sexual orientation which are all important aspects of dignity."
12:55pm: Expressing hope that the citizens of India would now be protected from any kind of snooping, senior advocate Indira Jaising said, "It is a day to celebrate."
"Privacy is fundamental. It certainly has an impact on the day-to-day life. This verdict prevents any kind of snooping," she said.
12:40pm: The Aadhaar we conceived was perfectly compatible with the right to privacy... It is the interpretation of this government of the Article 21 which is an invasion of the right to privacy. There's no fault in the Aadhar concept, there is fault in how this government plans to use or misuse Aadhar as a tool: P Chidambaram addresses a press conference.
"This government's approach to Aadhaar inconsistent with UPA's approach, which is why challenges have arisen."
12:35pm: SC upholds the right to privacy. Nothing vague or amorphous about it. People thank the Honourable Judges. These are moments that make India: Kamal Haasan
12:30pm: The advocate who represented petitioners, Poovayya, tells BloombergQuint the "ground breaking" judgment is a proud moment for citizens.
12:15pm: Congress leader and former MP Sanjay Nirupam hails the ruling, says SC "delivered another historical verdict (after triple talaq) declaring right to privacy as a fundamental right of the citizens".
12:05pm: The verdict is a "Warning of institutions of democracy to government of PM Modi", says Salman Khurshid, Congress leader and SC advocate.
"Hope cheer leaders remember the govt aggressively opposed Privacy Right before Court. Shall await ministers congratulating the PM for this."
11:55am: Congress' P Chidambaram says privacy is the core of personal liberty. "Article 21 has acquired a new magnificence."
11:50am R Chandrasekhar, one of the petitioners of the case, tells ANI he is "glad" about the SC verdict. "As the world moves towards digitization, citizens must have rights against misuse of information.
11:40am: Delhi chief minister and AAP chief Arvind Kejriwal joints Opposition leaders in hailing the SC verdict. "Thank u SC for this v important judgment (sic)."
11:25am: Former attorney general Soli Sorabjee tells NDTV the top court did not hesitate to overrule earlier judgements. It's a good thing, it shows the SC is "progressive".
The ruling could have a bearing on ruling on Aadhaar law, beef ban and gay sex law.
11:20am: Music composer Vishal Dadlani too reacts to the verdict, tweets: "Is it alright to want to send the Supreme Court & the Bench some serious hugs right now?"
11:10am: Congratulations to all lawyers, activists, others who fought this govt's sinister designs to deny Indians their fundamental right to privacy, says CPI(M) leader Sitaram Yechury.
11:05am: The Congress party welcomes the verdict. "Path breaking and seminal judgment. A great victory for liberty and freedom. The Supreme Court rejects Modi government's attempt to whittle down the right to privacy," party's chief spokesperson Randeep Singh Surjewala tweets.
Prime Minister Narendra Modi's government has rejected suggestions that the programme, set up in 2009, poses a threat to civil liberties despite personal data being leaked in security breaches.
In May, then attorney general Mukul Rohatgi rejected suggestions that Indians could refuse to provide their iris scans or fingerprints to the government, telling a court "the concept of absolute right over one's body was a myth".
11am: It is not clear what impact will the ruling have, Bhushan tells mediapersons outside the Supreme Court.
10:55am: Former AAP leader and noted lawyer Prashant Bhushan speaks to media: "SC has today held in a historic judgment that privacy is a fundamental right under Article 21 of the Constitution. A smaller bench will take up the Aadhaar case."
"Kudos to the SC for holding Right to Privacy a fundamental right under Art 21. Aadhaar Act & any other law will be tested on reasonableness," he tweets shortly after his statement.
The ruling possibly means unreasonable restrictions (breaching privacy) under laws will be struck down, says Bhushan.
"The bench has not said anything about Aadhaar. The court has only ruled on right to privacy."
10:50am: The validity of Aadhaar law will be tested on the right to privacy judgment by a 3-judge bench.
10:45am: SC rules right to privacy is a guaranteed fundamental right under Article 21. The judgment was unanimous.
The latest ruling overturns two earlier decisions by smaller benches of the Supreme Court which said privacy was not a fundamental right.
10:35am: SC begins to deliver verdict on whether right to privacy is a fundamental right. Justice Chelameshwar starts reading the judgment.
Here are the 9 things you should know about privacy.
10:30am: Judges assemble in courtroom to deliver the verdict.
9:45am: Here are a few things you need to know about the case:
•The Supreme Court is hearing a challenge to the Delhi high court's September 23, 2016 order by which it allowed WhatsApp to roll out its new privacy policy but stopped it from sharing the data of its users collected up to September 25, 2016, with Facebook or any other related company. The issue was rooted in a reference by a three-judge bench that was hearing a challenge to the constitutional validity of the Aadhaar scheme on the grounds of its being violative of the fundamental right to privacy.
•The decision to set up the nine-judge bench was taken to examine the correctness of two apex court judgments delivered in the cases of Kharak Singh and MP Sharma, decided by six and eight judge benches respectively, in which it was held that this right was not a fundamental right.
•The Centre contended that though after the mid-seventies, several judgments by the benches of strength of two or three judges had held that right to privacy was fundamental but it was the judgment of 1954 and 1962 by the larger benches that holds the ground. The judgments of 1954 and 1962 had held that the right to privacy was not a fundamental right.
•The Centre had termed privacy as a "vague and amorphous" right which cannot be granted primacy to deprive poor people of their rights to life, food and shelter.
(With agency inputs)