Sex with minor wife is rape, says Supreme Court
Oct 12, 2017 12:07 AM IST
Section 375 of the Indian Penal Code says sex with a girl below 18 is rape but it had an exception, which allowed a man to have sex with his underage wife, 15 or above, even without her consent.
A man can be charged with rape if he has sex with his underage wife, the Supreme Court ruled on Wednesday, a landmark order that removed discrepancies in various statutory laws to fix the age of consent at 18.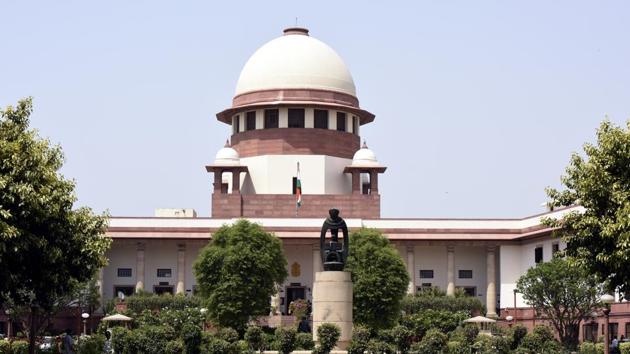 The court was hearing a petition that sought scrapping of a provision in the rape law that allowed a man to have sex with his underage wife without her consent.
A bench of justices MB Lokur and Deepak Gupta said a girl child "cannot be treated as a commodity having no say over her body or someone who has no right to deny sexual intercourse to her husband".
It ruled that a man can be prosecuted if his underage wife registers a complaint within a year of the offence.
The verdict is likely to be a deterrent against child marriage, which is illegal in India but common in poor communities where a girl is seen as a financial burden.
"This would compel families of boys to think twice before getting their sons married to minor girls," said advocate Gaurav Agarwal, the counsel for Independent Thought, an NGO on whose petition the court gave its judgment.
The order brought the rape law in harmony with all special legislation meant to protect children.
Rape and child marriage laws in India disagreed on the age of consent. Section 375 of the Indian Penal Code says sex with a girl below 18 is rape, but it makes an exception that allows a man to have sex with his underage wife, 15 or above, even without her consent.
The provision was contrary to the child marriage law that sets the legal age for matrimony at 21 for men and 18 for women.
The top court read down the exception, calling it arbitrary, whimsical and capricious.
"It violates the right to fair treatment of the girl child, who is unable to look after herself," it said.
The lawyer for Independent Thought argued that the law provided little help to child brides forced to live in sexually abusive marriages.
"Law gives them remedy to complain if they are physically assaulted but not if they are sexually abused," Agarwal said.
The order comes at a time when the Delhi high court is hearing petitions calling for marital rape to be declared a crime. But the Supreme Court judges said their judgment didn't deal with marital rape.
The verdict would have prospective effect and have no bearing on marriages already solemnised, the court said, addressing concerns of the government.
Defending the rape law exception, the government had told the court during a previous hearing that India had 23 million child brides and criminalising the "consummation of the marriages" as rape would not be appropriate.
The court upbraided the government for failing to enforce the prohibition of child marriage act strictly and for not criminalising a man's sexual intercourse with his wife aged 18 or below.
"What has the government of India done? It has persuaded Parliament to convert what is otherwise universally accepted as a heinous crime into a legitimate activity for the purposes of Section 375 of the IPC if exploiter or abuser is the husband of the girl child."
The court drew support from government surveys and reports to hold child marriages not only posed a risk to a girl's health but also promoted trafficking.
Studies, it said, revealed high rate of death among pregnant teenagers and they were subjected to three times more marital rape compared to adult women.
"Should this traditional practice still continue? We do not think so and the sooner it is given up, it would be in the best interest of the girl child and for society as a whole," Justice Lokur said.
In a separate but concurring judgment, Justice Gupta said child marriage puts a girl's health at "jeopardy".