State apathy continues to choke Singrauli
Updated on Aug 20, 2018 03:53 PM IST
Declared as 'critically polluted' by the Centre in 2009, a little has been done to address the endemic pollution affecting lives for over nine years.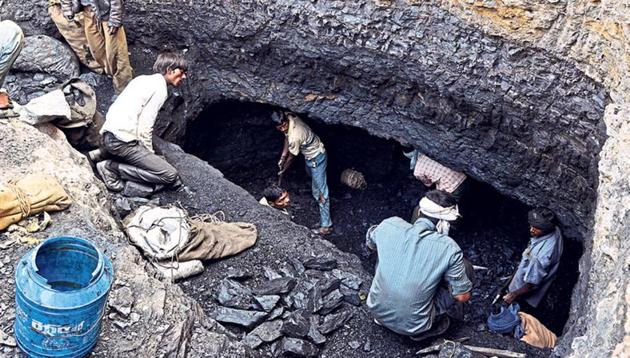 In a dim, airless hall at the Banwasi Seva Ashram in Singrauli, the residents of India's 'energy capital' assembled to seek legal advice on how to deal with the region's endemic pollution. The fans sat still overhead, power was in short supply.
Singrauli, a region that straddles the UP-MP border north of Chhattisgarh, is one of 43 industrial clusters in the country declared as 'Critically Polluted Areas' (CPA) by the environment ministry in 2009. A decade later, little has changed on the ground.
Dotted with transmission towers, criss-crossed by power lines and overrun by heavy-duty trucks, Singrauli hosts 10 towering coal-fuelled power plants, including India's largest thermal power station, two major aluminium smelting plants, and several other industries churning out everything from bricks to chemicals. Fly ash, coal dust, fluoride and mercury poison health and shorten lives.
Though the villagers aired many grievances, a legal case requires more than that, Rahul Choudhary, an advocate from Delhi-based NGO Legal Initiative for Forest and Environment, explained. Courts require hard evidence of environmental harm and personal injury.
"The pollution is there in the water, in the air, we can see it, what more proof do they want," retorted one elderly villager. There was flickering enthusiasm for punitive legal action against industries, but the abiding concern of citizens at the meeting that day was for the fate of their children.
Sonia Kumari, a slight girl of 15 years, suffered a bout of unconsciousness recently, the latest in a series of fainting spells that began at age five. A clue to her condition came in 2012, when a team from the Centre for Science and Environment tested her blood and hair samples and found extremely high levels of mercury.
Sonia was not alone. Mercury levels in the blood of 19 people who were tested, averaged 34.30 parts per billion (ppb) – many times the acceptable limit of 5.8 ppb.
After it was declared CPA, a moratorium was placed on the expansion of industries and the state pollution control boards of UP and MP were required to submit pollution-management plans. Once the plans were ready, the ban was lifted in 2011.
"Nothing has changed on the ground and there is no way to monitor if the plans were implemented," said Jagat Narayan Vishwakarma, a local activist who filed a petition in the National Green Tribunal (NGT), the highest environmental court in the country, in 2014.
One of the NGT-appointed core committee's recommendations was that every village be fitted with a Reverse Osmosis (RO) plant. Lakshmani Devi, a resident of Rasbhari village -- affected by fluoride contamination -- is still waiting for one.
"Our lives are spent. We don't want our children to suffer the same thing," said Devi, who is in her fifties. She is permanently hunched over and suffers constant pain in her limbs.
The source of fluoride in the groundwater in Singrauli is difficult to trace but the pervasive fly ash and coal dust comes from coal mines and power plants that ring Rihand reservoir. Singrauli is the hub of India's power generation, producing about 15% of the electricity generated, because of the presence of two things: coal and water.
On one side of NH 39 that cuts through the UP-MP border, lies the expansive Govind Ballabh Pant Sagar, India's largest manmade reservoir created by damming the Rihand river. On the other lie the open cast coal mines of Northern Coalfields Ltd (NCL), a subsidiary of the government-owned Coal India.
Ten open mines have been gouged out of the low hills adjacent to the reservoir, revealing stark seams of coal.
Chilika Daad village sits in the shadow of the overburden, a mountain of waste material on the edge of the Khadia coal mine that was excavated to reach the coal seams. "We are choking on the dust, but we are not getting the benefits from these industries," said Babul Nandan Bharti, 41, a father of two who runs a kiranastore in Chilika Daad, said. The frequent power cuts were especially galling to Bharti.
The village is usually covered in coal dust from dozens of dumpers that stream in and out of the mine, carrying coal to feed the 10 stand-alone coal power plants. India's largest thermal power plant, NTPC's Vindhyachal super power plant, with a capacity of 4,760 MW, is five km away. NTPC operates three super thermal power plants, Uttar Pradesh Rajya Vidyut Utpadan Nigam operates two, and private companies run the other five. Reliance Power's mega 3,960 MW plant in Sasan was commissioned in 2013, four years after Singrauli was designated a CPA.
"The ministry has taken several initiatives to tackle industrial pollution," environment minister, Harsh Vardhan said in a June interview with HT, adding that "in last two years, the emission/effluent standards have been notified/ modified for about 30 sectors including power plants, common effluent treatment plants, distilleries, boilers, brick kilns."
In 2015, the environment ministry issued stricter standards for the release of particulate matter, oxides of sulphur and nitrogen from thermal power plants. The deadline for compliance was December, 2017, but was not met.
After wrangling with the power ministry, the environment ministry agreed to grant power plants extensions. In Singrauli, all but two plants received extensions till 2021-22.
The granting of extensions has been challenged in the Supreme Court. "What about the health of people? Is it irrelevant?" a bench of Justices M B Lokur and Deepak Gupta asked.
Shubha Prem, secretary of the Banwasi Seva Ashram that promotes Gandhian living, was sceptical that the 2021-22 deadlines will be met, saying, "We don't want new industries, till the existing pollution is addressed."
At the ashram, the legal team suggested that villagers keep their medical records and not burn the belongings of their dead to preserve evidence. "Till now we are worrying about ourselves, we are seeing the effects in our children, very soon the problems will start in the womb,"said Prem.
The 13 deaths in protests against Vedanta's Sterlite copper smelting plant in Thoothukudi in Tamil Nadu in May, and the national outrage that followed, compelled state authorities to shut down the plant. "If legal options don't work we might have to resort to other means," Prem added quietly.
Personalise your news feed. Follow trending topics