The middleman Christian Michel takes centre stage
Shishir Gupta and Rajesh Ahuja
Dec 06, 2018 07:32 AM IST
Indian govt believes Michel will help identify real beneficiaries of corruption in the AgustaWestland chopper deal.
Christian Michel's extradition to India from Dubai on Tuesday came at the end of at least 36 hours of nerve-wracking developments, with National Security Advisor (NSA) Ajit Doval, Research & Analysis Wing (R&AW) chief Anil Dhasmana and India's ambassador to the United Arab Emirates, Navdeep Suri tracking the developments minute-by-minute, and keeping in touch over a secure line.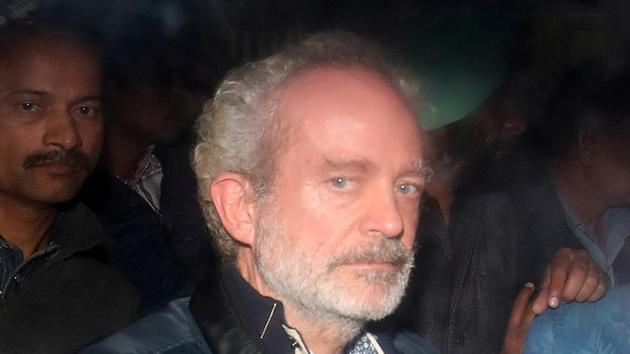 Hindustan Times learns that Indian officials were anxious that nothing goes wrong in the extradition of the alleged middleman in the ₹3600-crore deal between the Indian Air Force and AgustaWestland for the purchase of helicopters after learning that there was a possibility that the UK – Michel is a British citizen – which didn't oppose his extradition, may have teams waiting to snatch him and take him back to Britain. The operation was code-named 'Mission Unicorn'.
The wait, and the nerves, began on morning of December 3 when Central Bureau of Investigation's (CBI) joint director Sai Manohar was sent to Dubai after UAE authorities indicated last week that they had all but signed off on Michel's extradition to India. To India, Michel was important enough for the Prime Minister to ask Dhasmana and Doval to handle his extradition personally, even if it meant the latter would miss the G20 summit in Buenos Aires on Friday and Saturday. Manohar was part of a four-member CBI team that flew to Dubai in a Gulfstream jet belonging to the Aviation Research Centre (ARC), the air reconnaissance arm of R&AW.
India didn't want to take any chances with Michel, 57, who tried to flee UAE dressed as an Arab to a third country in July, but was detained at Dubai airport. Michel was arrested in February 2017, but a court ordered his release on the condition that he would not leave Dubai. India, in March 2017, requested UAE through diplomatic channels that Michel be extradited and its request acquired legal backing when, in September the same year, CBI charged him and 10 others in its case regarding corruption in the helicopter deal.
NSA Doval went to Dubai in August to ensure that there was no legal loophole left which could be exploited by Michel. "It is only due to cooperation of Dubai justice department and Sheikh Maktoum that India could secure the extradition of Michel," said a senior government official involved in the exercise who asked not to be identified. Dubai ruler Mohammed bin Rashid al-Maktoum also holds the charge of the Prime Minister of the UAE.
Indeed, the turning point in New Delhi's efforts to extradite Michel to India came this March when Indian maritime forces intercepted, off the coast of Mumbai, a yacht carrying Princess Latifa, the 33-year-old runaway daughter of Sheikh Maktoum, and quietly returned her to the Dubai royal family. The request to intercept the yacht came directly from the Dubai royal family and India decided to accede to it keeping in mind its own strategic interests, said a second Indian government official familiar with the matter who asked not to be identified.
Michel boarded the flight to India under UAE custody (he was accompanied by two UAE intelligence officials) at 5.05 pm from Dubai airport and was handed over to CBI at the Indira Gandhi International Airport at around 10.45 pm. On September 2, a lower court in Dubai ruled that despite being a British national, there was a possibility of extraditing Michel to India. On November 19, a high court in Dubai upheld the lower court. Then came the indication late last week that an administrative order would be issued about his extradition. An R&AW officer posted in Dubai was tasked with completing documentary and legal formalities with regard to extradition.
Analysts say the extradition of Michel is a huge coup for India, with all credit to PM Modi for diplomatically engaging UAE Crown Prince Sheikh Mohammed bin Zayed Al Nahyan, vice president and PM Maktoum, and the Saudi Arabian kingdom particularly Crown Prince Mohammed Bin Salman from the day he assumed power in 2014. In August 2015, Modi became first Indian PM to visit UAE after 34 years. The engagement has also been driven by NSA Doval who formed a bond with the Saudi Arabian and UAE rulers over the years.
After the Dubai justice department issued the administrative order to extradite Michel, the secure line between the Indian consulate in Dubai, CGO complex (where CBI is based) and Sardar Patel Bhawan was constantly in use. Acting CBI director M Nageswara Rao went home at around 9pm and came back to office at around 10.30 pm and remained there till 1.40 am, when Michel arrived at the agency's headquarters. After the aircraft landed, Michel was handed over to CBI, and the formalities of arrest him were completed. This was followed by a medical check-up. Three CBI officials, Sai Manohar, DySP Anil Yadav and Inspector R Sharma, brought Michel to the CBI HQ. Michel was allowed to sleep for two hours (4 am to 6 am) after reaching CBI headquarters in an agency lock-up. Later, his questioning began in earnest. In the initial round of questioning, Michel told CBI officers that his extradition was illegal. At 4.15pm, Michel was taken to the Patiala House court complex for a remand hearing. He was remanded to CBI's custody for five days. India finally had Michel, who it believes holds the information critical to identify the real beneficiaries of corruption in the chopper deal.