UP election: Politics over Muzaffarnagar riot victims leaves Kairana polarised
Abdul Sattar was just 12 years old when India was partitioned in 1947, yet it was the macabre of 2013 riots in western Uttar Pradesh that has shaken him to the core.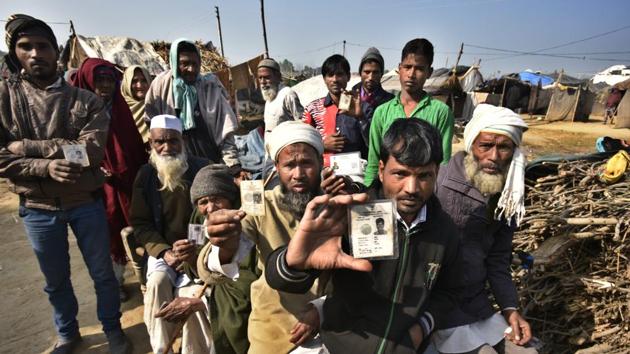 Published on Jan 29, 2017 12:39 AM IST
Abdul Sattar was just 12 years old when India was partitioned in 1947, yet it was the macabre of 2013 riots in western Uttar Pradesh that has shaken him to the core.
"In 1947, the violence lingered on for over two months, but it was never so bad that we would have to leave our homes," the octogenarian said.
Sattar was among the thousands of people who shifted from the villages of Muzaffarnagar to neighbouring Kairana after the Jat-Muslim riot broke out in August 2013.
"Houses around ours were set on fire and we were forced to leave our village Ranagana," he said. Nearly 5,000 families had moved out from the violence- stricken western UP district never to return. An estimated 3,000 victims landed in makeshift tents in the Malakkpur refugee camp on the outskirts of Kairana.
Now, two years later, the camp has been disbanded and its residents moved to two colonies that have come up with the help of the local MLA, Samajwadi Party's Nahid Hassan. The one that Sattar lives in has been named Manawwar Hassan colony after the MLA's father and has 128 brick houses and around 230 huts.
"He (Hassan) has promised to give us pucca houses after the elections," says Mohammed Haroon, 35, who moved from Kirthal village. Two kilometres away, the Sapa colony — named after the Samajwadi Party — houses around 1,200 people.
Most people in the two settlement colonies have also been enrolled as voters. The constituency now has nearly three lakh voters with a Muslim majority.
"The government held special camps for the voters of these colonies to provide them with Aadhaar cards and voter IDs," says Mohammed Alim, who manages the local Jan Seva Kendra – where people get Aadhaar cards. His family has lived in Kairana for generations.
A law graduate and an M Com degree holder, Alim says the riots have changed the way people see elections here. "This area did not see any violence. But, the riots have changed the complexion of Kairana completely. No Muslim will vote for a BJP candidate anymore," he said.
The BJP has given ticket to sitting Kairana MP Hukum Singh's daughter Mriganka Singh from the seat. Singh represented Kairana in the state assembly seven times before he moved to the Lok Sabha in 2014. His nephew, Anil Chauhan, who had contested the assembly by-election in 2014, is now a candidate for the Rashtriya Lok Dal (RLD).
Singh has been accused of instigating violence during the Muzaffarnagar riots. Last year, in June, he had also alleged that 346 Hindu families had fled Kairana due to the building communal tensions.
"The Muslim population is on the rise and Chauhan would have got the Hindu votes here because of that. But, now that vote will get divided," says the RLD contestant's name sake Anil Kumar Chauhan who is a deed writer at the local court.
Sitting legislator, Nahid Hassan is also an accused in a case of violence. A protest that he was leading on May 3, 2015 in Shamli turned violent and allegedly damaged railway property.
"If it wasn't for the politicians, Kairana would have never been divided on communal lines. There has never been a riot here," says cloth merchant Sushil Kumar.
Close Story