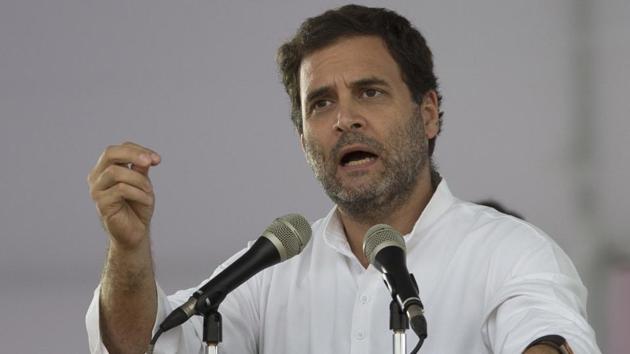 Voter feedback triggered Congress' Rafale attack on Centre, says sources
The Congress has stepped up its attack, decided to hold press conferences across the country, and mobilise protests against the government.
UPDATED ON AUG 20, 2018 01:02 PM IST
The Congress's decision to aggressively attack the Union government with charges of impropriety and alleged corruption on the Rafale deal is driven, among other reasons, by 'voter feedback', collected during a survey by the party's Data Analytics department in key booths across the country, said a party functionary familiar with the development who asked not to be named.
Congress president Rahul Gandhi raised the issue sharply during the Gujarat elections, and revived it during the no-confidence motion debate on July 20th in Parliament. Since then, the party has stepped up its attack, decided to hold press conferences across the country, and mobilise protests against the government. It has also decided to use its Shakti network -- a database of workers with specific information on their location, contact and demographic profile -- to reach out to voters.
A key input in this decision has been data, the functionary said.
"We have identified critical swing booths across the country. We went and asked voters a set of questions - are you familiar with the press conference of four Supreme Court judges in January; are you familiar with the death of Judge Loya and the case around it; are you familiar with what happened in Kathua; and are you familiar with Rafale?" said the functionary.
He said it had come as a surprise to them also, but among the four issues, there had been highest recall value and curiosity of Rafale. "You would think it is about defence, about a French company, and people would not really know of it. But there is both familiarity and curiosity. People feel something is wrong."
This data then "shaped and supplemented" a political decision taken by the Congress president to be aggressive on the issue. Gandhi has alleged that the Narendra Modi government is purchasing each Rafale jet at Rs 1,670 crore while under the United Progressive Alliance (UPA) government, an earlier 2012 deal was finalised at Rs 570 crore per aircraft. He has demanded the government officially disclose the price it fixed when it signed an inter-governmental pact with France in September 2016 for procurement of 36 Rafale jets. The Congress has also alleged that one of the offset deals, signed with Hindustan Aeronautics Limited (HAL), was scrapped and a new one was inked with Anil Ambani's Reliance Defence Limited just to provide the company the opportunity. Both the government and Reliance have denied this.
The government has also rubbished the other allegations. It has said that the exact pricing cannot be disclosed because of confidentiality clauses in the agreement; that comparing the 2012 and 2016 deal was wrong for the former was never finalised; and that the government had nothing to do with the decision of the offset partner.
Reliance Defence, for its part, has said that the Ministry of Defence has not awarded it any contract and selection of Indian partners is the choice of the foreign vendor. Its agreement with Dassault thus stands on its own independent merit.
This is the second time when empirical evidence has played a part in influencing a recent decision of the Congress. During Delhi Chief Minister Arvind Kejriwal's dharna at the Lieutant Governor's residence, demanding the return of bureaucrats to work, Congress had chosen to stay away. Among other reasons, Congress had used Shakti network and reached out to over 40,000 workers to solicit their opinion. The maximum number of respondents had urged the party to stay away, a second functionary had told HT.
Praveen Chakravarty, the chair of the party's data analytics department, said: "We now have a specially designed survey engine for the party that we use regularly to collect feedback and inputs from a cross section of people - voters, workers, office bearers, local influencers, etc. What are important issues for voters is certainly an important output of this exercise"
The first functionary quoted above said: "We once again want to emphasise that data is not the only element in any decision. But it tells you something that the party leadership is taking data seriously and using it as one input in decision making."
Another leader of the party said that this was a case where data and political judgement had merged.
"Modi has successfully been able to project himself as honest. No corruption charge has stuck to him. As an opposition party, if we want to challenge him, we have to attack this perception of his honesty. Rafale makes sense for it allows us to paint a picture where everything is not above board and there is cronyism. If we can plant a seed of doubt among people, it helps us."
A top BJP leader, however, rubbished the claim that either voters were interested in Congress' allegations on Rafale or that it would succeed in eroding Modi's image.
"When we attacked the Congress on 2G, we had the Comptroller and Auditor General (CAG) report on it as a basis. The courts had taken a position. When we attacked them on coal scam, there was a CAG report. When we attacked them on Augusta Westland, their own investigative agencies in government had raised questions. When they question us on Rafale, they have no legitimate basis. No independent institution, no agency has said anything. There is no evidence or even suggestion of wrongdoing. People won't buy it."
He added that the other reason why Rafale won't work for the Opposition is because of the credibility of Modi. "When we attacked UPA on corruption, their leadership's credibility was already in tatters. When they attack us on Rafale, they are dealing with Modi, whose credibility remains high."
The first Congress functionary quoted above said that it is too early to know whether the issue would have an electoral impact. "But what data is telling us right now is that there is interest in it. As we sustain it, and reach out in particular to swing voters in key booths, it will stick even more."
Close