Why dismissing Gaushala politics as Hindutva is wrong
Stray cattle destroying crops are not just a cause of economic loss, but also a big source of conflict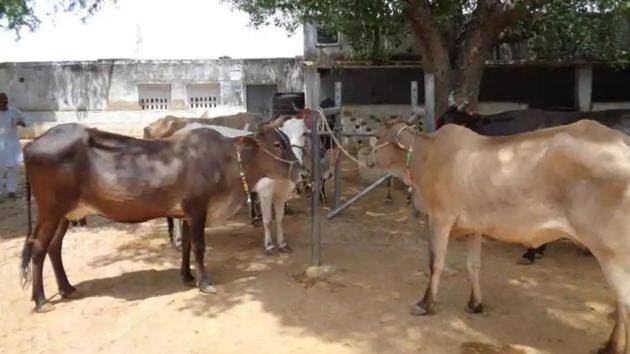 Updated on Dec 05, 2018 11:53 AM IST
Bharatiya Janata Party (BJP) governments focusing on gaushalas (cattle shelters) have often been termed pro-Hindutva. When the Congress included construction of gaushalas in its Madhya Pradesh manifesto, the BJP accused the party of double standards on protecting cows. Left-of-centre voices agree with the BJP's charge and see these moves as Congress's efforts to woo the Hindutva constituency. "A gaushala in every panchayat, a cow sanctuary in the state, commercial production of gau mutra, building Narmada parikrama and Ram Van Gaman Path…This shows the Congress' slide from secularism to soft Hindutva", Yogendra Yadav, president of Swaraj India, wrote in The Print.
The debate on soft Hindutva notwithstanding, there seems to actually be large traction for the cow shelter promise on the ground. At least this author found it to be true while travelling across the state of Madhya Pradesh before the elections.
A bunch of BJP activists sitting outside the local party office in Surkhi assembly constituency in Sagar district listed the cattle menace as the biggest problem for farmers. Stray cattle destroying crops in villages are not just a cause of economic loss, but also a big source of conflict – farm owners blame cattle owners for deliberately letting the animals in the fields – in villages, they told this author. The government should build enclosures and cow sanctuaries on an urgent basis, they said. Concerns around stray cattle could be heard and "seen" across the state. Herds of cattle on highways are a bigger hindrance to fast-moving traffic in the state than potholes.
The cattle menace is the biggest problem facing farmers in Madhya Pradesh right now. "We are ready to even accept lower farm prices if someone promises a solution to the issue," Kedar Sirohi, a farmer leader from the state, who joined the Congress recently, told HT.
Simply speaking, stray cattle have imposed a huge economic cost on farmers in Madhya Pradesh. They either have to guard their fields or build enclosures to prevent the animals from destroying their crops. Both come at an economic cost and neither is a fool-proof solution.
But why has this problem suddenly acquired importance? Gau rakshaks, vigilante groups whose members have been attacking people transporting cattle, and a crash in milk prices might have catalysed a systemic crisis in India's livestock economy which was already in the making. Urbanisation and growing demand for cultivable land due to a rising population have led to a reduction in land designated as pastures in villages. Cattle population grew by 8% between 1992-93 and 2012-13 (the latest available data) in India. But permanent pasture land per animal declined by 15% during this period. This trend is likely to have intensified in the recent period.
Meanwhile, incentives to maintain cattle within household premises have only gone down. Traditionally, livestock had a well-defined role in the rural economy. Adult male animals were used for farming and transportation purposes. Female animals were reared for milk production. Expenditure on hired and owned animals accounted for only 3.7% of total cost of wheat production (C2 measure) even in 1996-97. This had come down to just 1.1% by 2015-16.
While this change is widely acknowledged, most people do not realise that India's dairy revolution has also reduced the need to rear milk animals. If you do not have a high yield milk animal, it costs ₹80-90 to produce a litre of milk. After the recent crash in milk prices, one can buy milk for as low as ₹25 per litre in the market, Sirohi told HT. Various agitations by milk producers over low prices corroborate the growing distress of milk producers due to falling prices.
Another factor which has contributed to the stray cattle problem is the decline in utility of cattle as a liquid asset.
Gau rakshaks attacking cattle traders has dealt a big blow to the trade. This has converted cattle from an asset to a liability for the farmer. He must incur the expense associated with maintaining them, but cannot sell it profitably when he needs cash. The implications are not limited to Madhya Pradesh alone. Similar problems have led to a big blow to the cattle trade in the Sonepur animal fair, which used to be Asia's biggest livestock fair, HT reported last week.
All these factors, along with a tradition-based aversion to beef consumption, have created a huge crisis of plenty in India's livestock economy.
Nothing could be a bigger disservice to the cause of the Indian farmer than dismissing demands for resolution of this crisis as Hindutva politics.
Close Story