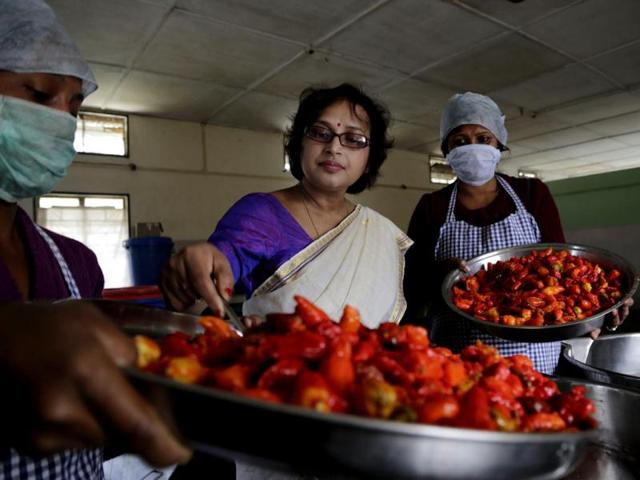 Meghali Bora packs a rural economic revolution in her branded food products
In 2006, ten years after she started selling coconut ladoos to bail her husband out of a debt trap, Meghali Bora met Kangkaan Pegu, who suffered from bipolar disorder. It inspired her to start her organic food products brand.
UPDATED ON MAR 08, 2014 01:47 AM IST
In 2006, ten years after she started selling coconut ladoos to bail her husband out of a debt trap, Meghali Bora met Kangkaan Pegu in Majuli, a 527 sq km island in river Brahmaputra off Jorhat town 305 km east of Guwahati. The latter suffered from bipolar disorder, a manic-depressive illness marked by suicidal tendencies.


Bora taught Kangkaan her conquer-adversity mantra: if your life is in a pickle, pickle your way out. She also trained the Mishing tribal girl in pickling 'tradition with a twist'.
That meeting motivated Kangkaan; today, she finds solace in producing fish and pork pickles. It inspired Meghali too; she started Megha's - her organic food products brand.
Meghali unwittingly began impacting lives in 2001 after she moved to eastern Assam's Sivasagar district, 70km west from Nazira town, to set up her food processing unit in Jorhat. The juice, jam and pickle plant virtually became a rehabilitation centre - most of her employees are victims of domestic violence, widows or spinsters seeking self-respect.
Among them was Monika Hazarika, a dalit distressed by her abuser alcoholic husband. "She worked with me for three years before I encouraged her to set up her own business. She branched out into a garment business, reformed her husband and bought him an auto-rickshaw," says Meghali, 43.
Connecting with needy women came naturally to her; she knew how it felt to be without money. Her contractor husband Achyut Kumar Bora fell on hard times when construction projects dried up in 1997.
"We could neither pay the house rent nor the contractual labourers. Our elder daughter had just started going to school and our younger daughter was seven months old then. With Rs 500 that I had saved, I bought ingredients, borrowed a stove and made traditional sweetmeats. They fetched me Rs 15,000 in less than a fortnight, and it partly helped repay my husband's debts. More importantly, it sowed the seeds of an enterprise from my kitchen."
Meghali became the mother of her brand. "People ask me if I have a male heir. I tell them my 13-year-old business is my son growing up to sire an economic revolution that ensures self-sufficiency for rural women and their families, so that no one feels the need to take up arms," she said.
She grew up with midnight knocks - from rebels seeking jobless youth for recruitment and from soldiers ferreting out rebels.
The communication skill that Meghali developed helped her market her products. It earned her a radio programme to educate farmers on how to utilise their resources for a better life. It also enabled her to teach villagers on how to value-add their produce and train people - on assignments from agriculture universities, DRDA and NGOs following a few 'best woman entrepreneur' awards - in packaging home-based products.
But it has not always been smooth sailing. Few of her raw material suppliers understood the ways of the market, the demand often exceeded her output and clients elsewhere in India reneged on orders leading to losses.
Today, Meghali sources raw material from Assam, Nagaland and Arunachal Pradesh. Her activity spans some 70 villages where many have begun to prefer associating with her brand to letting middlemen buy their produce at half the price.
Given her network, Meghali is not averse to joining politics. "There is a lot that can be done for rural women but the political system has failed to deliver. I might take the plunge if the people I work with want me to."
Read more:
MP's 32-year-old sarpanch who has given voice to women
Ramrati Devi, a champion of organic farming
Questioning the 'ritual' called domestic violence
Close