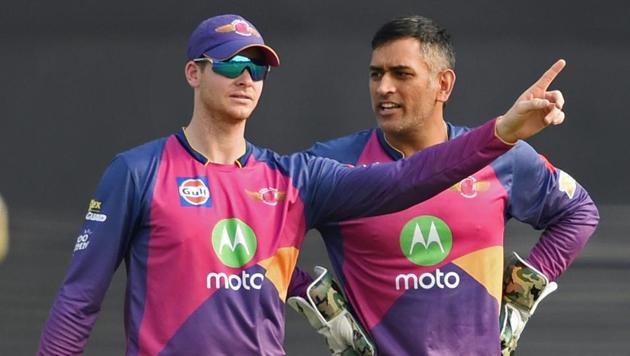 'Steve Smith's sharp message helped RPS revive in IPL'
The Rising Pune Supergiant, after finishing seventh in the points table in the 2016 Indian Premier League (IPL), have turned the tables around as they made their way to the maiden appearance in the final with a 20-run win over Mumbai Indians, under Steve Smith's leadership.
UPDATED ON MAY 17, 2017 12:56 PM IST
The Indian Premier League's tenth edition has been nothing short of a dream for Rising Pune Supergiant. And Manoj Tiwary believes that 'short and sharp' messages from coach Stephen Fleming and captain Steve Smith did the trick for them.
After finishing seventh in the points table in the last IPL, the Rising Pune Supergiant have turned the tables this time around as they made their way to the maiden appearance in the final with a 20-run win over Mumbai Indians in Qualifier I clash at the Wankhede Stadium on Tuesday.
Read | Rising Pune Supergiant achieve hattrick vs Mumbai Indians, enter IPL 2017 final
Despite losing three of their first four matches, Rising Pune Supergiant capitalised on their home stretch that helped them to finish second in the table. Tuesday's match was the third instance when Rising Pune Supergiant defeated Mumbai Indians in the tournament.
While the performances on the field have been a major factor for Rising Pune Supergiant's change in fortunes, it is the off field activities that has also played a crucial part in their campaign.
Read | How MS Dhoni led to Mumbai Indians' nemesis in IPL. Parthiv Patel explains
One of the key components have been keeping the game plan simple and clear. "The coach and the captain don't talk too much. They talk about only specific things which are to be discussed. We don't have too many meetings as well as it takes too much of time. It's clear message – short and sharp. The players have performed very well. It is a collective effort. In the end, the players have to perform on the field no matter how much discussion and planning you do," revealed Manoj Tiwary, who slammed 58 as Rising Pune Supergiant posted 162/4. Mumbai Indians in their reply could manage only 142/9, losing by 20 runs.
"There was nothing specific which was discussed. They (captain and coaching staff) made things simple for us. We always had that belief because if you don't have that, you are already behind by 20 per cent. That belief is there and Fleming has done a good job in maintaining the atmosphere in the team. Each and every player is in a happy state of mind and when you are happy, you do well," added Tiwary.
Read | Manoj Tiwary's 48-ball-58 takes Rising Pune Supergiant to 162/4 vs Mumbai Indians
Although Smith's leadership has been in the forefront in Rising Pune Supergiant's campaign to the final, Tiwary also had special praise for MS Dhoni for sharing the Australian's workload.
"It has been equally important as every member in the team. Obviously, he (Smith) has been nominated as a captain and he shares what he has to with every individual. He is doing a good job, but the kind of results that we are getting it cannot be only credited to one person. Each and every one has played their part whether it is on the field or off the field by giving suggestions to him as he is not from India.
"He does not completely understand the Indian domestic players and other teams as well, so we share our ideas. Mahi bhai has been supporting very well to him. It is evident on the field that he (Dhoni) has been manoeuvring the field placements and keeping them in the right position while Smith is completely focussed on changing the bowlers. He has too much on his plate and that way Mahi bhai is guiding each and every player to stand in the right position," said Tiwary.
Close