Nine Rajasthan districts face water crisis as canal repair delayed
Published on Apr 26, 2018 09:59 PM IST
Nine districts of western Rajasthan are running out of water as the Indira Gandhi Feeder canal repair work has been delayed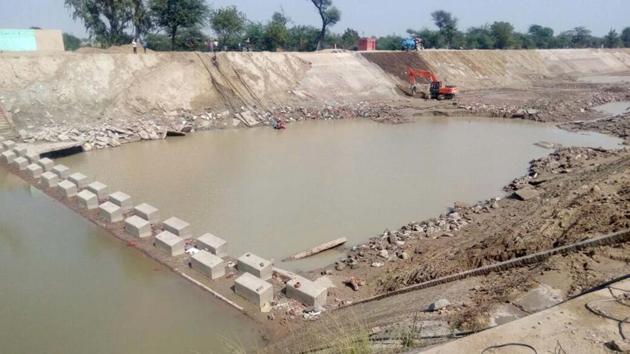 Hindustan Times |
Aparnesh Goswami
Nine districts of western Rajasthan are running out of water as the Indira Gandhi Feeder canal repair work has been delayed.
State water resource department (WRD) has extended the closer of the canal until April 28 and it is also expected to be extended further by another day or two, sources in the department said on Thursday.
People aware of developments, said that the repair work is running in full swing but it will take another week to complete the work at the canal head.
Water will be released on May 2 at the earliest, some of them said, adding that the closer was scheduled up to April 25.
WRD principal secretary Shikhar Agarwal announced the extension of the closer in a series of tweets which reads :"The canal closer is extended till 28 April, massive ditch in bed of IG feeder in Haryana portion discovered after canal closer and lining of sides in IG feeder about to get completed."
Bikaner, Sriganganagar, Hanumangarh, Churu, Jaisalmer, Barmer, Jhunjhunu, Nagaur and Jodhpur are the districts reliant on the Indira Gandhi canal water for drinking and agriculture.
The state public health engineering department (PHED) earlier claimed to have stored sufficient water in its reservoirs but the dependent districts are slowly running out of water, officials said.
The PHED has already enforced an odd-even water supply system in Bikaner to ensure drinking water supply every alternate day.
B Krishnan, additional chief engineer at PHED said, "People have to use water more economically and wWe are expecting an early supply of canal water in our reserves to ensure a regular domestic supply."
Sources at the Indira Gandhi Nahar Project (IGNP) said the repair work is running almost a week late. After completing the repair work, water will be released in an ascending manner till its allocation capacity, he told HT.
IGNP chief engineer (North) in Hanumangarh KL Jakhar said teams are working hard and the organization is going to increase the working time to complete the task on time.
A big ditch in the feeder bed was found in Haryana part of the canal, which is a serious point of concern, he said.
Meanwhile, Bikaner district collector and acting commissioner of the command area development Anil Gupta has called a meeting on Thursday with the official of the PHED and the IGNP to take stock of the e situation if the problem persists.
Gupta, however, was unavailable for comments after repeated efforts.